WASHINGTON -- Iran has become the new "key geographic hub for al-Qaeda", outgoing US Secretary of State Mike Pompeo said Tuesday (January 12), confirming a report that al-Qaeda's second-in-command was killed last year in Tehran.
"Al-Qaeda has a new home base: It is the Islamic Republic of Iran," he said in a speech at the National Press Club in Washington.
"Unlike in Afghanistan, when al-Qaeda was hiding in the mountains, al-Qaeda today is operating under the hard shell of the Iranian regime's protection," he said.
"They are partners in terrorism, partners in hate," he said.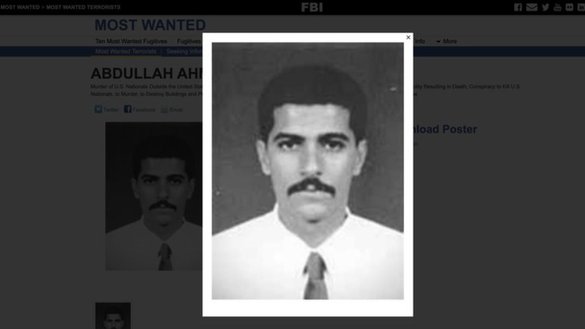 Al-Qaeda's number two, Abdullah Ahmad Abdullah -- aka Abu Muhammad al-Masri -- was shot and killed in Tehran last summer, The New York Times reported November 13.
Al-Masri, who was indicted in the United States in connection with charges of co-ordinating the 1998 bombings of its embassies in Tanzania and Kenya, was killed along with his daughter, Miriam, the widow of Osama bin Laden's son Hamza, the newspaper reported, citing multiple intelligence sources.
American intelligence officials told the Times that al-Masri had been in Iran's "custody" since 2003 but had been living freely in Pasdaran, an upscale suburb of Tehran, since at least 2015.
Tehran has denied al-Masri was killed on Iranian soil and, unsurprisingly, denies providing shelter for al-Qaeda terrorists.
Long history of Iran–al-Qaeda partnership
Iran, a Shia theocracy, is ideologically opposed both to al-Qaeda and the "Islamic State of Iraq and Syria" (ISIS), extreme Sunni movements that are predominantly Arab.
But the obvious sectarian division has not stopped the Iranian regime from supporting a variety of terrorist groups that enable its expansionist agenda.
Pompeo noted Iran's support for Hizbullah in Lebanon, the Houthis (Ansarallah) in Yemen, Shia militias in Iraq, and Sunni terror groups like Hamas and the Palestinian Islamic Jihad.
"Al-Qaeda has, in fact, carried on a relationship with Tehran for nearly three decades," he said.
In the early 1990s, al-Qaeda operatives travelled to Iran and to Lebanon's Bekaa Valley, the heartland of the Iran-backed Hizbullah party, for explosives training, he said.
In the period before the 9/11 attacks on the United States, Tehran allowed al-Qaeda members to freely come and go between Iran and Afghanistan without stamping their passports, Pompeo continued.
"This was to help them avoid suspicion when they returned to their home countries," he said.
Pompeo acknowledged there is "no evidence Iran helped plan or had foreknowledge of the 9/11 attacks", but at least eight of the 9/11 hijackers travelled through Iran between October 2000 and February 2001.
A letter written by bin Laden and found by US Navy SEALs after their 2011 raid on bin Laden's compound in Abbottabad, Pakistan, outlined the importance of Iran to the terrorist group.
"Iran is our main artery for funds, personnel and communication… There is no need to fight with Iran unless you are forced to," bin Laden wrote.
Al-Qaeda operatives living 'normal life' in Tehran
Pompeo has championed sweeping sanctions on Iran and the strike that killed Islamic Revolutionary Guard Corps (IRGC) Quds Force commander Maj. Gen. Qassem Soleimani last year in Baghdad.
Soleimani "is the architect of the relationship between the IRGC and al-Qaeda", Nabil Naeem, the former leader of Egypt's Islamic Jihad, an al-Qaeda affiliate, and a longtime friend of al-Masri, told Saudi news channel Al Arabiya in October.
Al-Qaeda's relationship with both the IRGC and Iranian intelligence is strong, he said, noting that "the symbolism of the relationship was manifest when Iran hosted the family of al-Qaeda leader Osama bin Laden".
"The Iranian Ministry of Intelligence and Security and the IRGC have provided safe havens and logistical support -- things like travel documents, ID cards, passports -- that enable al-Qaeda activity," Pompeo said.
Deputies of al-Qaeda chief Ayman al-Zawahiri are in Iran "living a normal al-Qaeda life", he said.
"Tehran has allowed al-Qaeda to fundraise, to freely communicate with al-Qaeda members around the world, and to perform many other functions that were previously directed from Afghanistan or Pakistan," Pompeo said.
Tehran has allowed al-Qaeda operatives to stay on its soil -- comparatively safe from the US military -- as leverage to prevent attacks on Iran, say some analysts.
"America has far less visibility on al-Qaeda's capabilities and their activities" in Iran, Pompeo admitted. "We do not have the same options today because these al-Qaeda thugs are burrowed deep inside of Iran."
Pompeo urged more international pressure on Iran.
He also announced sanctions on several individuals and a $7 million reward for information on an al-Qaeda member he said was believed to be in Iran and was identified as Muhammad Abbatay or Abd al-Rahman al-Maghrebi.
Al-Maghrebi, son-in-law and senior advisor to al-Zawahiri, has served as al-Qaeda's general manager in Afghanistan and Pakistan since 2012.
Following years of international counter-terrorism pressure, he relocated to Iran, where he has continued to oversee al-Qaeda's activities worldwide, according to the US State Department website Rewards for Justice.
As head of al-Qaeda's External Communications Office, al-Maghrebi co-ordinates activities with al-Qaeda affiliates.