HERAT -- Workers last week finally razed the security wall in front of the Iranian consulate in Herat city, which detractors have long called a malignant tumour for the city's traffic.
A new wall stands farther back from the street, giving cars and pedestrians more space, and allowing the city's ring road project to finally be complete.
The saga began six years ago when workers widened the 18km-long ring road around Herat.
The security wall in front of the Iranian consulate was the only obstacle they did not remove -- causing traffic congestion and accidents over the years and igniting anger and resentment among local residents.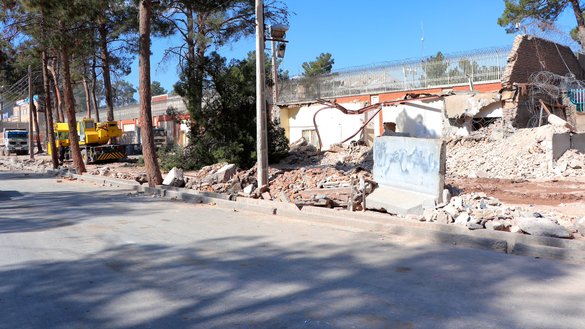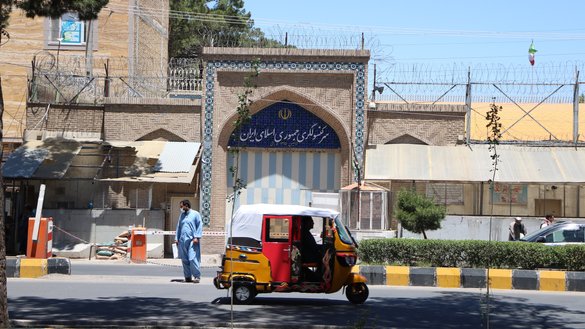 While residents expressed relief that the old, traffic-clogging wall is finally down, they are not happy about the Iranian regime's demands of the Afghan government.
The old security wall in front of the Iranian consulate came down after years of political bargaining between Tehran and Kabul, Aminullah Azadani, director of the Herat provincial branch of the Foreign Ministry, said at a news conference at the consulate on February 10.
It was an unequal bargain, with Iran snagging more land in Kabul than what it gave up in Herat city.
"The Afghan government has allocated two pieces of land in Kabul to the Iranian government in exchange for the 1,600 square metres of land in front of the Iranian consulate in Herat," said Azadani.
The Kabul plots include 2,248 square metres in Darulaman and more than 900 square metres in Shahr-e-Naw.
The Afghan government has fulfilled all the demands of the Iranian side in exchange for Iran's removal of the old security wall in Herat city, Herat governor Sayed Wahid Qatali told reporters at the news conference.
"Our goal was to open the main road to our people, and after this, Herat city will not experience traffic congestion that bothers the public," he said.
The demolition of the security wall ended February 12.
Disregarding the demands of Afghans
Local residents expressed relief that workers finally had removed the old wall but expressed resentment that the Iranian regime demanded concessions in return.
Despite Iran's claims of being friends with Afghanistan, Tehran did not co-operate at all with regards to pushing back the security wall of its consulate, said Omaid Hakimi, a lecturer at a private university in Herat.
On the contrary, Iran always created obstacles to relocating the wall, he said.
"The public uses the main road for its daily commutes," Hakimi said. "I was stuck in traffic jams several times and couldn't reach my office because of the wall."
"I am so happy that the [old] wall has been removed and the main road opened to traffic, but it should have been taken down years ago," he said.
Abdul Latif Salehi, a taxi driver in Herat, said every time he passed the Iranian consulate he and his passengers were stuck in traffic jams for at least an hour.
"Because of traffic congestion, I didn't want to take the road that passes the consulate because it was so inconvenient," he said.
There were times when Afghans using that road needed urgent medical care but could not reach the hospital in time because of traffic, he said, adding that some died.
"This wall had to be moved years ago," Salehi said, "but [Iran] didn't do it and residents of Herat had to tolerate the inconvenience that it caused."
Although Herat residents repeatedly complained about the trouble the Iranian consulate wall caused and called on Iran to help, the Iranian government did not co-operate, said Ali Yousuf, a resident of Herat.
"Elsewhere in the world, neighbouring countries co-operate with each other, and they value their neighbourliness, but our neighbours... haven't done anything other than destroy Afghanistan," he said.
Iran delayed to put pressure on Afghan government
Iran should have allocated the land in front of the Iranian consulate as a contribution to the city's development and Tehran should not have demanded compensation, political analysts and civil society activists say.
"Iran delayed the relocation of its consulate's wall in Herat so that it could put pressure on the Afghan government and receive a substitute piece of land," said political analyst Abdul Ahad Nazari.
"With this, the Iranian government has proved that it doesn't value good neighbourliness and pursues only its own interests," he said.
While Afghanistan is engaged in the war against international terrorism and dedicates nearly all of its resources to that end, the Iranian government should not have spent years extracting concessions from the Afghan government, Nazari said.
"It isn't a sign of good neighbourliness to block the main road of a city for nearly six years and abuse Afghanistan's desperation in order to receive two times as much land in compensation," he said.
Afghans should have no expectations of a neighbour like Iran, he added.
Iran receiving even more land in exchange for a smaller strip in front of the Iranian consulate is theft and extortion, said Muhammad Asef Hussaini, a civil society activist in Herat.
"The Iranian government exploited Afghanistan's desperation to receive as much land as it wanted," he said.
Afghans will never forget and will not consider Tehran a friend, Hussaini said.