The US military on Thursday (February 25) struck Iran-backed militias in eastern Syria, killing at least 22 fighters, in what the Pentagon said was an "unambiguous message" from the new administration that it will not tolerate attacks on US or international coalition personnel.
In its first military action against Iran-linked groups since Joe Biden became president, the Pentagon said it had carried out airstrikes at a Syria-Iraq border control point used by Iran-backed groups, destroying "multiple facilities".
The US raids, carried out Thursday night "at President Biden's direction" targeted "infrastructure utilised by Iranian-backed militant groups in eastern Syria", Pentagon spokesman John Kirby said in a statement.
"These strikes were authorised in response to recent attacks against American and coalition personnel in Iraq, and to ongoing threats to those personnel," he said.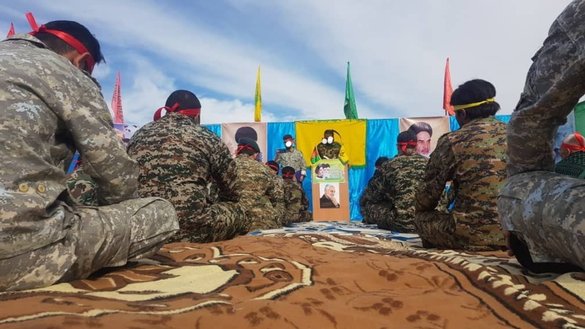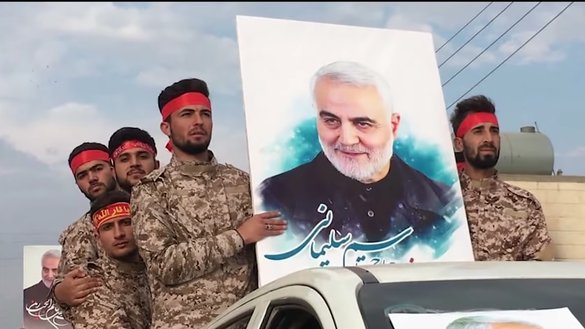 "Specifically, the strikes destroyed multiple facilities located at a border control point used by a number of Iranian-backed militant groups, including Kataib Hizbullah and Kataib Sayyed al-Shuhada," he said.
"The operation sends an unambiguous message: President Biden will act to protect American and coalition personnel," Kirby said.
The US action followed multiple rocket attacks on facilities in Iraq used by US and international coalition forces fighting the "Islamic State of Iraq and Syria" (ISIS) and on diplomatic buildings in Baghdad.
Weapons smuggling route
According to Observatory sources, Iranian forces and their proxies evacuated several posts and headquarters in Albu Kamal immediately after the attack, redeploying to other positions for fear of being subjected to successive attacks.
On Monday, "reliable sources" told the Observatory the Fatemiyoun Division -- a militia comprised of Afghan fighters formed by the late IRGC Quds Force commander Qassem Soleimani -- had brought in a new weapons shipment to its positions in the west Euphrates region.
The new shipment, which included shells, missiles and ammunition, entered Syria aboard vegetable trucks from Iraq, via an unofficial crossing, sources said.
The trucks headed to al-Mazare area on the outskirts of al-Mayadeen in eastern Deir Ezzor, where Iran-backed militias are concentrated, and stored the shipment in tunnels ISIS had carved out while it was in control of the area.
Similar shipments have been reported in recent weeks, the Observatory said.
Uptick in activity in Syria
Earlier in February, local activists in Syria reported the IRGC and its affiliated militias have increased their presence and activities in Deir Ezzor province by way of new recruitment and deployment.
IRGC-aligned militias are actively recruiting new members at a centre near the former al-Hana Hospital in Albu Kamal. Pro-regime militias affiliated with the IRGC previously took over the hospital and changed its name to al-Shifa.
They are paying militiamen up to 200,000 Syrian pounds ($390) per month, Deir Ezzor media activist Ammar Saleh said.
The centre is supervised by the IRGC's regional commander, who goes by the name of Haj Askar, he said.
Meanwhile, Saleh said, dozens of militiamen have been transferred into training camps in the Albu Kamal desert, where they are supervised by the Zainabiyoun Brigade, a militia comprised of Pakistani fighters trained by the IRGC.
Militiamen from the Fatemiyoun Division are also present in the area, as is Kataib Hizbullah, the Observatory said.
These forces recently received shipments of arms from Iraq that had been hidden on trucks transporting vegetables and fruit, it said.
Broken promises
Many Afghan recruits join the Fatemiyoun Division in exchange for promises of Iranian citizenship, benefits and a monthly payment to their families in addition to the monthly salary they receive as militia members.
Those lavish promises, Fatemiyoun veterans and relatives of dead Fatemiyoun members have complained, seldom come true.
"Iranian authorities have continued to recruit Afghan youths to Fatemiyoun, and these young people, because of their desperation, have proven to be useful manpower for Tehran," said Abdul Qader Kamel, a political analyst in Herat.
"The Iranian government wants to keep Fatemiyoun as a combat force and use it in any countries where it needs to fight," he added. "Therefore, the recruitment and training of Fatemiyoun members have not ceased."
Soon, Fatemiyoun might be fighting in its members' homeland -- not only in Syria.
The Iranian regime wants to use the Fatemiyoun Division in Afghanistan to thwart US interests and to expand its political and intelligence influence in Afghanistan, said Kamel.