HERAT -- The Taliban have tightened their siege on Jawand district centre, preventing the entry of food and medications and setting fire to an aid convoy, local authorities say.
The Taliban's actions -- especially egregious as their latest obstructions coincide with the holy month of Ramadan -- have brought local residents to the brink of starvation, with some reporting they have had no choice but to eat grass.
In a video that went viral on social media, Taliban fighters are seen seizing and setting fire to a convoy of food that was supposed to go from the Badghis provincial capital of Qala-e-Naw to Jawand district.
The video was recorded in January in the village of Chahr Gaw, said Badghis governor Hesamuddin Shams.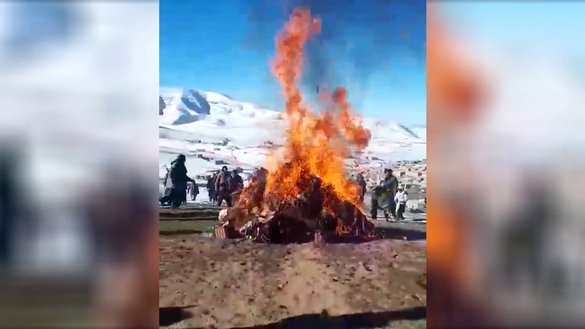 Jawand district residents accused the Taliban of attempting to starve the villagers into surrendering to the militants.
Under seige
The Taliban have closed all roads leading to Jawand district and are not allowing anyone to enter or leave the district centre, said Ramazan, a local resident.
"When locals try to transport their food supplies from Qala-e-Naw to Jawand district by donkey, the Taliban take everything from them and then burn it," he said.
In one particularly humiliating incident, the Taliban forced a vendor to ride backwards on his donkey as they parade him around the district, Ramazan said.
"The Taliban do not allow villagers to go about their lives, forcing them to comply with their compete siege," said Khodadad, another local resident.
"Residents of Jawand district centre cannot go to Qala-e-Naw or other areas," he said. "Our survival fully depends on airlifts by the government."
The Taliban do not even allow patients to go to Qala-e-Naw for treatment, Khodadad said, adding that "some patients have lost their lives because of the Taliban's oppression".
The Taliban have surrounded Jawand district because local residents support the government and the Afghan National Defence and Security Forces (ANDSF), said Badghis deputy governor Abdullah Fazli.
They have been trying to force local residents to support them instead, he said, but "public support for the government has thwarted all efforts by the Taliban to overrun the district centre".
Vital government support
For the past three years, all roads leading to Jawand district have been closed by the Taliban and the group has planted land mines along many roads, Shams said.
To circumvent the Taliban's siege, Afghan National Army (ANA) helicopters have been transporting essential supplies to area residents, the latest of which from Qala-e-Naw to Jawand district centre on April 14, including 92 tonnes of food supplies and two tonnes of medication.
"We will continue to provide assistance to Jawand district residents by air," Shams said, adding that Afghan forces are seeking to break the Taliban's siege and open up all public roads.
The Taliban seek to starve local villagers because "Jawand district residents have been supporting national security forces as well as participating in elections over the past years," said Abdul Basir Osmani, a member of the Wolesi Jirga from Badghis province.
Though the Taliban pressure locals to distance themselves from the government, residents will not give in or change their views, he said, noting that the government's assistance has saved the lives of many families.
Starving women and children
Because of the Taliban's seige, women and children spend nights hungry, said Mawlawi Abdul Hadi Hakimi, a religious scholar in Jawand district.
The Taliban have surrounded Jawand district to mentally and physically torture villagers, he said, describing their actions as going "against Islamic principles and human values".
The Taliban have not allowed residents to leave the area for work, leaving some with no means to feed their families, said district resident Shah Mahmood.
"We ran out of wheat flour, rice and even bread few days ago," he said.
"We were very concerned about having nothing to observe the holy month of Ramadan," he added. "The government food aid has therefore been very essential and timely."
"With recent government assistance, we will have sufficient food supplies in the coming months," Mahmood said.
"We are grateful to our security forces for rescuing our families from hunger," said Jawand district resident Shir Ahmad.
"If there is no government support, the Taliban will kill us," he said. "The Taliban repeatedly attempted to attack civilian houses in Jawand district centre; however, they were defeated by our national security forces and the residents."
"We will continue to stand alongside our national security forces, no matter how much pressure the Taliban put on us," Ahmad said.