HERAT -- Afghanistan's efforts to construct new houses of worship and to designate a "Mosque Week" to support them underscore its commitment to the Islamic values upon which the country was founded, religious scholars say.
The government's support of mosques across the country stands in sharp contrast to the actions of the Taliban, they said, noting that the insurgent group has targeted houses of worship and attacked Muslims, even during Ramadan.
At the beginning of Mosque Week, President Ashraf Ghani inaugurated 36 government-financed mosques across Afghanistan during a May 11 ceremony at the presidential palace (ARG) in Kabul.
Workers built the mosques -- a project of the Presidential Operations Department, costing 3.118 billion AFN ($39.8 million) -- at the request of the Afghan people, said Ghani.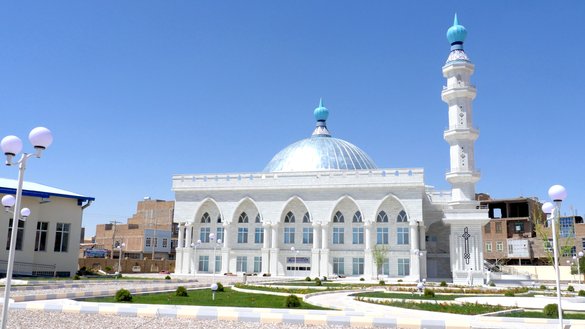 "Many more congregational mosques will be built in all cities and districts across Afghanistan," he said, adding that the construction of new mosques sends a clear message to Afghanistan's enemies that it will never give in to intimidation.
The government is committed to building and repairing mosques, Ghani said, adding that no one can distract the government from developing the country.
Each new mosque is built on two levels and can accommodate 2,000 worshippers, Presidential Operations Department deputy chief Sidaqatullah Sadiq said during the inauguration ceremony.
Each has running water, a lawn and a hall dedicated to fateha (mourning) services with a maximum occupancy of 1,000.
Sadiq said the government has allocated 5.5 billion AFN ($70.2 million) to build an additional 377 standard and congregational mosques across the country, with construction work already under way on 266 of them.
Taliban targeting mosques
Meanwhile, the Taliban have repeatedly targeted mosques with suicide attacks and explosions, causing civilian casualties and damaging or destroying houses of worship, say Afghan officials.
Mosques are being destroyed amid the conflict, but the government is trying to present a new face of Afghanistan to the world by building new mosques, said Herat city resident Mohammad Asif Mohammadi.
"I am so happy to see the government has built such a nice mosque in my neighbourhood," Mohammadi said, adding that Afghans are proud of their government for building mosques and condemn the Taliban's actions.
An explosion that occurred while the Taliban were assembling suicide vests and land mines in a mosque in Pashtun Zarghun district on April 25 destroyed the building, said local officials in Herat.
Herat city religious scholar Mawlawi Sheikh Ahmad Mawlawizada denounced those who destroy mosques or use them for purposes that contravene Islamic principles.
The Taliban claim to be Muslims, even as they blow up and destroy mosques and other religious sites, said Yasin Umran, a resident of the Nimroz provincial capital of Zaranj.
This proves they are not true Muslims, he said.
Support for government efforts
The allocation of significant funds to the construction of mosques affirms the government's commitment to upholding the values of Islam, say Afghan religious scholars.
"All religious scholars welcome the government's decision," said Mawlawi Mohammad Rahmati, a religious scholar in Zaranj, adding that the construction of hundreds of new mosques will bring the people and government closer.
The Taliban should learn from the government, which has affirmed its commitment to Islamic principles, and instead of destroying mosques, should join hands in building more mosques and making the country prosperous, said Rahmati.
The construction of modern mosques has put Afghanistan on par with its neighbours, said Abdul Khaliq Haqqani, director of the Herat provincial Hajj and religious affairs department.
"I recall the days when I visited other countries, where they had built modern mosques, and I felt so disappointed because we did not have such facilities," he said.
On behalf of religious scholars, Haqqani said he appreciated the government's efforts in promoting Islamic values and constructing proper buildings for worship and prayer.
If the Taliban had done even 1% of what the government has done towards promoting Islamic values, there would have been no devastation and conflict in Afghanistan, said Zaranj resident Abdul Karim Wafa.
"Our government system is based on Islamic principles, and the leadership and the personnel of the government are all Muslim," he added. "No one can question or deny this fact."
Wafa called on the Taliban to stop destroying the country's infrastructure in the name of their so-called jihad, adding that they "must recognise that they are fighting against their own Muslim brothers".