TASHKENT -- US officials are engaged in ongoing dialogue with Central Asia regarding future partnerships and current challenges, such as the COVID-19 pandemic and growing instability in Afghanistan.
Last week, Elizabeth Sherwood-Randall, homeland security adviser to US President Joe Biden, led a multi-agency US delegation to Tashkent for a high-level international conference, the White House National Security Council (NSC) said in a statement Saturday (July 17).
That conference, "Central and South Asia: Regional Connectivity. Challenges and Opportunities", took place last Thursday and Friday.
The delegation, which included staff from the White House NSC, Defence Department and State Department, sought to strengthen regional co-operation with the United States.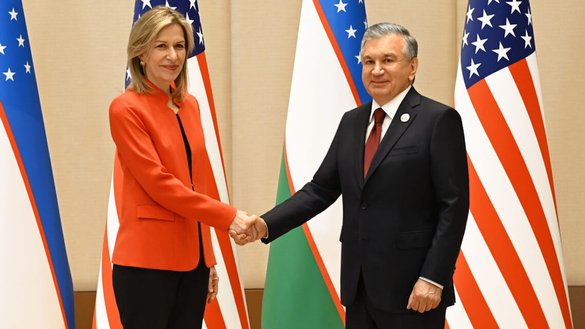 Sherwood-Randall gave opening remarks recognising 30 years of partnership between the United States and Central Asia.
She highlighted the US government's commitment to realising Central Asia's potential as a transit, trade and energy hub and the importance of environmentally friendly infrastructure development.
She also participated in a roundtable meeting of the C5+1 diplomatic platform for Central Asia, where member countries discussed the challenges posted by the COVID-19 pandemic and by instability in Afghanistan.
Sherwood-Randall conferred with Uzbek President Shavkat Mirziyoyev on various matters and with Kazakh, Tajik, Turkmen and Uzbek officials on enhancing regional security, addressing humanitarian concerns and increasing the number of COVID-19 vaccinations in the region.
Afghan security
During the conference, Sherwood-Randall, US Special Representative for Afghanistan Reconciliation Ambassador Zalmay Khalilzad and US Ambassador to Uzbekistan Daniel Rosenblum held talks with Afghan President Ashraf Ghani and Afghan Foreign Minister Muhammad Hanif Atmar.
They discussed the evolving security situation in Afghanistan, US support for Afghan government forces and US diplomatic backing for a negotiated political settlement to the war.
A C5+1 joint statement, issued last Friday after the meeting, underscored the six participating countries' commitment to Afghan security and peace.
Besides citing the need to build up trade, transport and energy ties between Central Asia and South Asia, the C5+1 identified its goals regarding Afghan security: "Create stable and prosperous conditions favorable to the Afghan peace process, including reaffirming to all parties: the urgency of substantive negotiations on a political settlement; that the only path to a just and durable peace is through a negotiated political settlement that results in an inclusive political system and respects the fundamental rights of all Afghans; that there is no support for the imposition by force of a new government in Afghanistan; and that terrorists and third party forces must never be allowed to use Afghan territory to threaten or attack the C5+1 countries or any other country".
Quadrilateral partnership
Another fruit of the US delegation's work in Tashkent was a "new quadrilateral diplomatic platform focused on enhancing regional connectivity", the US embassy in Tashkent said in a statement last Friday.
Officials from the United States, Afghanistan, Pakistan, and Uzbekistan agreed in principle on forming a new quadrilateral diplomatic platform focused on bolstering regional connectivity.
Since peace and regional connectivity reinforce each other, the four countries intend to "expand trade, build transit links, and strengthen business-to-business ties", the embassy said.
The parties plan to meet again soon to finalise details of this co-operation.