KABUL -- Afghan National Defence and Security Forces (ANDSF) are fighting off the Taliban in Afghanistan's southern cities with air support from US bombers, officials said Monday (August 9), after a weekend blitz in which Taliban insurgents seized six provincial capitals.
Hundreds of insurgents have been killed or injured in the last 24 hours, the Ministry of Defence said, with clashes reported in Kandahar and Helmand provinces -- traditional Taliban strongholds.
The Taliban have suffered "heavy losses" and the security situation is improving, according to Ministry of Interior Affairs spokesman Mirwais Stanikzai.
"Afghan security forces are patrolling the cities," he said.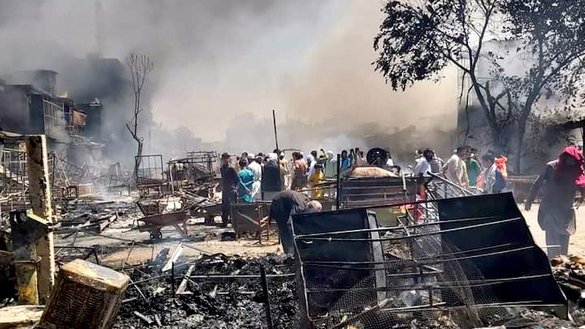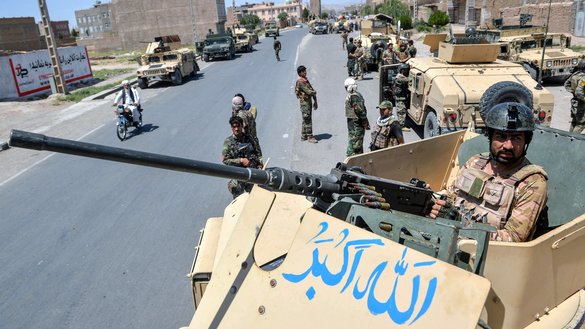 The US military has intensified air strikes to assist the ANDSF fight against the Taliban -- sending in B-52 bombers and Spectre gunships from an air base in Qatar, The New York Times reported on Saturday.
The B-52s are hitting targets around Kandahar, Herat, and Lashkargah, sources told the newspaper.
The United States is also using armed Reaper drones and AC-130 Spectre gunships and is flying at least five missions each day, The Times reported.
"US forces have conducted several air strikes in defence of our Afghan partners in recent days," Maj. Nicole Ferrara, a US Central Command spokesperson, told AFP on Saturday.
The insurgents have been trying for weeks to take Kandahar and Lashkargah -- both with Pashtun majorities from where the Taliban draw their strength -- but the government says they have so far managed to reach only the outskirts, or pockets of neighbourhoods.
"We're clearing houses, roads, and buildings that the Taliban occupy," Maj. Gen. Sayed Sami Sadat, commander of the Afghan National Army's 215th Maiwand Corps, told AFP from Lashkargah.
Meanwhile, UNICEF decried the death toll among children. At least 27 children were killed in fighting in 72 hours, UNICEF said in a statement Monday, citing 20 in Kandahar, 2 in Khost and 5 in Paktia province.
"UNICEF is also deeply concerned about reports that children are, increasingly, being recruited into the conflict by armed groups," said the organisation.
Chaos and looting
The Taliban have snatched up six provincial capitals since Friday, causing panic among local residents and forcing many to flee for their lives.
Zaranj, Nimroz's provincial capital, was the first city to fall to the Taliban on Friday.
The city -- near the Iranian border -- is not strategically important, but on entering Zaranj, Taliban insurgents opened the gates of the city jail, officials said, freeing Taliban prisoners along with other criminals.
Videos on Twitter showed mobs looting government offices and stealing desks, office chairs, cabinets and televisions.
The veracity of the clips could not be confirmed.
The same day, Taliban militants assassinated Afghan government spokesperson Dawa Khan Menapal at a mosque in Kabul, the Ministry of Interior Affairs and a Taliban spokesperson confirmed.
His murder comes days after the Taliban tried but failed to assassinate Defence Minister Bismillah Mohammadi and warned they would target senior administration officials in retaliation for increased US air strikes against the group.
On Saturday, the Taliban captured Sheberghan, Jawzjan province, after facing resistance from ANDSF and local militia forces, Jawzjan deputy governor Abdul Qader Malia told AFP.
The insurgents hold only parts of the city, insisted Stanikzai the Ministry of Interior Affairs spokesman.
"The security forces, backed by reinforcements and the uprising forces, will once again clear the city from the terrorists," he said.
Inhabitants are staying behind closed doors, fearful for their future, said one resident of Sheberghan.
"The Taliban are everywhere, with their flags, but from what I see through the window, the streets are deserted," he told AFP, asking not to be named.
The city is home to former vice president Abdul Rashid Dostum, who returned to Afghanistan only this week from medical treatment in Turkey and is now in Kabul.
Aides said he met with President Ashraf Ghani on Saturday to request reinforcements.
"We have demanded the government deploy at least 500 commandos so we could work to retake the city," said his party's spokesman, Ehsan Niro.
The ANDSF were fighting to retake key installations, said the Defence Ministry.
Reinforcements, including special forces, have been deployed to Sar-e-Pul and Sheberghan, said Stanikzai.
"These cities that the Taliban want to capture will soon become their graveyards," he said.