HERAT -- Residents of Dawlatyar district in Ghor province have been cut off from vital Harirud River water after the Taliban destroyed local infrastructure, say local officials.
Taliban fighters on July 6 blew up a small dam and sections of a canal in Dawlatyar after suffering several defeats by Afghan forces, cutting off water to the district, according to Ghor Governor Abdul Zahir Faizzada.
"The canal irrigated almost 2,000 hectares of farmland and more than 1,250 orchards, but these farmlands and orchards are now drying up since the water has been cut off," Faizzada told Salaam Times August 1.
"More than 1,000 families used water from the canal for drinking," he said, adding that thousands of heads of livestock are also at risk of dying.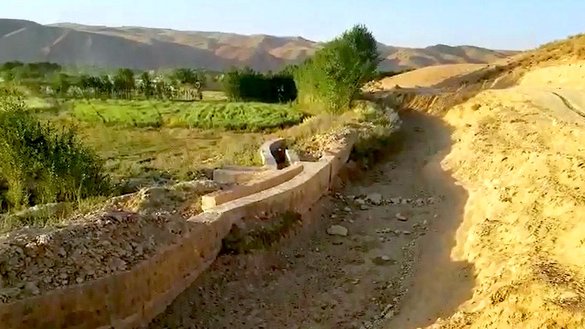 While local residents have a few deep wells, they are not enough to meet their needs, he added.
"The people of Dawlatyar are facing severe shortages of drinking water while crops and orchards have been destroyed," said Hamidullah Mutahid, a member of the Ghor provincial council.
"If water from the river does not reach the Dawlatyar district centre, there could be a major humanitarian and economic catastrophe," he said.
Once again, "the Taliban have proven that they act against Islamic principles and values", he added.
Lack of water
The lack of water has destroyed wheat crops and orchards, according to Mohammad Hassan, a farmer in Dawlatyar.
"No one can go to the area to rehabilitate the canal because the Taliban have planted mines all over the place," he said.
"Killing innocent civilians [and carrying out] suicide bombings and explosions weren't enough for the Taliban, so now they cut off water to the public too," he added.
"I do not know if the Taliban are human since they lack any sense of humanity," Hassan added.
He urged local and international aid agencies to help address the water shortage and rehabilitate the canal.
Locals are facing serious problems due to the lack of water. Even animals have no water to drink, he said.
Sayed Mohammad, a farmer in Dawlatyar district, said his wheat fields still needed four more rounds of irrigation before harvest.
However, they are now dying from lack of water, he said.
"Fruit trees that farmers so painstakingly nurtured throughout the years are dying from lack of water," he added. "It will take another 10 years for the orchards in Dawlatyar district to grow again and bear fruit."
"The wheat crop has not been good for the people of Dawlatyar this year because of lack of water. I do not know how we will get through this year as our orchards and crops are dying," he added.
Crops and farms have been destroyed because the Taliban have blown up the district canal, said Ghulam Hazrat Saberi, a resident of Dawlatyar district.
"Many people have fled their districts because of Taliban violence," he added.
"I urge the government to develop a plan for addressing this problem," he said.
Disgrace to Islam
Mawlawi Khair Mohammad Khairkhwah, a religious scholar in Dawlatyar district, compared the situation in Dawlatyar to the Battle of Karbala, in which Yazid cut off water supplies to Imam Hussain and his companions.
"The Taliban's actions against the Afghan nation are a disgrace, and this group is a stain on the name of Islam," he said. "Nothing the Taliban do is in accordance with Islamic values and principles."
"What is the justification for the Taliban to cut off water to thousands of Muslims in this hot weather? " he asked.
"Such actions by the Taliban fit neither in the framework of Islam nor of humanity," Khairkhwah said, adding that it is a shame that the Taliban call themselves Muslims.
The Taliban violate Islamic values on a daily basis because of their ignorance and lack of awareness, said Mawlawi Shir Aqa Nazari, a religious scholar in Firoz Koh, the provincial capital of Ghor.
"While the Taliban call themselves an Islamic group, their actions do not comply with the principles of any religion. The Taliban are neither Muslims nor infidels, but wild animals that shed daily the blood of the innocent," he said.
"The Taliban are clearly violating Islamic values and human rights laws. The Taliban's objective behind intimidating and torturing innocent civilians to create fear so that they can achieve their goals in such a situation," he added.
The Taliban's actions have nothing to do with Islam. The group is a disgrace to Muslims and Islam, Nazari said.