LISBON, Portugal -- Portugal on Monday (December 13) welcomed 273 Afghan refugees including students and teachers from Afghanistan's top musical institute who fled Afghanistan after the fall of the previous government in August.
The musicians fled Kabul to Qatar in October before being resettled in Portugal.
Now that they are safe and settled in Lisbon, reopening the school is a key objective, said Ahmad Naser Sarmast, director and founder of the Afghanistan National Institute of Music (ANIM).
"The commitment is to reopen this school. We have a mission [for the] music of Afghanistan to continue," he said.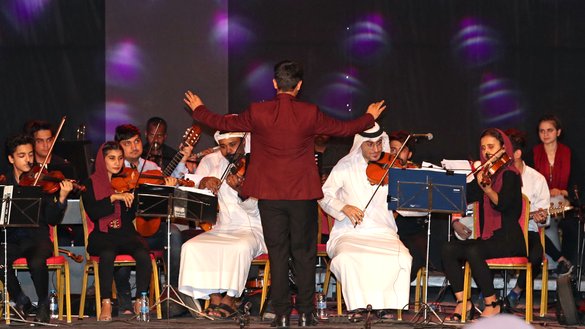 "Thank you to [the] international community. You all save our lives," music student Shogula Safi said as she arrived at a military airport in the Portuguese capital Lisbon.
"I'm very happy because I see my friends smiling," said Murtaza Mahammadi, a musician from ANIM. "We can continue playing music. It makes me really happy."
Portuguese Prime Minister Antonio Costa welcomed the news on Twitter, saying the "students, young women, young men and their relatives will have the opportunity to live and resume their studies in Portugal".
Portugal and Qatar's contribution
Portugal so far has taken 764 mostly young Afghan refugees, according to government figures.
The country also welcomed dozens of players from Afghanistan's national women's football team and their families in October.
Qatar, which played a leading role in the historic Kabul airlift of more than 123,000 Afghans and foreign nationals, has emerged as a key mediator in Afghanistan following the withdrawal of US forces.
Fearing a crackdown on music by their country's new leaders, 101 members of ANIM landed in Doha on October 3, Sarmast told AFP in an interview from Melbourne, Australia, on October 5.
With help from the Qatari embassy in Afghanistan, the musicians had been ferried in small groups to Kabul's airport, he said. But the success of the operation was in doubt until the last moment.
Authorities at the airport had questioned the girls' visas and passports, but Qatari officials managed to negotiate their passage.
When the flight finally took off hours later with the musicians, including many from the all-female Zohra orchestra, Sarmast said he was overcome with emotion.
"It was a time of many tears," he said. "I was crying endlessly. My family were crying together with me. That was the happiest moment in my entire life."
Zohra, an ensemble of 35 young musicians aged 13 to 20, some orphans or from poor families, was catapulted onto the world stage with a performance at the World Economic Forum in Davos, Switzerland, in 2017.