KUNDUZ -- Health officials this year registered three positive cases of polio in Imam Sahib district as the fourth round of Afghanistan's national polio vaccination campaign wrapped up on Thursday (December 16).
The cases of wild poliovirus type 1 were registered between October and November, said Dr. Ghulam Jailani Attaiee, director of the Expanded Programme on Immunisation (EPI) office in Kunduz province.
"The new cases were seen in a 25-month-old boy, a 10-month-old girl and a 3-year-old boy in Alef Bardi and Sae-e-Kapark villages of Imam Sahib district in Kunduz," he said.
The infected children were never vaccinated against the virus, he said.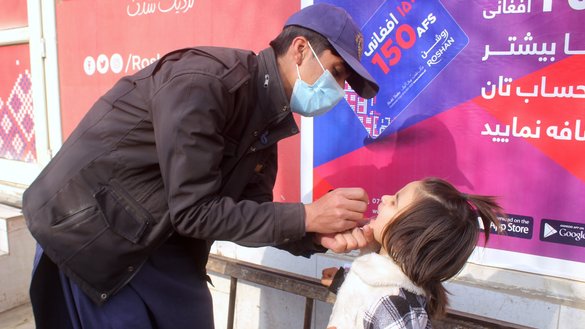 Including the recent cases, Afghanistan has reported four cases of wild poliovirus type 1 this year.
"Immunisation is one of the most cost-effective public health interventions, saving children's lives and contributing to a better future for Afghan children," said Alice Akunga, United Nations Children's Fund (UNICEF) Representative in Afghanistan.
The fourth round of the polio immunisation campaign took place Sunday through Thursday. It included the provincial capital and nine districts of Kunduz, where as many as 350,000 children under the age of 5 have been vaccinated.
The campaign was synchronised with Pakistan to improve cross-border polio eradication efforts, UNICEF said in a press release December 13.
It targeted 9.9 million children under the age of 5 across Afghanistan.
Earlier in November, health workers delivered polio vaccinations nationwide in the third round of the campaign to 8.5 million children under the age of 5, including 2.4 million children who were vaccinated for the first time in more than three years, UNICEF reported.
"The November campaign was a massive leap forward," said Dr. Dapeng Luo, World Health Organisation (WHO) representative in Afghanistan. "Six more campaigns are planned for 2022, and we must ensure they are implemented timely and reach all children."
Afghanistan and Pakistan remain the only two countries in the world where polio is endemic.
Concern in Kunduz
While this year health workers have seen a record low in polio cases in both countries, Kunduz residents are alarmed about the new cases.
"The occurrence of three new cases indicates that the poliovirus ... could infect other children in our district," said Sayed Mohibullah Mudaris, a resident of Imam Sahib district. "In order to save other children, UNICEF must prevent the spread of the virus."
Kunduz residents are concerned about the spread of the virus because the polio vaccination campaign was interrupted over the past few months, he said.
Ghulam Nabi Sahib, a resident of Kunduz province, urged all families to vaccinate their children so that the country can finally be free of the preventable disease.
"I am very concerned [about the new cases], but at the same time I feel happy because I have vaccinated my two children in time," he said.
UNICEF has developed a plan to go door to door to vaccinate children over the next few weeks, especially in high risk areas, said Sayed Kamal Shah Arif, UNICEF spokesperson in Kunduz province.
In the new campaign, those children who were not vaccinated in earlier campaigns because of conflict and insecurity will be vaccinated against the poliovirus and receive a vitamin-A drop, he said.
"Children should not be the victims of any political ambition," said Mohammad Hussain Nasiri, a civil society activist in Kunduz.
"They have every right to shape the future of our society. Therefore, we should make sure they are vaccinated in due time because any negligence can paralyse them permanently."
Families must co-operate with the immunisation teams because the implementation of the polio vaccine can save their children from permanent disability, he said.
Vaccination 'crucial'
Those disabled by polio urge others to get vaccinated.
Samiullah, 32, a resident of Kunduz city, said he is the only person in his six-member household who was infected with the virus. He blamed his parents' negligence.
"The vaccine is crucial for children," he said. "I always tell people that my family did not vaccinate me, and I have become impaired. Therefore, they should be very careful and not repeat my mistake."
"I have been suffering from polio for 27 years," he said. "Like others with disabilities, I use crutches to walk."
Mohammad Musa Ahmadi, 34, a resident of Kunduz province, said he was crippled in his childhood because he did not receive the vaccine.
Despite his disability, he has remained optimistic and continued his education.
"I never feel that I am a disabled person because I have not lost my confidence," he said. "Fortunately, I will be a third-year student at Kunduz University next year."
He called on all youth, especially those suffering from polio paralysis, to raise awareness about the virus among their households and community so that they vaccinate their children and prevent them from becoming permanently disabled.