HERAT -- Participation of female administrators in polio vaccination campaigns across Afghanistan has become stronger this year than in previous years.
Despite suffering severe restrictions, these women brave the wrath of assassins and go house to house to vaccinate children.
The polio vaccination campaign in Afghanistan is funded and implemented by the United Nations Children's Fund (UNICEF).
The last nationwide polio vaccination campaign took place May 23 to May 26.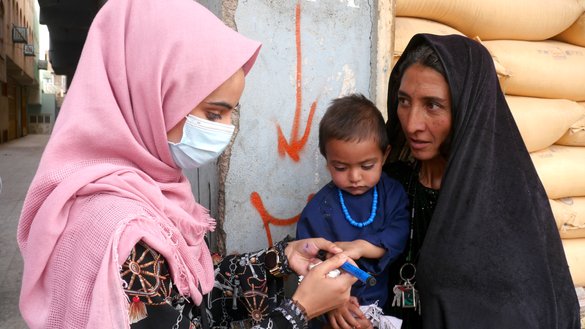 More than 1,100 women joined the campaign as vaccine administrators and team co-ordinators in Herat, said Dr. Muhammad Asef Kabir, deputy director of the Herat Public Health Department.
Eighty percent of vaccine administrators in Herat city are women, but the percentage of participating women is lower in Herat's districts because of restrictions.
Female administrators are well educated and trained to give vaccines.
Because of the traditional nature of the country, families allow women to enter their homes as vaccine administrators, said Kabir.
"In many instances, families would not allow vaccination when male administrators went to their houses to vaccinate children."
"Female vaccinators pay more attention to finding children and vaccinating them," Kabir added. "No child is left unvaccinated in areas where women are responsible for vaccination."
Moreover, he said, administering polio vaccines is a means for those women to support their families.
Efforts to eradicate polio
Vaccine administrators try to find every child in the households they visit to ensure they are not left behind. Their purpose is achieving a polio-free Afghanistan.
Diana Rahimi, co-ordinator of female polio vaccination teams in Herat city, said she manages 30 vaccination teams. Her goal, she said, is to eradicate polio in Afghanistan.
"Together with girls, we go inside houses to make sure no child is left out of polio vaccination," she added. "Some families who don't understand the importance of polio vaccination resist vaccinating their children, but we convince them."
Female teams go to different areas to vaccinate children and most locals warmly welcome them, she added.
"I hope for a day when my name is amongst those who had a role in eradicating polio in Afghanistan," Rahimi said.
Tina Nezami, an administrator in Herat city, said she is happy to be able to work outside her home.
She and her coworkers want to go to every house and save children from this dangerous and deadly virus, she added.
"My only hope is that like other countries, Afghanistan will be free of poliovirus and that I will not see any paralysed Afghan child with my own eyes," she said.
Yagana Nabizada, another vaccine administrator, in Herat city said that she is fighting various restrictions to be able to provide polio vaccine to children and save them from permanent paralysis or even death.
"My only hope is to see poliovirus eradicated in my country," she added. "I feel delighted when I go to houses to vaccinate children."
"Although some families say their children are asleep, we go inside their houses to ensure their children are not left out of vaccination," Nabizada added.
Polio threat remains serious
UNICEF has announced that polio still threatens Afghan children.
Only two polio cases have been registered globally in 2022: one in Afghanistan and another in Pakistan.
Nationwide polio vaccination campaigns have been launched in the country to eradicate poliovirus, said Shamsher Khan, director of UNICEF's polio programme in Afghanistan.
UNICEF has adequate resources and vaccines, and no Afghan child will be deprived of vaccination, he said in a pre-recorded interview shared with Salaam Times.
"A polio vaccination campaign was launched three times in Afghanistan this year, and 9.9 million Afghan children have received polio vaccine in the last campaign," he added.
"More than 3 million [Afghan] children were deprived of polio vaccination because of insecurity in previous years," he added. "But now we have access to all these children and have vaccinated all of them."
Vaccination is the only way to stop the spread of poliovirus and UNICEF will continue launching nationwide polio vaccination campaigns, Shamsher Khan said.
While no positive polio case has been registered lately in the western provinces, the threat of poliovirus still exists, said Dr. Wahid Ahmad Rahmani, director of the vaccination programme in Afghanistan's western region.
"Positive polio cases had been registered in insecure areas in the previous years, but with the removal of restrictions on polio vaccination campaigns, children in all areas have now been vaccinated," he added.
In certain areas, sewage contains active poliovirus, which is why workers consistently spray those areas with disinfectants, he said.
Vaccination teams are regularly present in the entrances and bordering areas of western provinces to vaccinate children entering Afghanistan from neighboring countries, Rahmani said.