Rights groups are criticising a move by Chinese authorities in Xinjiang to restrict the number of Muslims allowed to observe the holy month of Ramadan, Radio Free Asia (RFA) reported April 1.
Officials in the Xinjiang region have long prevented Uighurs and other Turkic Muslims from fully observing Ramadan, including by banning students, teachers and civil servants from fasting.
Some neighbourhood committees have received notices that only 10–50 Muslims will be allowed to fast during Ramadan, which started for most observers on April 1, local administrators and police told RFA.
Those who do fast must also register with authorities.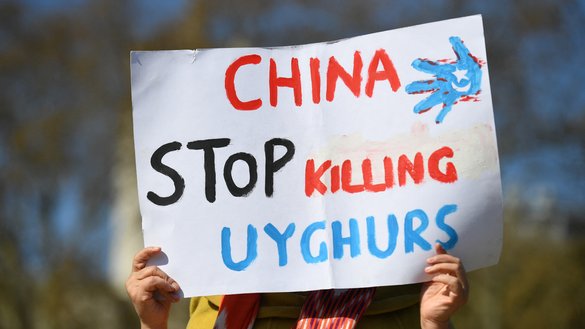 One village administrator in Ghulja county in Ili Kazakh Autonomous Prefecture said registration was already under way in his community.
Only the elderly and adults without school-age children are allowed to fast, said the administrator, who oversees 10 families.
"This system is designed to avoid religion having negative effects on children's minds," the administrator said. "There is a lot of propaganda about it right now. A cadre from the village is registering people who meet the criteria for fasting."
Another administrator who oversees 10 families in the city of Atush in Kizilsu Kirghiz Autonomous Prefecture said he received a notice about the restrictions from local authorities.
"Of the 10 families of whom I am in charge, two ... were identified as ones that can fast," he said. "Both are elderly and have no children at home."
'No Ramadan for Uighurs'
The reports have drawn criticism from human rights groups.
"It is pathetic and tragic to see China's notice that only certain people can fast," said Turghunjan Alawudun, director of the Committee for Religious Affairs at the World Uyghur Congress in Germany.
"The Muslim world would laugh at China's actions and be astonished by the setting of a quota for those who can fast."
"There will be no Ramadan for Uyghurs in the homeland this year -- or any year -- until China's campaign of genocide is brought to an end," the Washington-based Uyghur Human Rights Project said in a statement March 31.
The Campaign for Uyghurs, also based in Washington, noted that the Chinese Communist Party (CCP) is again forbidding Uighurs in Xinjiang from worshipping and celebrating religious holidays.
"To add insult to this injustice, the CCP selectively deploys Islam to paint a sham picture," the group said in a statement March 31.
Authorities in past years have warned Uighur residents that they could be punished for fasting, including by being sent to one of Xinjiang's internment camps.
They have also demanded that retirees pledge ahead of Ramadan that they will not fast or pray to set an example for the wider community and to assume responsibility for ensuring others also refrain, RFA reported.
'Crimes against humanity'
More than one million Uighurs and other Turkic Muslim minorities have been detained across Xinjiang in a network of "re-education camps" as part of an "anti-terrorism" crackdown, estimate rights groups.
Independent investigations and interviews with former inmates of the camps in Xinjiang have brought to light physical and mental torture, brainwashing, systematic rape and sexual abuse inside the camps.
Additionally, Chinese authorities have used various pretexts to damage or destroy two-thirds of the region's mosques and other sacred Islamic sites, Human Rights Watch said in a detailed report last April.
Beijing's policies in Xinjiang amount to "crimes against humanity" and "genocide", say human rights organisations and a growing number of Western governments -- including the United States, Canada, the Netherlands, Britain, Belgium and France.
US Secretary of State Antony Blinken on March 21 announced new visa restrictions on Chinese officials for their actions to repress ethnic and religious minorities both inside and outside the country.
In a statement, which provided no specific details on which officials would be targeted, Blinken reiterated a call for China to "end its ongoing genocide and crimes against humanity" in Xinjiang.
The US sanctions mainly target Chinese officials complicit in policies that repress minorities, dissidents, human rights activists and journalists, he said.
Blinken criticised efforts by China to "harass, intimidate, surveil and abduct members of ethnic and religious minority groups, including those who seek safety abroad".
"We again call on the [Chinese] government to cease its acts of transnational repression, including attempting to silence Uighur American activists and other Uighur individuals," he said.