Five members of an "Islamic State of Iraq and Syria" (ISIS) network of financial facilitators that helped the group recruit children from displacement camps in Syria, among other crimes, were on Monday (May 9) slapped with US sanctions.
The five belonged to a network operating across Syria, Turkey and Indonesia, the US State and Treasury departments said.
The five individuals "have facilitated the travel of violent extremists to Syria and other areas where ISIS operates", US Secretary of State Antony Blinken said in a statement.
"By designating them, we aim to expose and disrupt an international ISIS facilitation network that has financed ISIS recruitment, including of vulnerable children in Syria," he said.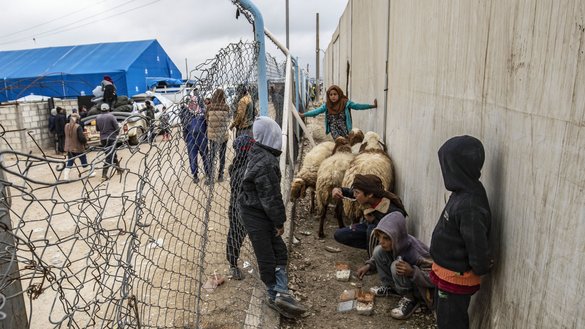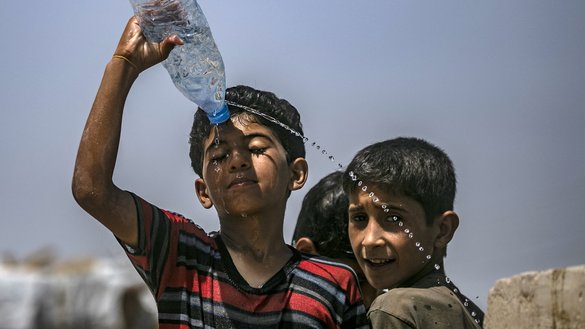 The network conducted financial transfers to support ISIS efforts in Syria displacement camps by collecting funds in Indonesia and Turkey, according to the US Treasury.
Some of the funds "were used to pay for smuggling children out of the camps and delivering them to ISIS foreign fighters as potential recruits", it said.
Residents of the camps, including al-Hol, a sprawling camp in the desert of al-Hasakeh province, Syria, include those who have been displaced by ISIS, as well as ISIS elements, supporters and their families, the Treasury said.
ISIS sympathisers in more than 40 countries have sent money to ISIS-linked individuals in al-Hol and other camps in support of a future resurgence, it said.
Recent attacks in Afghanistan demonstrate that ISIS is trying to expand its influence in that country, security analysts say.
A series of bloody attacks on mosques and schools in several provinces during the final days of Ramadan put Afghans on edge as they celebrated Eid ul Fitr.
Because of the security vacuum created in Afghanistan, the threat of ISIS is growing there while the necessary military and intelligence capabilities to tackle this threat do not exist right now, warned Hamza Baloch, a military analyst in Nimroz province.
'Child recruits for ISIS'
In Syria's al-Hol alone -- the largest of the camps, with a population of 70,000 comprised mainly of women and children -- ISIS supporters have received up to $20,000 per month via hawala, an informal transfer mechanism.
Hawala involves a network of money brokers, who transfer funds or "value" outside the traditional banking system without the physical movement of money.
The majority of the funds flowing to ISIS supporters in al-Hol has originated outside Syria or passed through neighbouring countries, such as Turkey, the Treasury said.
Since 2019, it added, ISIS has been smuggling its associates out of al-Hol, for the most part to the Syrian provinces of Idlib, Deir Ezzor and al-Raqa.
"ISIS is particularly focused on smuggling children out of displaced persons camps for recruitment as fighters," it said.
One of the sanctioned individuals, Dwi Dahlia Susanti, has been an ISIS financial facilitator since at least 2017 and has assisted other ISIS elements with money transfers.
In late 2017, the Treasury said, Susanti helped her husband deliver almost $4,000 and weapons to an ISIS leader, diverting about $500 to ISIS supporters in her own network.
"As of early 2021, Susanti has facilitated money transfers from Indonesia to Syria in order to provide funds to individuals in displaced person camps," it said.
"In some cases, these funds were used to smuggle teenage children out of the camps to the desert, where they were received by ISIS foreign fighters, likely as child recruits for ISIS," it said.
Preying on the vulnerable
The United Nations Children's Fund (UNICEF) has described al-Hol as "a difficult place for children", who make up nearly half of the camp's population.
Most of the camp's children are under the age of 12.
In a March 23 report, Save the Children said that in the 12 months preceding, 74 children died in al-Hol, eight of whom were killed in violent incidents.
In the aftermath of ISIS's 2017 defeat, the camp remained a hotbed of extremist ideology and a focus of ISIS attention for resurgence and recruitment.
Hardline ISIS women inside al-Hol formed hesba ("religious police") units -- vigilante groups who enforce ISIS's harsh interpretation of sharia and mete out punishments -- and set about indoctrinating the camp's children.
Despite the best efforts of the camp's Kurdish administration to maintain order, violence, extremism and vigilantism have been a constant theme at al-Hol.
The camp remains "the last opportunity for ISIS to recruit children and turn them into ticking bombs to use as they please", Syrian Democratic Forces (SDF) officer Farhad Khoja told Al-Mashareq in January 2021.
Many of the children still lived with mothers who espouse ISIS's violent ideology "and dream of resurgence and proliferation", he noted.
After a number of newborn children appeared at al-Hol, where there are very few men, an alarming trend was brought to light, al-Hol camp Kurdish Red Crescent relief worker Narmin Othman said.
Initial investigations revealed the camp's hardline women had been forcing teenage boys to take wives so they could have children, raise them on ISIS ideology and send them off to "restore the caliphate", she said.
Even as these youngsters face indoctrination, exploitation and hardships such as a lack of basic services and protection inside al-Hol, ISIS elements on the outside have sought to draw them out, and into the group's ragged ranks.
ISIS's recent efforts to regroup have included a bloody January attack on Ghwayran prison in al-Hasakeh, in which it attempted to break extremists -- including "hundreds of children" -- out of jail.
The SDF accused ISIS of holding children hostage and "using them as human shields to protect themselves" from a counter-offensive during the incident.
The SDF recaptured the prison after a days-long standoff, with help from US and other foreign forces, who stepped in to support Kurdish elite units.