KABUL -- The founder of a project that campaigned for girls' education in Afghanistan has been detained in Kabul, his family and the United Nations Assistance Mission in Afghanistan (UNAMA) said Tuesday (March 28).
Matiullah Wesa, the director of PenPath, was stopped by men outside a mosque in Kabul after prayers on Monday evening, his brother Samiullah Wesa told AFP.
"When Matiullah asked for their identity cards, they beat him and forcibly took him away," he said.
"He has been arrested for his activities in the education sector. He never worked with anybody else, neither with the previous government. He worked only for PenPath."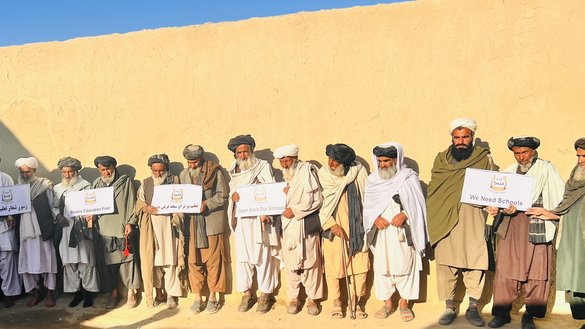 Another brother, Attaullah Wesa, tweeted Tuesday morning that the family's house had been surrounded by security forces, his two brothers beaten and his mother threatened. Matiullah's phone and laptop were confiscated.
UNAMA confirmed Wesa's arrest and called on the authorities "to clarify his whereabouts, the reasons for his arrest and to ensure his access to legal representation and contact with family".
Determined to educate girls
Girls have been banned from attending secondary school and university for over a year, making Afghanistan the only country in the world to issue such restrictions on education.
PenPath campaigns for schools and distributes books in rural areas, and has long dedicated itself to communicating the importance of girls' education to elders in villages, where attitudes have been slowly changing.
Since the ban on secondary schools for girls, Wesa has continued visiting remote areas to drum up support from locals.
"Men, women, elderly, young, everyone from every corner of the country are asking for the Islamic rights to education of their daughters," he said in a tweet, hours before he was arrested.
Last week, as the new school year started without teenage girls, he vowed to continue his campaign.
"The damage that closure of schools causes is irreversible and undeniable. We held meetings with locals, and we will continue our protest if the schools remain closed," he tweeted.
Even before the ban on girls' education, PenPath was dedicated to raising literacy in remote areas of the country.
With more than 70% of Afghan women unable to read and write, Afghanistan has the worst education indicators for women in Asia, according to the World Bank.
Over the past decade, Wesa has visited all 360 districts of Afghanistan to promote education.
"We've opened tens of schools across the country where more than 110,000 students are enrolled," he told Voice of America (VOA) in an interview published last April 21.
The work has not been easy.
"Twice we escaped direct firing at our car as we were traveling in rural areas … and there have always been people who call me names and threaten to kill me," he said.
PenPath has more than 2,400 volunteers across the country who help set up local classrooms, find teachers, distribute books and stationery, and organise community gatherings in support of education for both boys and girls, VOA reported.
"Our work is entirely apolitical, and we never oppose or support any political agenda," Wesa said.
Despite the risks, he has remained committed to promoting his message.
"I see change in the way people think about women's education," he told VOA last year. "In the past, people did not even talk about women's education. Now they're demanding it because they need female doctors, teachers, writers and what not."
'Raise your voice'
More than 1.1 million Afghan girls have been denied secondary education, according to the UN children's agency (UNICEF).
"Any grassroots initiatives that help communities to better understand the value of education for all children are extremely valuable in increasing demand for education and getting more girls into school," Samantha Mort, a UNICEF spokeswoman in Afghanistan, told VOA last year.
Shinkai Karokhel, a former member of the Afghan parliament and a women's rights activist, called PenPath "an extremely critical movement in Afghanistan".
"Nothing is more needed for a self-sufficient, independent and prosperous Afghanistan than education, and that's what this movement is striving to achieve," she told VOA.
In a recent speech in Geneva, UN special rapporteur on human rights in Afghanistan Richard Bennett said the ban on girls' education "may amount to the crime of gender persecution, for which the authorities can be held accountable".
He expressed alarm at Wesa's arrest in a tweet on Tuesday. "His safety is paramount & all his legal rights must be respected," he said.
"Raise your voice for him," added Pashtana Zalmai Khan Durrani, director of Afghan non-profit education provider Learn Afghanistan.
Wesa is the second leading educator to be arrested in recent months for campaigning for girls' education.
In February, authorities detained a veteran journalism lecturer, Ismail Mashal, after local media showed him carting books around Kabul and offering them to passersby.
It followed a live appearance on television in which he tore up his diplomas to condemn the restrictions on women's right to work and education.