Every week, during Friday prayers in Zahedan, in southeast Iran's Sistan and Baluchestan province, internet connectivity is disrupted.
This pattern of internet shutdowns, seen across Iran, is evidence the Iranian regime still fears an uprising in a country that has been rocked by popular protests triggered by Mahsa Amini's death in September, observers say.
As a result, the US government has sanctioned two technology companies and two individuals for their role in internet censorship in Iran.
On June 2, the US Treasury designated Iran-based technology company "Arvan Cloud", two of its senior employees and an affiliated company based in the United Arab Emirates (UAE) for their role in facilitating the Iranian regime's censorship of the internet.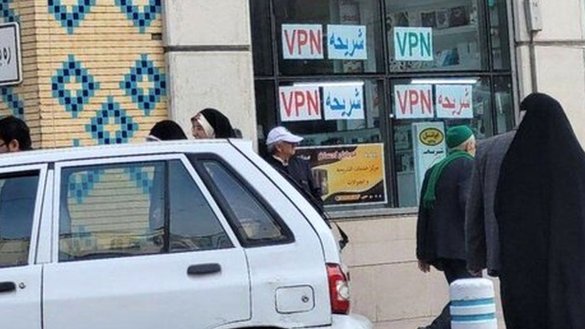 Arvan Cloud played a major role in Iran's development of the National Information Network (NIN) infrastructure, a countrywide intranet that is being used to disconnect Iranians from the global internet, the US Treasury said.
The company has a close relationship with Iran's intelligence services, including the Ministry of Intelligence and Security (MOIS), it said.
"Free and unrestricted access to information is a fundamental right of all peoples, including in Iran," said Treasury Under Secretary for Terrorism and Financial Intelligence Brian E. Nelson.
"The United States is committed to holding accountable those who seek to undermine freedom of expression and suppress dissent, and to call out regimes who deny their citizens this right," he said.
Search engines like Google and Bing, major websites such as YouTube, and a number of social media websites including Facebook and Twitter have long been filtered by the Iranian regime.
In its latest clampdown, more websites and instant messaging applications have been filtered, including WhatsApp, Telegram, Snapchat, Medium and Instagram. Iranians have used Instagram more than any other website or application.
History of internet censorship in Iran
The Iranian regime has been steadily filtering the internet in the country since 1998, when the public first became familiar with the internet.
Iran has been among the worst countries in the world for internet censorship for years.
The regime's filtering has particularly been noticeable in times of public unrest. Many Iranian users would buy virtual private networks (VPNs) in order to access content on certain websites.
In 2021, Iran's Majles (parliament) discussed passing a bill to restrict access to the internet in a way that the regime would be able to fully control what users search and which websites they visit.
The "Cyberspace Protection Bill" calls for a "national internet" -- essentially an intranet, put in place through a "legal VPN scheme" rolled out by the government -- that anyone in the country would need to bypass in order to be connected to the global internet.
This way, users would have to apply for a VPN connection, meaning a much higher level of control and monitoring by the government would be in place.
The bill is unpopular among many, even among some hardline politicians.
Although Iran's Majles currently consists of mostly hardliners, it has not yet passed the bill -- or even put it to a vote.
But when the widespread public protests -- the largest since the 1979 Islamic Revolution -- started in September, the government and the Islamic Revolutionary Guard Corps (IRGC) started to filter the internet much more severely.
They have even filtered messaging applications that were not always restricted in the past, such as WhatsApp and Telegram.
VPN hopping
"I have to buy a new VPN pretty much every month," said a 42-year-old pharmacist in Kermanshah, Iran.
"The more expensive VPNs are much stronger, but I cannot afford to buy them every month. Sometimes, I have to buy more than one VPN a month, and I hop from one VPN to another," he told Al-Mashareq on condition of anonymity.
Iranian officials did not want pictures of the security forces' crackdown on protestors to be seen by the world, so they tried their best to make it difficult for citizens and citizen-journalists to send photos or videos via the internet.
But even when the protests diminished, internet connections were not restored, and to this day, the internet remains extremely slow and almost impossible to use without a VPN.
In 2022, Iran held second place in the world for internet censorship, according to several reports.
A report by Comparitech, a UK-based pro-consumer website providing information aimed at improving cyber-security and privacy, showed that Iran is in second place for internet censorship in 2023 as well.
The Islamic Republic shares this place with Burma, Turkmenistan and the United Arab Emirates (UAE).
Tehran has restricted citizens' internet connection using "DNS redirection", through which a user would be connected to a manipulated Internet Protocol (IP) address instead of a real one.
Some analysts have likened the technical aspect of Iran's internet censorship to the parental control filtering system.
Even while the internet is severely filtered for average Iranians, officials and state media continue to freely use Twitter and Instagram for their own propaganda.
Disrupting citizens' lives
In recent years, Iranian citizens have increasingly been using the internet to promote different businesses and sell products, but with the internet disruptions, many have been suffering.
Citizens who have family members overseas also rely on the internet to stay in touch with them, and are now deprived of that service unless they purchase VPNs.
"I've been using Google Meet, which is not filtered, to connect with family members who live overseas," said a 68-year-old Iranian woman whose children live in Australia and Canada.
"Many of my relatives and friends are doing the same. Even with Google Meet, you need a strong VPN because it's not just about the messaging application; the problem is that the connection is extremely slow," she told Al-Mashareq.
"It's at least something, although the quality of the calls is not always good, and many times, we're not able to use the video feature because I don't have an expensive VPN."
"I hope they don't start filtering Google Meet, too. Then, I don't know how in the world I would be able to talk to my children and grandchildren," she said.