KABUL -- Afghan Muslims are looking forward to the traditions of Ramadan -- special foods and communal iftars -- in addition to the religious obligations of the holy month.
"During Ramadan, the culture of helping the poor and destitute families becomes more visible than at any other time of year," Muhammad Homayoon, a store owner in Kabul, told Salaam Times.
"Rich people, including merchants, will provide more food and financial help to the poor," he said. "Another form of worshipping God is for the wealthier people to pay alms and charitable donations to the poor, so that they [the benefactors] can reap more blessings this month."
In addition to charitable donations and financial assistance to the needy, Homayoon said every year he distributes 2.5 million AFN ($36,600) worth of food items, including flour, oil, sugar, beans, chickpeas, dates and tea.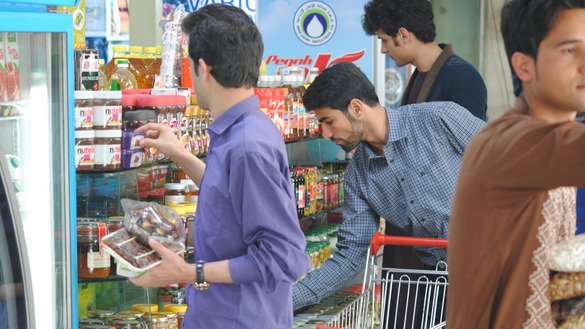 Afghan women prepare for Ramadan by cleaning the house and going to the market in search of ingredients for sweets and special foods for the iftar table, said Mrs. Latifeh, 45, a resident of Kabul.
"Unlike other months, during Ramadan, Afghan spreads become more colourful with more varieties of foods," she told Salaam Times. "Both rich and poor alike try their best to prepare varied meals."
"Bazaars and markets become busier than in all other months," said Sohrab, another Kabul resident. "More families will go to markets to buy food and fresh fruit, since they want to decorate their spreads with colourful fruit and foods."
The markets become busy a few days before the start of Ramadan, he told Salaam Times. "We came to the market today to buy apples and carrots to prepare jam for Ramadan. Jams are among the special foods and sweets [we eat] this month."
Call to prayer
The day begins before dawn for Afghan families during Ramadan, said Haji Hussein Ahmed, a resident of Balkh Province.
"The women of the house prepare special foods and the family members for whom fasting has become obligatory eat and drink until the time of the call to morning prayer," he told Salaam Times. "From dawn until the call for evening prayer, they refrain from eating, drinking or committing any improper actions."
"Upon hearing the calls for evening prayer, men go to mosques to pray," Ahmed said. "A number of families who can afford it prepare special delicious foods ... and send them over to mosques."
At the mosque, the men break their fasts together, while the donors "reap the blessings for their good deed of feeding them", he said.
"Members of all different ethnic groups gather around and break their fasts away from their ethnic and linguistic differences," he said.
"Helping the poor and providing food to those in need to break their fasts are customary among our people," Ghulam Farooq Majrooh, a member of parliament representing Herat Province, told Salaam Times.
Praying for peace and brotherhood
"God Almighty has said that praying and worshipping God during the holy night of Qadr are equal to worshipping and praying for a period of a thousand months," said Muhammad Ali, a resident of Helmand Province.
The Qadr night comes mid-Ramadan and is the night that the first verses of the Koran were revealed to Prophet Muhammad, according to Islamic teachings.
"The people of Helmand celebrate this special night by standing to pray all night long from dusk till dawn," Ali told Salaam Times. "They recite the Koran, they ask God to forgive their sins and they pray for peace and brotherhood in their country."