KABUL -- Every spring, when the Taliban announce the start of their spring offensive, they pledge to win the battle against the Afghan National Defence and Security Forces (ANDSF) and to seize larges swaths of the country.
But last year, just like in the years before, the Taliban failed in their objectives, Afghan officials say.
Between April and December 2017, ANDSF carried out more than 7,000 operations against the militants, according to Gen. Dawlat Waziri, spokesman for the Ministry of Defence.
As a result, thousands of Taliban fighters, including 280 commanders, were killed, 8,557 were injured, and 1,707 others were apprehended, he said at a news conference in Kabul December 20.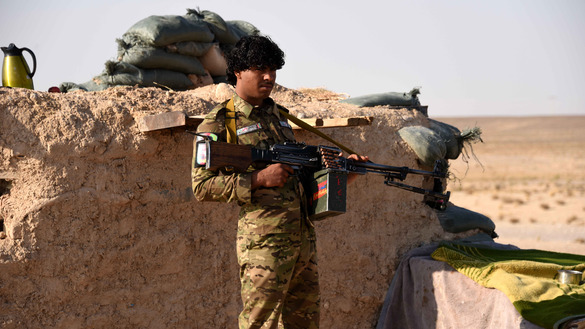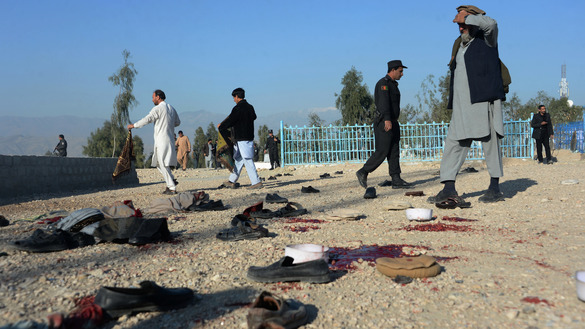 Moreover, 1,628 "Islamic State of Iraq and Syria" (ISIS) terrorists, including 63 commanders, were killed, while 192 others were injured and 15 were arrested, Waziri said.
Over the course of the operations, ANDSF defused more than 9,000 mines and seized 1,300 light and heavy weapons, more than 1,000 vehicles and about 9,000kg of explosives that belonged to terrorist networks, he said.
Taliban spring offensive fails
Last April, at the launch of the Taliban's "Operation Omari" annual spring offensive, the militants announced plans to capture six provinces -- Badakhshan, Kunduz, Sar-e-Pul, Faryab, Helmand and Farah -- during 2017, according to Gen. Mohammad Radmanesh, deputy spokesperson for the Ministry of Defence.
Those plans foundered, he said.
"Not only did they fail in fulfilling this strategy, but also a number of districts such as Janikhel and Omna in Paktika Province and Nawa, Nad-e-Ali and Marjah in Helmand Province -- all of which were being threatened by the group -- were freed from such threats," he told Salaam Times.
The Taliban also planned to seize the provincial capital of Kunduz for the third time since 2015, but they suffered heavy losses instead, he said.
Afghanistan's adversaries were unable to realise their goals on the battlefield as they had planned, said Col. (ret.) Abdulghaffar Gardizi, a security analyst in Kabul.
For this reason, the militants resorted to guerrilla and suicide attacks, harming both Afghan security forces as well as civilians, he said.
"Afghan security forces have already achieved good results," he told Salaam Times. "If [ANDSF] and especially the air force are better equipped, however, they will have more effective performance."
Afghan National Army soldier Mohammad Zaman, who has participated in operations against the Taliban in Kunduz Province, said he is willing to sacrifice for the sake of freedom and security for Afghanistan.
"The Taliban and ISIS lack the power to fight us face to face," he told Salaam Times. "When defeated, they often hide among the civilians and take up position inside people's houses. Therefore, we have to take extreme caution in order to prevent civilian casualties."
"Unfortunately, civilians' lives are not important to the terrorists and they utilise them as their shields when they are facing defeat," he said.
Afghans praise ANDSF sacrifices
Afghan citizens say they appreciate the performance and sacrifices of ANDSF.
Every day, ANDSF become more professional and perform their duties better, said Mohammad Maysam, 23, a student at a private institution in Kabul.
"We notice that our security forces are doing well both on battlefields as well as in curbing the terrorist attacks carried out by the Taliban and ISIS, and that is a source of pride for us," he told Salaam Times.
Maysam expressed gratitude to the ANDSF who sacrifice their lives on a daily basis, adding that he was ready to co-operate in any possible way.
Masuma, a 45-year-old resident of Kunduz Province, also wholeheartedly supports ANDSF and prays for their further success.
"Our soldiers truly perform heroic acts in their fight against terrorists," she told Salaam Times. "Had it not been for them, the terrorists could have destroyed people's houses and could have murdered and displaced them under various pretexts."
"On two occasions when the Taliban occupied Kunduz city, I personally witnessed the destruction and oppression to which they subjected our population," she said. "We are now grateful that the security forces kicked the Taliban out of our city."
Neither the Taliban nor ISIS have the ability to fight ANDSF, said Ahmad Faisal, 22, a Kabul resident and university student.
"Our security forces are now well trained and have good equipment. In addition, they have public support," he told Salaam Times. "Their victory over the terrorists is imminent."