NANGARHAR -- Afghan security forces arrested 13 Taliban and two "Islamic State of Iraq and Syria" (ISIS) suspects who had planned to attack voter registration centres in Nangarhar Province, say officials.
During the arrests, security forces seized explosives, firearms and a suicide vest, which officials displayed at a press conference May 23.
"The National Directorate of Security (NDS) arrested 13 armed Taliban, two ISIS members and two other suspected persons," newly appointed Nangarhar Governor Hayatullah Hayat told journalists.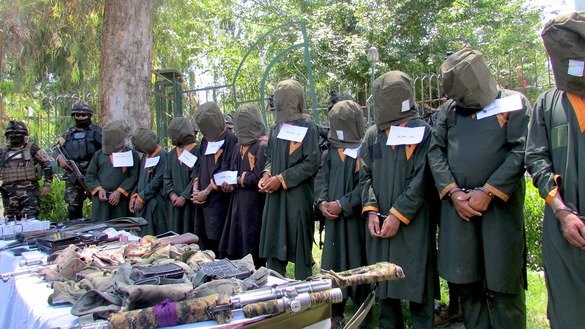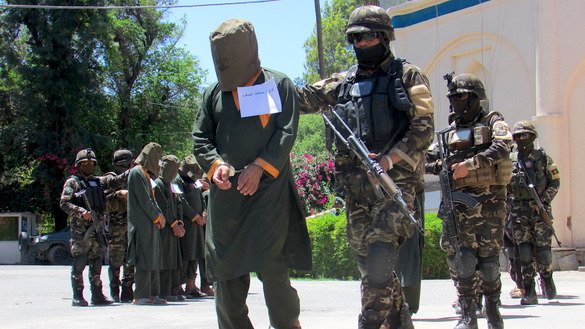 NDS special forces arrested the suspects "in Jalalabad city and in Ghani Khel, Surkh Rod, Khogyani, Chaparhar and Bati Kot districts", he said. "Explosives for car bombs, a suicide attack vest and a number of light and heavy weapons and ammunition were also seized from them."
"The arrested militants wanted to launch attacks at a number of important offices and at voter registration centres, but they were captured before reaching their targets," Hayat said.
Security forces seized and destroyed a number of explosives, 100 meters of wires, three remote controls, five detonators and other associated items used to make bombs, he said.
NDS operatives discovered the suicide vest, a car, two rifles, two pistols, 16 magazines and other ISIS paraphernalia in the house of one of the arrested ISIS militants in the 2nd city district of Jalalabad, he said.
The other ISIS militant, who was taking part in destructive activities in Chaparhar District, was also arrested in the same city district, according to Hayat.
Residents welcome operations
Security forces are successfully destroying terrorists in Jalalabad and in other districts of the province, Nangarhar provincial police spokesman Hazrat Hussain Mashriqiwal told Salaam Times.
"We will proudly and bravely protect the nation," he said. "We are responsible for maintaining the security of voter registration centres and our security forces are alert day and night, working to ensure security... it is our duty."
Nangarhar residents have welcomed the recent operations, saying they see a positive change in the security situation thanks to intensified efforts against ISIS and the Taliban.
"ISIS or the Taliban are trying to target the public, defame our national process of elections and launch explosions, but the security forces are attentive -- and they have to be more attentive to prevent these people from causing harm to the nation and the country," Mohammad Yusuf, 28, a resident of Jalalabad, told Salaam Times.
"[The NDS] and our soldiers have made a lot of improvements," Faqirullah, 33, a resident of Achin District, told Salaam Times.
"Their training has improved and their skills have been upgraded. Now they can easily recognise their enemy and can quickly destroy them," he said.