LASHKARGAH -- A group of Taliban fighters raised the national flag of Afghanistan after they surrendered their weapons and joined the peace process in Lashkargah on August 16.
Seven fighters and their leader, Mullah Lal Mohammad, also known as Agha Jan, gave up their weapons to Helmand Governor Mohammad Yasin Khan with the co-operation of the National Directorate of Security (NDS).
"The Islamic Republic of Afghanistan always supports and wants peace. It welcomes anyone who quits fighting and follows the way of peace," Yasin told Salaam Times.
Those who surrendered have recognised that Islam does not order anyone to kill others, he said, adding that the former militants have also realised that fighting is not in their interests.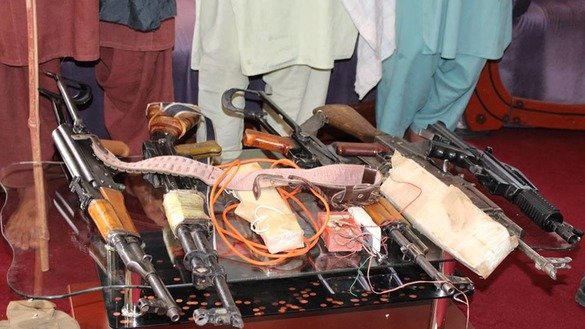 "The militants who have joined the peace process will be safe, and the government will try to bring positive changes in their lives," Yasin said.
Victims of foreign interests
"We spent 15 years in the mountains, but we neither saw peace nor enjoyed a calm life with our families," Mohammad, the leader of the group, told Salaam Times.
"Mullah Abdul Manan [Mansori] was giving us everything," he said, referring to the Taliban's shadow governor for Helmand Province, who more commonly goes by Mullah Manan. "We were working in Nahr-e-Saraj and Nawzad districts."
"We have become victims of foreigners' interests... they were always giving orders and plans to destroy this country and to kill innocent people and to prevent development," Mohammad said.
"Iran, Russia and other countries were supporting our chief [Mullah Manan], and the weapons were coming to us," he said, despite past reports that Manan himself has criticised the Taliban's ties with those countries.
"We cannot tolerate poverty anymore, and we want to live together with our families," he added.
A taste of peace
"The three-day-long ceasefire during Eid ul Fitr is a good memory ... and with this I realised that this is a [foreigner's fight], and afterwards I will take part in reconstruction of this country," Mullah Saifullah Akhundzada, 28, one of the Taliban fighters who joined the peace process, told Salaam Times.
Manan has relations with Iran, which gives him weapons and ammunition, Akhundzada said, adding that the Taliban leader was robbing locals and involved in smuggling.
"We have left our homes but we have not enjoyed the taste of life," he said. "During the ceasefire last Eid, we saw that the cities and the government's soldiers were not what we had been told."
"We always fought against the soldiers, and we were hearing propaganda that they were infidels and [that it was necessary to carry out] jihad against them," said Mullah Rahmatullah, 32, another member of the group.
Rahmatullah told Salaam Times that he realised that fighting was in neither his nor his country's interests after he visited soldiers' homes during the previous ceasefire.
He called on other Taliban members to stop fighting for foreigners.