KUNDUZ -- Almost 3,000 Islamic scholars, imams, tribal elders, men, women and youth in Kunduz Province have signed a petition pledging to do whatever it takes to achieve lasting peace in Afghanistan.
Activists on January 17 launched a three-day campaign to collect signatures in the provincial capital and in other districts under the banner "We are ready to make any kind of sacrifice for lasting peace".
"We have collected these signatures from mosques, schools, the central square, large religious sanctuaries and crowded areas," said Abdul Satar Shamal, a representative of the Youth National Advisory Programme in Kunduz Province and a member of the country's Youth Parliament.
"When we were collecting these signatures, we realised that the residents of Kunduz are tired of war," he told Salaam Times on January 19. "They can no longer tolerate war and hardship, and they long for an end to the conflict."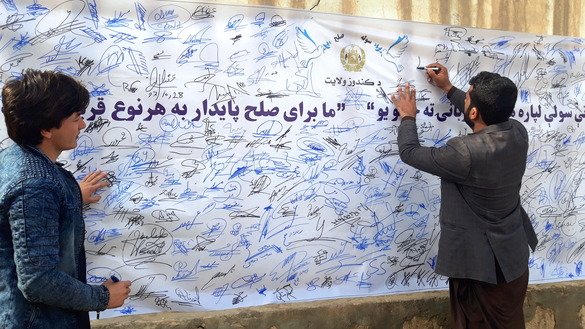 "Kunduz residents told us that they were ready to make any kind of sacrifice to achieve their dream, which is peace, and that they would even prefer to live in poverty if peace is guaranteed," he said.
In early February, the signed petition will be displayed at a public ceremony in Kabul that is expected to have more than 2,500 participants from across Afghanistan, Shamal said.
The public display of the signatures is meant to inform the president, cabinet members, representatives of embassies and national and international organisations that the residents of Kunduz are thirsty for peace, he said.
'Afghans have raised their voices for peace'
For years Afghans have been calling for the Taliban to stop fighting a war in which its members commit atrocities against civilians, hamper the country's political and economic progress, and foster terrorism -- all while illegitimately invoking the name of Islam.
"Most of those who lost family members in the war have signed this petition," Sayed Ghafoor Hashemi, head of the Youth Network of Kunduz, told Salaam Times.
"All who joined us on this campaign were willingly signing [the petition] and saying they want the peace they lost to come back to their province," he said. "The public welcomes any step we take toward peace."
"Peace may not come with these signatures, but we can communicate the feelings of Kunduz residents who are looking for peace and are tired of war," he said.
Such spontaneous public movements can pave the way for a permanent and widespread peace, said Mawlawi Abdul Basir, chairman of the Kunduz Provincial Peace Council.
"It is important for youth to try to send Afghans' messages to the government, international community and the United Nations," he told Salaam Times.
"The goal of this national campaign is to put an end to the war," he said. "It means that all Afghans have raised their voices for peace."