KABUL -- Afghanistan's central bank has revoked the commercial banking licence of the only Iranian bank operating in the country amid violations of banking regulations and speculation that it engaged in illegal activities such as financing terrorism.
"Arian Bank breached banking laws during the time it was operational and didn't comply with banking procedures and regulations," said Da Afghanistan Bank spokesman Aimal Hashoor.
The licence of Kabul-based Arian Bank was revoked May 19, confirmed Da Afghanistan Bank, which oversees the operations of all banks in the country.
"They didn't make any contribution to economic growth in the country, which is in contradiction with overall banking goals. As this bank's operations caused irregularities in the banking system, Afghanistan's central bank decided to revoke its licence," Hashoor said.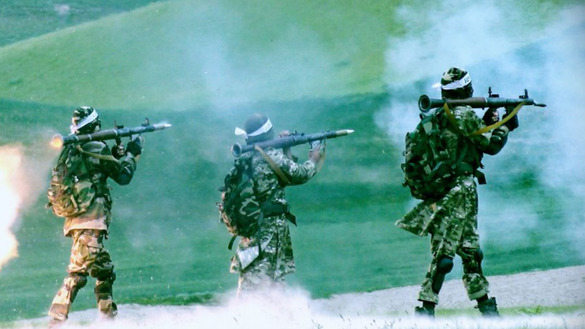 "This bank has always breached banking regulations and the central bank had often advised and warned and even fined them, but unfortunately, the bank continued to violate [regulations]," he said. "The revocation of this bank's licence was decided based on the country's banking laws and regulations, and it does not have any political or external reasons."
The bank's violations included money laundering, Hashoor told TOLOnews.
"The bank's officials have been advised to close all their business accounts in Afghanistan," Hashoor said.
Arian Bank opened in Kabul in 2004 with the mandate of facilitating trade and economic relations between Afghanistan and Iran, said Hashoor.
Suspicions of terrorism financing
The bank probably was engaged in other illegal activities such as terrorism financing, say political and economic analysts.
"Revoking a bank's licence is not easy," said Jarullah Mansoori, a former minister of rural rehabilitation and development and an economic analyst.
"Licences of banks and other financial institutions are revoked for two reasons: first, for serious banking violations and frequent breaches of banking laws and regulations; and second, for terror financing, money laundering and illegal transactions by a bank or a financial institution," he said.
Afghanistan's financial intelligence unit that operates within the central bank is responsible for screening and gathering intelligence about all small and large financial transactions, Mansoori said, adding, "All the financial institutions, including banks, are required to provide information on their financial transactions to the financial intelligence unit."
"This unit monitors banks and other financial institutions and gathers pieces of evidence on individuals and financial institutions who are engaged in illegal financial transactions and terror financing," he said.
"It is possible that Afghanistan's financial intelligence unit might have found pieces of evidence and documents that reveal Arian Bank's involvement in money laundering, illegal financial transactions and terrorism financing," Mansoori said.
"Repeated banking violations" put the country at risk for a financial crisis "and licences of those banks that do not contribute to the commercial and economic growth of a country must be revoked," he added.
Iranian regime's political goals
The bank might have been carrying out the Iranian regime's agenda, said Akbar Jan Polad, a political affairs analyst in Kabul.
"I haven't heard of Arian Bank ever having any economic activity in our country," he said. "If the Iranian bank doesn't carry out any economic activity, it is obvious that it's engaged in other activities like laundering money, financing the Taliban and pursuing [the Iranian regime's] political and intelligence goals."
Tehran uses "various methods to finance the Taliban and some of the political parties and groups, and I think Arian Bank was one of the channels through which Iran financed the Taliban," Polad said.
The Iranian government plays "a major role in inciting insecurity, tribal tensions and economic troubles in our country", he said.
Afghan grievances against the Iranian regime have included its recruitment of Afghan refugees to fight and die in Syria and its violation of Afghan-Iranian water treaties.
Tehran "had a direct role" in instigating Sunni-Shia strife in Parachinar, Pakistan, Polad said, without citing evidence.
"Iran wouldn't invest in Afghanistan without pursuing its political and intelligence goals," Polad added.
"If Iran establishes a bank, a university or a cultural centre, there will [always] be the hidden goals of the Iranian government behind them," he said.
The bank was established in Afghanistan only to take advantage of "weak governance" of financial institutions and to serve the political aims of the Iranian government, said Muhammad Arif Kayani, a political and security affairs analyst in Kabul.
"After the establishment of the new Afghan government, our country witnessed a huge number of investments in various areas, including banking," he said, referring to the post-Taliban government that took shape in 2001. "A number of countries in the region established banks [in Afghanistan] to respond to the financial challenges."
"Arian Bank was one of them, but it has been revealed that this bank was created for a different purpose, it wasn't there to satisfy financial and commercial needs," said Kayani.
"Because of weak governance and the lack of proper monitoring of the activities of commercial banks that are linked to neighbouring countries, these banks have been serving criminal, mafia and terrorist groups, and they have been transformed into money laundering institutions," Kayani said.
The bank "was a suitable place for Tehran to process drug deals and strengthen armed groups associated with Iran", he said.
"Since 2005, Iran has played a considerable role in disrupting Afghanistan's political and security environment, providing financial and logistics support to some of the militant groups associated with the Taliban in various parts of the country, especially in the west," said Kayani.
"There is no doubt that one of the reasons that the Afghan government revoked this bank's licence is that it was involved in financing the Taliban," he added.