KUNAR -- Hundreds of religious scholars, tribal elders and residents in Kunar Province gathered in the provincial capital of Asadabad Sunday (June 2) to call on the Taliban to make peace and put down their weapons.
"We do not want fighting; we want peace in this country; we want stability. We want both sides to observe a ceasefire as soon as possible," Mawlawi Najibullah Haqyar, a religious scholar from Kunar, told the gathering.
"If you are the children of this country, the nation does not want fighting. Come and take part in elections... do not fight for the interests of others," Haqyar said while addressing the Taliban.
"If the Taliban deny making peace, this sends another message to us, the nation, that the Taliban have no trust in their position," Mawlawi Mohammad Anwar, another religious scholar from Kunar, said at the gathering.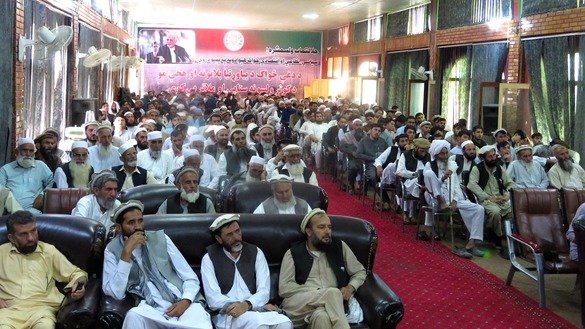 "Take part in the [governing] system; otherwise, your fighting under the name of jihad is against the rules of Islam -- do not cheat yourselves," he said to the Taliban.
"The government is ready to hold unconditional peace talks with the Taliban, but the Taliban, whose control is not in their own hands, continue fighting and kill the public and our country's guards [security forces]," Anwar said.
The nation is fed up with fighting and if the Taliban will not make peace, then the country will be forced to stand against them, said Haji Shah Mahmood Khan, a tribal elder from Kunar.
Tired of war
"We the nation are tired. If you will make peace, it is okay. If not, the nation will have no option other than to take up arms against the Taliban and 'Islamic State of Iraq and Syria' (ISIS) and force them out of its villages and neighbourhoods," Khan said.
"They are not doing jihad; they are destroying their own homes, and they are killing their own brothers," he said of the insurgents.
Participants of the gathering released a six-article declaration urging the Taliban to make peace, observe a ceasefire and hold direct talks with the Afghan government.
"You [the Taliban] made a three-day ceasefire last year" and the nation "gave you much love," Kunar Governor Abdul Sattar Mirzakwal said at the gathering.
Civilians "gave you food; they put flowers on your necks; all these were so you would stop fighting and would accept the nation's begging [for peace]," he said. "But you went and opened fire on the soldiers who opened their arms and hugged you like brothers."
"We still expect you to observe a ceasefire, make peace and accept the nation's call [for peace]. So, go ahead, stop fighting, put down your arms and live a life in peace," Mirzakwal said.