HERAT -- More than 200 residents of Herat including women and youth rallied on June 19 to protest the armed support provided to the Taliban by Tehran and Moscow and called on the two regimes to end their opposition to the peace process.
The marchers gathered in front of the Herat governor's office in Herat city to declare the two regimes the real supporters of terrorists in Afghanistan.
"Iran supports a faction of the Taliban and provides it with weapons to come and fight in the country," said Sameha Ahmadi, a civil society activist and Herat resident. "We ask Iran to co-operate with us as a neighbour and not to provide our enemies with weapons and money."
"We want peace and security, and we wish for overall security in the country," Sameha Ahmadi added. "We also want neighboring countries not to block peace."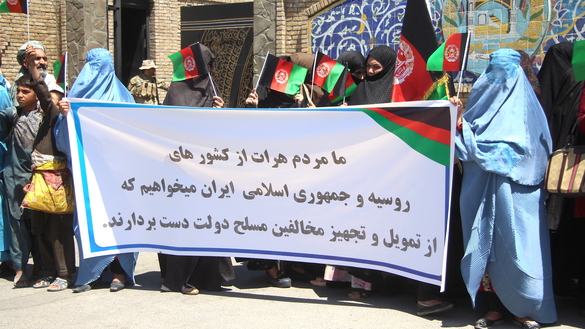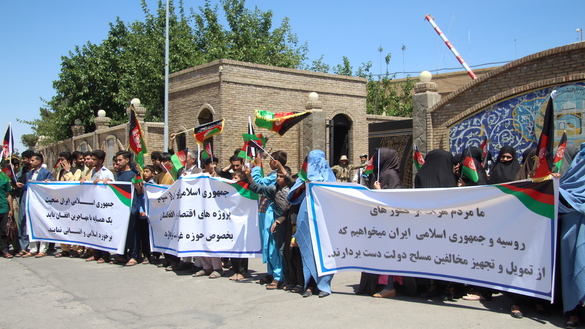 It is clear that the Taliban are receiving foreign backing, said Shukria Ahmadi, another Herat city resident.
"Based on the documents retrieved from terrorists and the reports in the media, suicide attackers are coming to Afghanistan from neighbouring countries, especially Iran," Shukria Ahmadi said.
The Iranian regime also is apparently providing safe haven to families of Taliban members on its territory, she added.
Those at the rally want to see neighbouring countries stop their meddling in Afghan security, said Shaheen Ahmadi, another Herat city resident.
"With these protests, we want Iran and Russia to stop equipping and funding the Taliban and to stand with the people of Afghanistan," he said. "We want these countries to stop sending weapons to our country so that our youth can stop being killed every day."
"If Russia and Iran allow the Taliban to make peace, they certainly will," Shaheen Ahmadi added. "However, these countries are looking after their own interests by driving the war in Afghanistan, and the Taliban are their puppets."
"Iran should not prevent the progress of fundamental and basic development projects in the western zone," he said. "We want our power dams and other big projects to be completed so that we can become self-sufficient."
No option other than peace
Without financial and weapon support from Moscow and Tehran, the Taliban would have no option other than to join peace talks as they would lack the power or will to fight the Afghan National Army, according to civil society activists and local authorities in Herat.
"There is no doubt that neighbouring countries interfere [in Afghanistan]," said Sayed Ashraf Sadaat, a civil society activist in Herat Province. In order "to strike the interests of America, unfortunately neighbouring countries largely give financial and armed support to the government's armed opponents."
Families of most of the Taliban commanders who are active in western Afghanistan live in Iran, said Sadaat.
"We hope that the government of Afghanistan will clearly differentiate between friend and enemy," he said, referring to the Iranian regime.
Without outside support, the Taliban could be defeated once and for all, agreed Jilani Farhad, a spokesman for the Herat provincial governor.
"Peace in Afghanistan has different dimensions -- one of them is the internal side, and the other is external," Farhad said. "If there is no external support for the terrorist groups, peace will certainly come in Afghanistan."
The Taliban cannot exist without foreign equipment and funding, said Farhad.
"The Taliban could never confront our security forces, and it would be impossible for them to conduct complicated and major attacks without help from external sources," he added.
"The government of Afghanistan has always had relations with neighbouring countries based on mutual respect and has never breached the national interests of these countries," Farhad said. "We also want these countries to treat us with co-operation and respect."
A dangerous game
The Kremlin and Tehran are playing a dangerous game by supporting the Taliban and other terrorist groups, one that that could spur a new crisis by pulling other countries in the region into the conflict, military affairs analysts say.
Instead of funding the Taliban, those regimes, plus other governments in the region, should make efforts to improve regional security and tranquility, said Ghulam Hassan Majroh, a military analyst in Herat city.
"The game that the Iranians and Russians have begun in Afghanistan has no winner," he said.
"The Taliban is an isolated group, and anyone who supports them and other terrorist groups also will be isolated in the world," said Majroh. "Russia and Iran should know that they will gain no advantage from supporting the Taliban."
"Countries who support the Taliban share the crimes of this group. International organisations should deter them from supporting terrorist groups, and they should no longer take part in the killing of innocent people," Majroh said.