HERAT -- For many Afghan children scarred by the Taliban's long war against the government, healing is taking place one acrobatic performance at a time.
The Afghan Mobile Mini Circus for Children (MMCC) in Herat was created as an opportunity for war-affected children to learn how to perform in a circus.
The goal is to use education and participation in the circus as a means to help them escape the mental wounds caused by war and violence and instead focus on peace and a brighter future.
"There are 120 children from underprivileged families who are getting educated at this training centre," said Jalil Ahmad Nawrozi, director of the Herat Province branch of the MMCC. "These children have been heavily affected by war, and they have come to Herat from various Herat districts and other provinces of Afghanistan."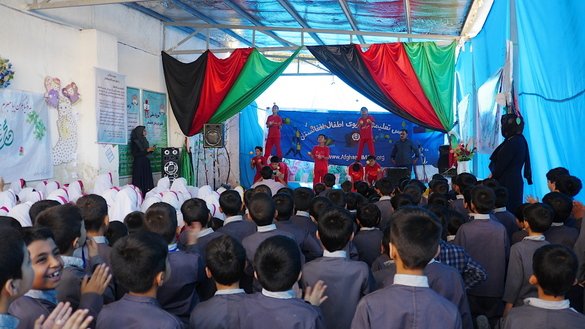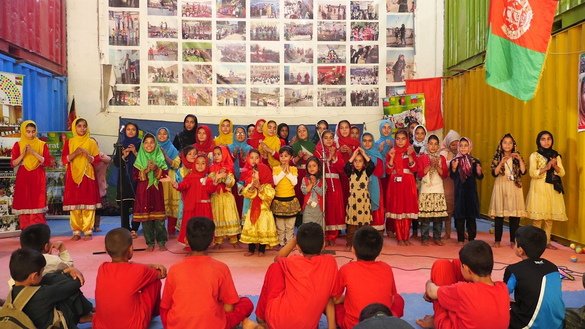 "These children have come to Herat to escape the war, the suicide attacks and other miseries of war," Nawrozi said. "We have gathered them here to divert their attention from war and grief and learn fine arts. This will help distract them from their anger and discomfort."
Most of the children come from the Shindand and Adraskan districts of Herat Province and from Ghor and Badghis provinces, he added.
At the circus, children learn various skills that include leadership training, radio production, photography, videography and the performing arts.
"Every cycle of circus training is six months long," Nawrozi said. "These children then are sent to our circus academy, where they learn advanced circus skills."
The children stage a circus twice a week at public and private schools to bring positive messages to other young Afghans, he said.
"The Afghan Mobile Mini Circus for Children has been operating since 2002 in building children's skills," he added. "Since then, we have trained almost 3,000 children. Children between 7 and 18 are eligible to participate in circus education."
Young victims of war
Farzia Rahimi, 15, a student at the MMCC, said the circus training has been instrumental in helping her deal with the deadly violence she faced in her village.
"I came here from Shindand District because I faced violence there," she said. "There was no peace, and there was widespread fighting. We have come here to live in peace."
"We always heard the sounds of shooting -- we were not secure there," she added. "There was fighting every day in Shindand, and I saw our neighbours and relatives being killed every day. I was grieving most of the time as those who were killed were innocent."
"I have forgotten the sounds of shooting since I came here," she said. "I study here. I no longer want to see war, and I always think about peace."
Nargis Qurbani, 12, another MMCC student, said young people like herself want only to go to school and live in peace.
"The only demand I have from the government's armed opposition is that we're innocent children and that it must not kill us," she said.
All of the children who live in conflict-prone areas should be able to go to school, she added.
"We're at risk from the Taliban, and we want to be liberated and live a peaceful life," she said.
Security is critical for youths, agreed circus student Anahita Faizi, 13, who called on the Taliban to seek peace with the government.
"We're really fed up with war. We want the war to stop so that we can live in peace forever," she said.
"We can't live and study with war and insecurity," she added. "All the children in war zones like me love to study and live in a peaceful environment. Therefore, I want the Taliban and the government to make peace."
Helping remove bitter war memories
Circus performances can help war-affected children heal and return to a peaceful and bright life, say psychologists.
Since children's minds are so flexible, they can easily switch their attention from war to peace, said Fayeza Arbabzada, a psychologist at the MMCC.
"For those children who are poor, have experienced domestic violence and lived through war, the Afghan MMCC provides them an opportunity to forget these problems," she said in an interview. "Training children in circus performances uplifts their spirits and improves their mental health."
"We have witnessed a number of war-affected children who are being supported by the MMCC recover from mental problems in just two months," she said.
"When children don't think about war and are free of mental problems, it makes us happy, given the situation in Afghanistan," Arbabzada said. "These children are building the future of Afghanistan, and they're hope for the new generation."