HERAT -- More than 1,000 Herat residents declared their continuing support for the Afghan National Defence and Security Forces (ANDSF) at a gathering in Herat city on July 17.
The participants, 70% of whom were women, praised the everyday sacrifices of the ANDSF.
Most of the security forces stationed in Herat Province hail from other provinces and have been away from their families for months fighting against the Taliban and other anti-government groups.
"They have always risked their lives to protect the national honour and territorial integrity of the country," said Ziagul Aslami, one of the participants at the gathering. "They have always given priority to our comfort and peace over that of themselves and their families."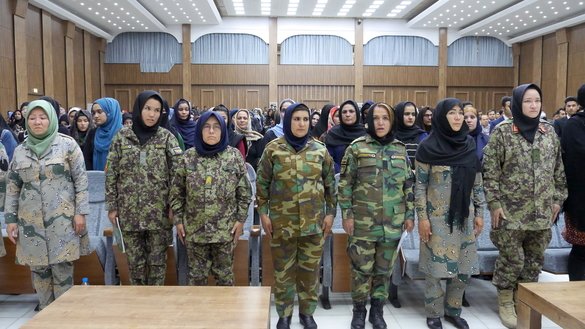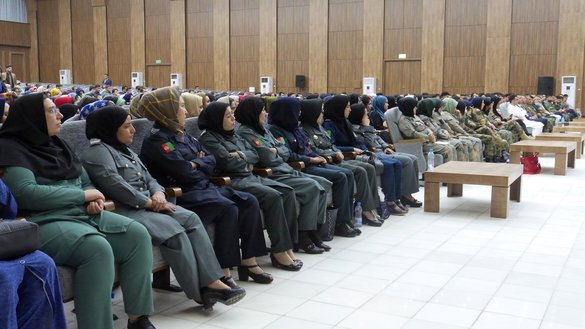 If the ANDSF did not exist, terrorists and criminals would take charge of Afghanistan, she said.
We must "support these forces and pray for them", she added.
"My reason for participating at this event is to support the champions who worked hard and sacrificed their lives to ensure security and peace in the country," said Muhammad Shoaib Yazdanparast, another participant. "We have come here to support these heroic and brave troops."
"People should support these heroes because they spill their blood for us and suffer greatly on the battlefields," he said. "They have left their families behind and sacrificed their lives to bring peace and security to us."
Determination to protect the Afghan people
The soldiers and officers attending the gathering said this kind of community support raises their morale and encourages them to fight harder against the terrorists.
"As a national army officer, I reassure women in Afghanistan that they do not have to worry," Capt. Laila Ibrahimkhil, an Afghan National Army (ANA) officer in Herat Province, said in an interview. "We are with women and give them support."
The ANA is ready to ensure security for the public, especially for women, and it will not allow anyone to ruin Afghan lives, she said.
"I assure all my sisters that the Taliban will never return in the same shape as in the past," said Mariam Noorzai, a Border Forces officer in Herat Province.
"At that time, we lived in a backward society, but now our country has developed," she said. "Many Afghans, especially women, have become educated, and they know their rights."
"I will fight alongside my brothers to the last drop of my blood to protect the public's rights and defend my sisters and my country," she said.
"Representing policewomen, I would like to confirm that we will never give a single opportunity to the enemy to disturb and/or hurt our people," said 2nd Lt. Zainab Qazizada, a gender and human rights officer at the Herat provincial police department.
"We're hopeful for the peace process and that peace talks will yield a result," she said. "[We hope] that Afghans live and work in peace and that our youth go to school and universities to study."
Strong morale for fighting against terrorists
"When civilians support us, our morale rises 100%," said Zabet Khan, a non-commissioned ANA officer in Herat Province. "When they encourage us, we feel really happy. The men, women and children gathering here support us."
"Our job is to ensure security for Afghans so that they can work and do business in peace," he said.
"The security forces are the guarantors of peace and stability as they defend the Afghan people," said Col. Muhammad Humayoun Paiman, deputy commander of the ANA's 207th Zafar Corps. "When Afghans support their security forces, they become stronger and can fight and resist the enemy harder."
"The Taliban have recently increased their [destructive] activities in the western provinces in an effort to gain more concessions in peace talks, but as the security forces resisted, the Taliban saw heavy casualties and hardly received any benefits," he said.
"I assure the nation that we will fight to the last drop of our blood to defend our country and territorial integrity," he added.