HERAT -- The arrest of eight suspects accused of spying for the Iranian regime in Herat is the latest evidence of Tehran's meddling in Afghanistan.
National Directorate of Security (NDS) officials during the past four months arrested the suspects in connection with charges of providing classified government information to the Iranian regime, officials say.
"These eight people were assigned by the Iranian consulate in Herat city to gather private and classified pieces of information on government agencies through a variety of channels," a senior NDS official said on condition of anonymity.
"More Iranian spies are active in Herat city operating in different areas," he added.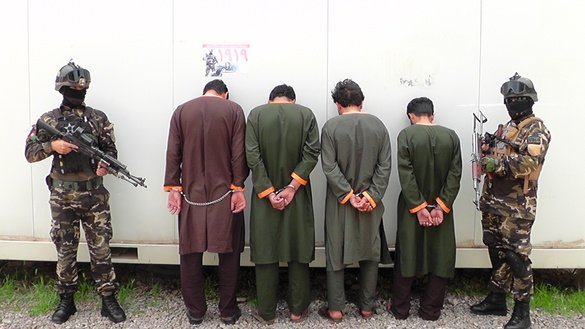 "NDS officers are working day and night to find and arrest them too. The arrested individuals have given us clues that will help us dismantle Iran's spying operation in Herat city," he said.
"The cases of these arrested individuals have been submitted to the judiciary and to law enforcement, and they will receive strict treatment," said Jilani Farhad, spokesman for the Herat governor.
"We call on Iran to co-operate with us based on friendly and neighbourly relations and mutual respect," said Farhad. "It should not arbitrarily engage with unauthorised individuals and groups."
"Efforts by our neighbours to inflame divisions and religious violence are of no benefit," he said.
The spy ring news follows an incident in early July when Afghan border forces arrested two armed Iranian military personnel after they illegally entered Afghanistan in Lash Juwin District, Farah Province.
Severe punishment
Those arrested in connection with espionage charges should face severe punishment, said Herat residents.
"Religious differences are inflamed with direct guidance from Iran across Herat, and the government should prevent these activities," said Fatima Bayat, 21, a sociology student at Herat University.
"Individuals who are recruited by Iran operate as spies, and they should be identified by the government and sent to prison," she said, adding that punishment will deter others from spying for Tehran.
"The government should treat those who betray our state secrets to foreign countries the way it treats those fighting against our heroes [security forces] on the battlefield," said Najib Marzban, a resident of Herat city.
"These individuals should see serious punishment so that others spies learn a lesson and do not involve themselves in such affairs," said Mirwais Omerzai, another resident of Herat city.
The spies of neighbouring countries are even worse and more detrimental to Afghanistan than are the Taliban and other terrorists, he said.
"Iran interferes in Afghanistan, and it has spies here," said Yusra Salehi, 22, a medical student at Herat University.
"These spies are very dangerous as they operate against our national interests. Iran says that it's a friend of Afghanistan, but when we see its [destructive] activities, it proves to be worse than an enemy."
Provoking religious division
Concerns exist that Iran's interference and problems emerging from it can lead to sectarian conflicts in Afghanistan, said Jawad Ameed, a co-ordinator of civil society institutions in Herat Province.
"Iran has been supporting some groups and circles in Afghanistan for years," Ameed said.
"It especially intervenes in western provinces and tries to achieve its political and intelligence interests through its puppet circles," Ameed added.
"Iran tries to achieve its political and religious goals with the help of specific circles," agreed Najibullah Mohebi, secretary of the Herat Provincial Council.
"The Afghan government is aware of this issue, and it should take strict action in this regard," he said.