ZABUL -- Despite confusion over the direction that Taliban leadership want to take their group, the Afghan government has been working diligently to bring the insurgents to the peace process.
The precise number of Taliban fighters who have left the battlefield over the past six years is unknown, but they number in the thousands, according to the government.
These Taliban fighters and commanders have surrendered to local authorities and have either returned to peaceful, private life or they are fighting among the ranks of the Afghan National Defence and Security Forces (ANDSF) against the Taliban and other terrorist groups.
The government has tried to provide jobs for those who have laid down their arms and chosen peace.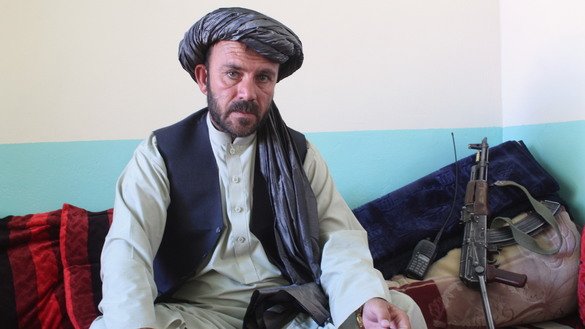 Serving Afghanistan's security forces
Mullah Daud Ashna, a former Taliban commander and deputy shadow governor for Naw Bahar District, joined the peace process on March 18, 2014.
Just over two years later, on May 22, 2016, he officially began working with the Afghan National Police in Zabul after undergoing a month-long training programme.
"I worked for almost 13 years beside the Taliban," the 36-year-old resident of Qalat, the capital of Zabul Province, said in an interview.
Eventually, "I realised that whatever the Taliban do is inflicting losses for our country and land, so I decided to quit the Taliban," he said.
"Then I contacted authorities, and I joined the government," he said. "I have worked as commander in many districts including Mizan and Naw Bahar and in Shobar, Shah Joy District."
Now, Ashna works as an officer in charge in the Katli area of Qalat city.
After leaving the Taliban and joining the peace process, Ashna has been able to support his family and send his children to school.
"I am happy," he said. "Conditions are better here. The conditions were not good when I was with the Taliban. Our children remained illiterate there. Thanks to Allah that my children can get an education here."
Former Taliban express severe regrets
Aslam Reshteen, 29, worked as a local Taliban commander in Daychopan District, Zabul Province, from 2016 until February 2019.
In March, just days after Reshteen cut relations with the Taliban and joined the Afghan government peace process, he began working as a local police officer in Andar District, Ghazni Province.
"I served as a Taliban commander for three years," he said in an interview. "There we were forced to perform atrocities. Our leaders told us to harass the public and force them to bring food and tea to us, and if anyone refused to give us food, tea or money, we beat them because our leaders ordered us to do so."
"Now I severely regret it," Reshteen said.
"All of the Taliban's leaders lived in Pakistan or in Iran," he said.
Those leaders' children "studied in madrassas and schools in Balochistan, Karachi, Islamabad, Peshawar and in Tehran, but the children of poor people like us remained illiterate", he added.
"This situation was unbearable for me, and for this reason I separated from the Taliban," he said.
'Come stand beside the Afghan government'
Ashna called on the Taliban to stop serving as slaves to foreign entities and to end the war.
"Come and leave slavery," he said. "Let's serve the country, all of us together. This is our country. Stop this destruction and terrorism and join the government."
Reshteen also had a similar demand for his former colleagues.
"I am calling on all Taliban members, for God's sake, don't destroy this country," he said. "Let's work together to build our country.... Let's stand beside the government of Afghanistan, National Police, National Army and National Directorate of Security to rebuild our country."
Zabul's provincial police chief, Col. Saeed Mirajuddin Sadaat, praised Ashna's efforts to tighten security in Zabul.
"Ashna is a hero and a good fighter," he said. "Now, his thinking has totally changed, and he severely regrets his past activities. He always says that the Taliban are not right."
"Now Ashna is fighting beside us against the Taliban, and we are proud of him," he added.
Sadaat called on the government's foes to lay down their arms as the door to peace is always open to them.
"To all who accept the constitution of Afghanistan and respect the tri-coloured flag of Afghanistan, our door is open. They are welcome," he said.
After Ashna severed his ties with the Taliban and joined the government, security has improved in a number of areas of Zabul Province, said Haji Naqibullah Sherzai, a representative of permanent residents of Maidan Wardak Province now living in Zabul Province.
"We and you are brothers," he said, addressing the Taliban. "Leave the [Taliban's] ranks; join together in order to get rid of these miseries, fratricide and insecurity."