KUNDUZ -- The Taliban committed scores of atrocities in Warduj District, Badakhshan Province, over the past four years, including the killing of pregnant women, baseless executions and public stoning, say residents.
Residents now are free to recount stories of Taliban crimes as Afghan security forces regained control of the district on September 10 after four years of militant rule.
More than 100 fighters were killed in a battle with Afghan troops, the Defence Ministry said in a statement last month.
"The Taliban tortured and beat up civilians during their rule," said Maulawi Abdul Wahab Najadi, a tribal elder in Warduj District. "They took hostages. They locked up those who disobeyed them in their private prison."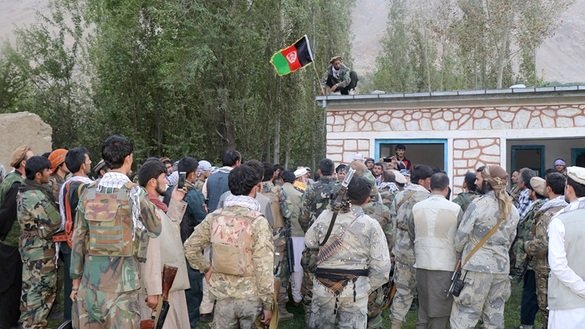 "They threatened the families of around 2,700 residents of Warduj District serving in the police and army in Badakhshan, telling them that their family members must leave the ranks of the security forces or else they would kill them [the families]," he said.
So-called Taliban trials
"The group [the Taliban] shot to death 17 men and women in front of the public for various reasons," he added.
The insurgents killed two pregnant women, Maryam and Muslima, on June 28, 2017, because their husbands or relatives were serving in the army and police, said Najai.
The Taliban also raped a woman on August 9, 2015, in the Tirgaran area of Warduj District, according to Najadi. They did so in front of her husband and children and killed her afterward.
On March 9, 2017, fighters took a man and woman to the Chah Karan area in Warduj District, where a Taliban kangaroo trial tried them and found the couple guilty of adultery, Najadi said.
The Taliban court ordered the stoning of the woman and flogging of the man. Militants carried out the sentences in public.
The Taliban demolished many houses as well as public facilities, said residents.
"The Taliban destroyed 130 houses that belonged to civilians," said Muhammad Saber Atif, another tribal elder of Warduj District.
"The group [the Taliban] forced more than 1,500 families to leave their homes," he added. "These families were displaced to Baharak and Ishkashim districts and to Faizabad, the provincial centre of Badakhshan."
"The Taliban demolished district government offices, a police station, an NDS [National Directorate of Security] facility, hospital and other government installations," Atif said.
A myriad of atrocities
At the same time, the militants forced dozens of wedded and unwed women to marry foreign Taliban fighters.
"The Taliban took a number of girls out of their parents' houses and forcibly married them to foreign Taliban fighters such as Uighurs, Chechens, Uzbeks and Tajiks," said Sayed Akbar, a resident of Warduj District.
"After the government's rule returned, a number of these girls were rescued," he said, adding that the Taliban extorted ushr from farmers and forced civilians to give them food.
"I made about 50 to 100 AFN ($0.64 to $1.28) a day repairing old clothes, yet I had to give them [the Taliban] food three times a day, while I also had to provide for my family of seven," he said.
"If any family disobeyed them, they put it in their private prison," Akbar said. "They took the poor villagers hostage for various reasons to achieve their demands."
The militants also waged a campaign to eradicate education in the area.
"If a student in the eighth grade had continued his or her schooling, he or she could have now graduated from the school. But now thousands of our children -- boys and girls -- are deprived of an education," said Maulawi Abdul Wahab Najadi, a tribal elder in Warduj District.
"The group destroyed the buildings of some schools and stole equipment from school labs," he said. "We were deprived of religious schooling, development, water, electricity and other facilities during this period."
Displaced families have started to return to their homes since troops cleared the district centre of Taliban fighters, said Naik Muhammad Nazari, a spokesman for the Badakhshan governor.
"We're determined to restore all public services," said Nazari. "Girls and boys who were denied education will return to schools, and civil servants will deliver various services."