HERAT -- Herat University's peace centre is providing students with the opportunity to learn how to promote a culture of acceptance and decrease violence through conflict resolution.
The centre has offered students attending eight colleges of the university (Journalism, Law and Political Science, Sharia, Social Sciences, Education, Public Administration, Science and Literature) various programmes since 2016.
Currently, 400 students from throughout Afghanistan are busy taking advantage of the centre. More than 2,600 students have received training at the centre since its opening.
"Students from all the provinces participate in our training programmes," said Nasir Ahmad Rahimi, head of the peace centre. "Some of the students who have graduated returned to their provinces with peaceful views, and they were able to organise trainings on what they have learned about peace [in their respective provinces]."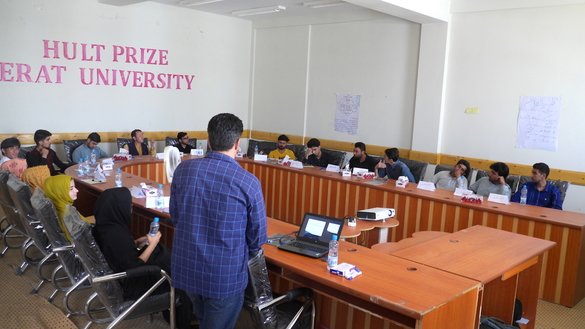 "If senior government authorities use the capacity of our young students who have received peace training in the peace process, they will be able to engage in the discussions," he said.
Students who trained at the peace centre participated in the Consultative Loya Jirga and expressed their views, Rahimi said, referring to a jirga held in April on the peace process.
"All the peace centres at Afghan [state-run] universities are supported by the United States Institute of Peace," a non-governmental organisation, "and the goal of these centres is to promote peace and acceptance in the society," added Rahimi.
Other peace centres are active in a number of Afghan universities, including in Kandahar, Nangarhar, Khost and Kapisa universities, where students are trained in peace studies.
Efforts to decrease violence
Students at Herat University have learned how to play a key role in decreasing violence in society and fostering a culture of peace and acceptance.
"I have learned many [new] concepts about peace," said Gul Pari Durukhshan, a sophomore studying German literature and a resident of Ghazni Province. "Now, I am able to help resolve a conflict that breaks out between families or in the community."
"We can implement peace in society when we can ensure unity and respect for one another's views," she added. "We have learned at the peace centre how to promote acceptance among people."
"Those who have received peace lessons at Herat University's peace centre are able to play an important role in resolving conflicts at the family and community levels," said Arman Qaderi, a member of the centre. "They can either completely resolve the conflict or propose various options to the opposing parties to reach a settlement."
"We have been successful several times in resolving a community conflict and helping the conflicting parties to reconcile," he added. "We're trying to foster sympathy and love."
"The peace centre has helped us promote social peace," said Abdul Wahid Gulrani, another member.
"After receiving training at Herat University's peace centre, we invite Afghans to accept and respect each other's demands wherever we meet them," he said.
"A conflict has broken out several times among youth in our village on very trivial matters, but I was able to help them reconcile in a short period," added Gulrani.
Key role of youth
Young people have had a key role in encouraging the Taliban to join the peace process for the past few years, said Mawlawi Ghulam Sarwar Barakzai, former chairman of the High Peace Council in Herat Province.
"Most of our colleagues were youth who worked around the clock to motivate the Taliban to renounce violence," he added. "In the past few years, these youth were able to encourage more than 1,400 Taliban fighters in Herat Province to join the peace process."
"Youth have a key role in society, and whenever a conflict erupts... they are better able to resolve the conflict," Barakzai added. "During the past years, they have been able to resolve many feuds in Herat Province."
"Youth are the real victims of war in Afghanistan," said Ghulam Farooq Raseb, a civil society activist in Herat Province.
"If they're provided the [right] opportunities, they will be able to play a crucial role in reducing violence and ending the war," he said.
"Young Afghans who bravely serve in the ranks of the security forces and make sacrifices to defend the country are also able to greatly contribute to ensuring peace and putting an end to the war," Raseb added.