KHOST -- Ten members of the same family were killed on Tuesday (December 17) when their car hit a roadside bomb as they were travelling to a funeral in Khost Province, officials said.
The victims had been driving in Tirazayi District in a large station-wagon-type vehicle when the blast occurred, according to local and national officials.
"The casualties include five men, two women and three children all from one family," Talib Mangal, a spokesman for Khost's governor, told AFP.
"They were travelling to Logar Province to attend a funeral."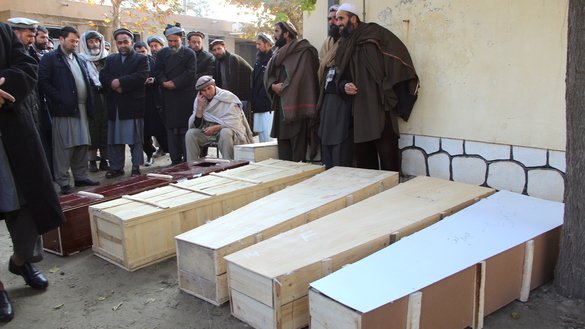 Provincial police spokesman Adil Haidar confirmed the toll and incident details, while Interior Ministry spokesman Nasrat Rahimi added it was a Taliban bomb placed by the side of the road.
The Taliban did not immediately comment.
Terrorist violence kills children
The attack came the same day as the United Nations Children's Fund (UNICEF) released a report saying an average of nine children were killed or wounded each day in Afghanistan during the first nine months of this year.
Last week, 10 civilians, including four women and a child, were killed when their vehicle was hit by a roadside bomb in Jaghatu District, Ghazni Province.
On November 27, another land mine in Kunduz Province last week killed 15 civilians, including eight children, according to the Interior Ministry.
They were on their way to a wedding from Khanabad District to Imam Sahib District when their car struck a roadside bomb in Aikhamchal village of Imam Sahib District, according to local officials.
Also on Tuesday, a bomb shook comparatively secure Mazar-e-Sharif, Balkh Province.
A bomb concealed on a bicycle wounded 18 people including five traffic police officers, said Balkh police spokesman Adil Shah Adil.
Shafiq Shahiq, the director of Mazar central hospital, put the toll at 23 wounded.
Land mines and improvised explosive devices (IEDs) planted by armed groups and non-state actors continue to harm innocent civilians in a number of countries, including Afghanistan, according to an annual report by the Landmine and Cluster Munition Monitor published November 21.
According to Landmine Monitor (the organisation's report), 6,897 people were killed or injured by mines and other explosive remnants of war in 2018.