CHENNAI, India -- Twenty female Afghan National Army (ANA) cadets have just completed a four-week training programme at the Officers Training Academy (OTA) in Chennai, India.
The training began on November 24, the Times of India reported.
The curriculum includes physical training, weapons training, tactical training, leadership, human-resource management and information technology as well as English-language instruction.
This is the third year in a row that women from the ANA have been trained at the OTA. Last year, 19 female ANA officers took part in the month-long special combat training programme. In 2017, 20 Afghan women took part in the training.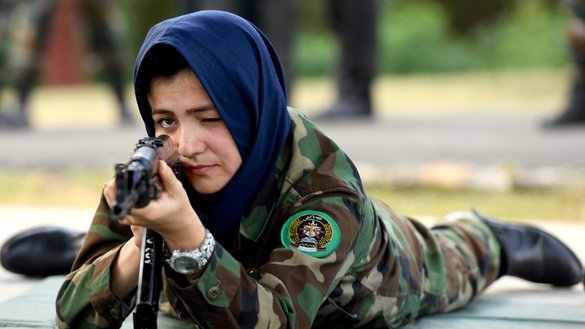 The OTA is the only military training establishment in India for both men and women. It has been training men from Afghanistan's military for several years.
Afghanistan's Defence Ministry aims to recruit 5,000 more women to join the ANA in a bid to make the military more representative of Afghanistan's population and to help conduct more-efficient search operations.
More than 2,000 women are serving in the ANA, said Fawad Aman, a spokesman for the Ministry of Defence.
Dozens of Afghan female soldiers receive military training "outside the country and hundreds more in the country", he said.
A number of female soldiers soon will travel to the United Arab Emirates to receive military training, said Munera Yousufzada, deputy defence minister for education and personnel, December 19.
"For the first time, an agreement was reached to send a number of female military personnel to train in the coming year and the next," she wrote on Facebook.
[Najibullah from Kabul contributed to this report.]