KABUL -- Afghanistan's Defence Ministry aims to recruit 5,000 more women to join the country's army in a bid to make the military more representative of its population and to help conduct more-efficient search operations.
About 2,000 women are serving in the Afghan National Army (ANA), and 5,000 more positions have been set aside, Defence Ministry spokesman Ghafur Ahmad Jawid told Salaam Times.
As of last October, the ANA had 190,753 personnel, according to a US Special Inspector General for Afghanistan Reconstruction quarterly report released January 30.
The highest military rank held by a woman is colonel, while the highest civilian office held is the equivalent of major general, and that woman leads the Human Rights and Gender Integration Office at the Ministry of Defence, Jawid said, referring to Shahla Abawi, who was appointed to the position last January.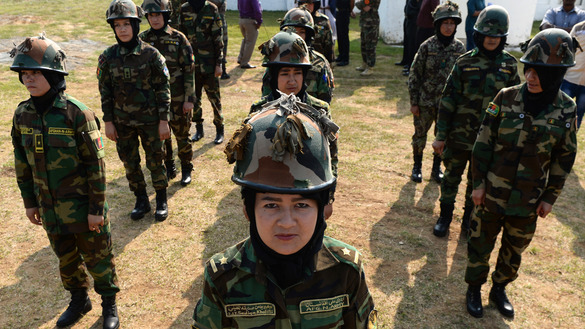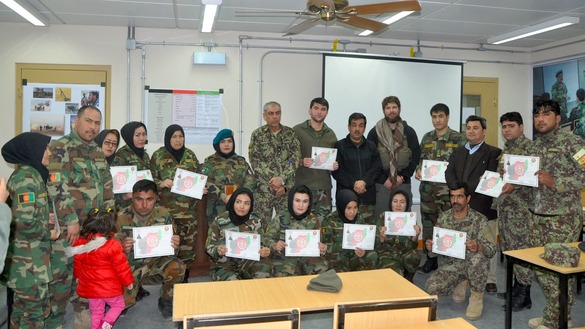 "In every society, women make up half of the population" and the presence of women "within the ranks of the ANA has helped defence and security forces during their operations," Jawid said. "Considering our Islamic customs ... searching seemingly suspicious houses becomes a far easier task when female security personnel are present."
Thirty-six female members of the army are undergoing training in Italy, Turkey, India and the United Kingdom, while three others are training in the Czech Republic to become pilots, Jawid added.
"The Ministry of Defence provides women with other training programmes" such as technical, operational, computer science and military vocational training courses that include human resources, finance and logistics, he said.
Key to operations
Gen. (ret.) Nazifa Zaki, a former ANA officer now serving in parliament, emphasised the need to provide more training and vocational courses to the ANA, especially for female personnel.
"We know that a number of ANA soldiers are engaged in short-term and vocational training abroad," she told Salaam Times.
"It is great that our soldiers and officers will be educated and assigned to specific departments of the ANA upon their return, so that we can have a professional army in the future," she said.
While women's presence in all areas of Afghan society is needed, it is of even greater importance in the ANA, she said.
"Women can perform various duties in different departments of the ANA," Zaki said. "The presence of women alongside their male counterparts matters especially when it comes to conducting some operations, including searches."
Zaki cited clearing operations in districts and villages as an example.
"Male soldiers do not enter local residents' houses because enemy forces usually hide behind women and children... [male soldiers] do not enter houses because of the cultural inappropriateness," she said. "If they have female personnel by their side, however, they can search houses."
Zaki welcomed the recent recruitment effort, while adding "more work should be done vis-à-vis motivating women, so that they voluntarily join the Afghan National Army" once they realise "the value of their presence" within ANA ranks, she said.
A necessity in the ANA
A female presence in the security sector is a necessity, agreed Nooria Safi, a women's-rights activist in Kabul and director of the Women's Capacity Building and Development Institute in Afghanistan.
"Women's participation in every sector is very valuable, for I doubt that without women a stable society can move forward," she told Salaam Times. "The presence of women in the ANA is very important. They must be provided with good facilities and amenities, as well as higher incomes and greater opportunities."
Women historically have been active and very effective in the ANA, said Gen. (ret.) Atiqullah Amarkhil of Kabul.
"Our experience has shown that having women in communications and logistics, as well as in searching suspicious houses alongside male soldiers, is very effective," he told Salaam Times.