HERAT -- Female soldiers and officers in the Afghan National Army (ANA) are becoming an increasingly strong presence in western Afghanistan.
They join military operations after undergoing training for a host of actions, notably search operations and the use of light and heavy weaponry.
Demonstrating their capabilities, a group of female members of the ANA conducted a series of military exercises on January 12 at the 207th Zafar Corps Training Centre in Guzara district, Herat province.
Stating the importance of women's role in the ANA, Herat officials said these women are able to perform their duties just like men.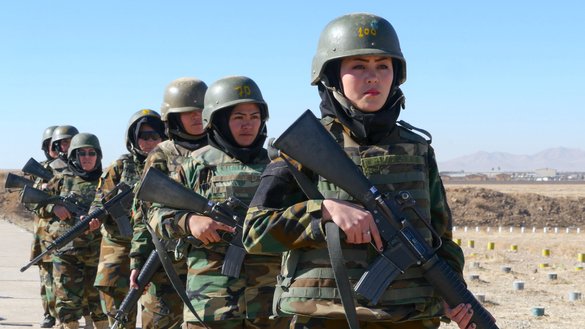 Women learn from Afghan trainers at the centre upon enlisting in the ANA, and their capabilities have noticeably improved compared to the past, said Col. Mohammad Nader Afzali, commander of the 207th Zafar Corps Training Centre.
"Female soldiers and officers have the ability to do their jobs under any circumstances," he said. "Taking part in operations against the enemy and searching neighbourhoods are among the key duties of Afghan military women, which they successfully perform."
Amid the Afghan government's peace talks with the Taliban, a number of military women have reiterated the demands of female civilians, stating that women's achievements over the past 20 years should be preserved.
Like their civilian peers, the ANA's female members say they are committed to protecting women's accomplishments and will not allow anyone to impose restrictions on women's lives.
Afghan women's achievements over the past 20 years are never up for compromise, said 2nd Lt. Fatima Alizada of the 207th Zafar Corps.
"The positions we have achieved as ANA soldiers and officers need to be preserved in peace talks," she said. "Our representatives, as part of the government delegation, take part in peace negotiations, and they defend the rights of all Afghans."
"Military service is not just for men," she added. "We have also joined the service, and we serve alongside our brothers and defend our country. No one has the right to endanger our position in the future."
Although Afghan women face challenges in sensitive institutions such as the military, especially within ANA ranks, military officials in the western region say there has been a rise in the number of women who have joined the ANA, and that educated young women are showing more interest in enlisting.
In addition to participating in military training and operations, women are responsible for a large part of administrative work at the 207th Zafar Corps. Most of those women are university graduates.
Afghan women are just as capable as women in other countries and they are able to play a key role in rebuilding the country, maintaining security and enriching its culture, said 2nd Lt. Mariam Noorzai of the 207th Zafar Corps.
Just as society needs female physicians and teachers, it needs female officers and soldiers, she added.
"The Taliban should forget the past and the time of their rule [1996-2001]," she said. "They cannot go back in time and restrict women and girls. The new generation of Afghanistan will not stop, and no one can restrict their activities that lead them to prosperity."