HERAT -- The Iranian regime's lack of transparency over the rampaging coronavirus outbreak in its own country has enabled the disease to reach Herat Province, local officials say.
In Iran, official state media said Thursday (March 5) that 107 patients have died from the virus so far and over 3,000 individuals are infected with it.
But the actual numbers are likely far higher, as evidence builds that the regime is delivering inaccurate information to the public in a bid to protect itself from further scrutiny.
The virus has since crossed into Afghanistan.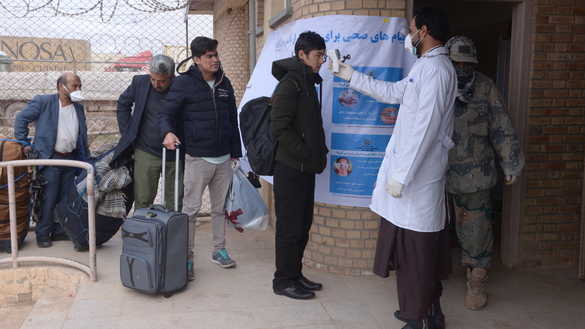 The Afghan Ministry of Public Health announced on February 24 that it had detected a coronavirus case in Herat Province.
In Herat, a 35-year-old man diagnosed with coronavirus recently returned from Qom, Iran. He was among 30 suspected coronavirus patients in the province, but the other 29 tested negative, according to the Public Health Ministry.
If Tehran had allowed its public health system to immediately respond to coronavirus, the regime could have controlled its spread, preventing the disease from moving into neighbouring countries, said Dr. Abdul Hakim Tamana, director of the Herat Department of Public Health.
"There were few coronavirus cases in Iran in the beginning, and if the spread had been prevented, there could have been much less transmission to neighbouring countries," he said.
"After Iran concealed coronavirus, our government had to allocate $25 million [1.9 billion AFN] to fight the virus, which has resulted in Iran inflicting a financial loss on Afghanistan," Tamana added.
Businesses and the public are experiencing severe economic losses due to the outbreak, he said.
"Coronavirus is a deadly disease that has become global, and the Iranian government shouldn't have hidden this disease," said Jawad Sediqi, a resident of Herat city. "When coronavirus first reached Iran, the government of Iran should have raised awareness about it so that the public could have taken preventive measures and so that the virus couldn't have entered our country."
As Tehran concealed the virus's spread, it reached Afghanistan, and Afghans have been harmed, he said.
Afghanistan now needs to take firmer methods to protect its citizens, said Wahid Ahmad Muhammadi, another resident of Herat city.
"Afghan borders with Iran need to be closed so that further transmission of coronavirus to Afghanistan is contained," he said.
Strict health measures on Iranian border
Since February 24, the Afghan government has placed strict health measures at its border with Iran to prevent the spread of coronavirus in the country.
These includes screenings of travellers and others arriving from Iran, Feda Muhammad Paikan, the deputy minister of public health for Health Service Delivery, said at a February 25 news conference in Herat city.
"The main concern is that the Iranian government will deport thousands of Afghans at one time, which would elevate the transmission rate of coronavirus from Iran to Afghanistan," he said, adding that Tehran should refrain from such a move "for some time".
A heightened possibility of coronavirus transmission from Iran to Afghanistan exists despite the measures in place at borders, noted health authorities in Herat Province.
All patients being tested for coronavirus arrived from Iran, said Dr. Muhammad Ibrahim Baseem, the head of the Infectious Diseases Ward at Herat Regional Hospital.
These patients came to Afghanistan from Qom, Kerman, Tehran and Mashhad in Iran, which have all reported cases of coronavirus, he added.
"Open borders with Iran are a serious concern because those who are entering Afghanistan were in contact with coronavirus carriers, so that means a higher possibility of the virus entering the country," he added.
"Coronavirus has been rapidly spreading in Iran's cities, but the government of Iran has kept the number of coronavirus cases hidden," said Baseem. "This policy has impaired the fight against coronavirus in Iran and Afghanistan."
Industry and production 'adversely affected'
Authorities have declared an emergency in Herat Province since Afghan medics diagnosed the country's first coronavirus case there, said Herat Governor Abdul Qayum Rahimi, adding that the authorities have suspended activities in bathhouses, coffee shops, swimming pools and wedding halls.
These measures have been in place to prevent any further spread of coronavirus in Herat, he said.
"There has been an increased need for masks and other health items in Herat, but the supply of those items on the market has shrunk," added Rahimi. "Because of high demand, the prices of masks and other health supplies have surged, taking a toll on consumers' finances."
"During this fragile situation, the government has made efforts to provide necessary health supplies for Herat," he said.
"Coronavirus has disturbed normal life and negatively affected businesses, and the Afghan government is trying to prevent the spread of it so that the situation can return to normal," he added.
The virus is hitting the local economy, affirmed Hamidullah Khadem, director of the Herat Chamber of Industries and Mines.
"The outbreak of coronavirus in Herat Province has adversely affected industry and production, and if continues, it will cause a huge economic loss," he said.
"Raw materials at the [Herat] Industrial City are imported, and due to restrictions in place on the borders, there has been a drop in imports of raw materials," he said. "It is slowing production at the industrial park."
"If we continue to lose access to raw materials and if the fear of a coronavirus outbreak rises, workers won't show up for work and a large number of factories will go idle," said Khadem.