HERAT -- Residents and authorities in Herat and Badghis provinces planted thousands of saplings at parks and orchards Tuesday (March 10) as a symbol of their hope for a lasting peace even as they condemned the Taliban for stepping up attacks on Afghan forces.
Participants planted more than 10,000 saplings in Bam-e-Herat, a newly established park in Herat city, and another 9,000 in various parts of Qala-e-Naw, Badghis Province, to mark National Planting Day.
Planting the saplings helps bring the public together for peace, said Rahela Sharifi, a resident of Herat Province.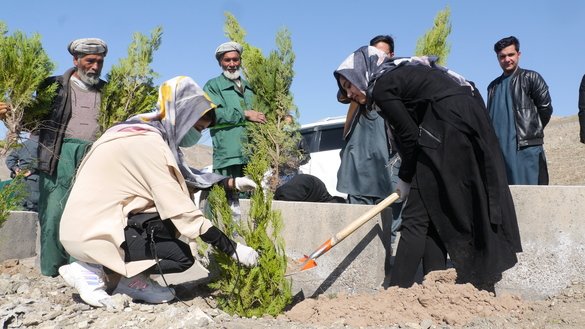 "I along with all Afghan women hope for peace, and the war must stop as Afghans are tired of war," she said at the ceremony in Herat. "Planting provides an opportunity for men and women to come together in a peaceful environment."
The government and the Taliban must make peace with each other, she said, adding that the planting of saplings is a reminder that all Afghans hope for a new life filled with peace and security.
Nagina Muhammadi, a sociology student at Herat University, echoed her thoughts.
"We plant saplings and hope that peace comes to the country by springtime and that we can enjoy the greenery in a peaceful environment," she said.
"We call on the Taliban and the government to begin peace talks as soon as possible and not disappoint Afghans," she added. "Every young person and every Afghan civilian look forward to peace, and we can no longer tolerate the killing of our fellow citizens."
Those in the agricultural community are hopeful that eventually the fruits from the newly planted saplings will be transported to various provinces of Afghanistan and reach all Afghans, said Ahmad Shah Shafiq, a farmer in Qala-e-Naw city.
This can happen only in a peaceful environment, he iterated.
"If we didn't have hope that peace will come and that people will eat fruit from our newly established orchards, we would never plant any trees," he said. "We hope that a full-fledged peace comes to our country so that we can live in a peaceful environment."
Residents of Badghis have been victims of the war and unrest, and they hope that they no longer become caught up in a war and that they can live in peace and enjoy the beautiful nature of the province, he added.
Doubts on Taliban commitment to peace
While authorities and residents of Herat Province at the planting events overwhelmingly voiced their hopes for peace, some accused the Taliban of breaking their commitment to reducing violence in the country as the group continues to kill Afghans.
The Taliban were never in favour of peace, and peace is just a game for them, said Herat Governor Abdul Qayum Rahimi.
"The Taliban didn't want peace now, nor will they want it [in the future]," Rahimi said at the Herat planting ceremony. "Those who attack our security forces and our civilians and martyr them, we will stand against them and defend our people and country."
"The Taliban started fighting Afghans from the very day they came into existence, and they've continued to fight Afghans," he added. "Their war isn't against foreigners as they have massacred thousands of Afghans and blown up schools, hospitals and mosques for years."
The Taliban are not committed to their peace agreement with the United States as they have breached the agreement several times in recent days by escalating their acts of violence in Afghanistan, Rahimi said.
The Taliban's goal is violence and bloodshed, agreed Herat Province civil society activist Sayed Ashraf Sadaat.
"The Taliban's bloody attacks in various provinces after signing the peace agreement with the United States show they are not committed to reaching peace," he said. "The Taliban have always chosen war and bloodshed as they think they can magnify their power and gain stronger leverage in peace talks by escalating violence."
The Taliban have always created excuses for beginning peace talks with the Afghan government -- evidence that they take orders from outsiders and have no power to decide by themselves, added Sadaat.
The Taliban cannot be trusted to end their violence, agreed Wakil Ahmad Azimi, a resident of Herat city who attended the sapling event.
"When the peace agreement between the United States and the Taliban's representatives was signed in Qatar, it made us happy and hopeful for peace, but the Taliban's attacks in various provinces and their killing of security forces and civilians disappointed us again," he said.
The Taliban aim to assume power again and reject having anybody else in government, which is why they will not renounce violence and bloodshed, he added.
The killing of innocent Afghans continues
The upsurge in Taliban attacks on Afghan forces after the peace agreement has stoked the ire of Afghans.
In an attack on March 6 in Khwaja Noor village in Keshk Rabat Sangi District, Herat Province, seven civilians were killed and another 17 were wounded, including women and children.
Zahra, one of those wounded in the assault and who remains hospitalised, said the Taliban threw a hand grenade at her family's home, injuring her along with her six children.
"The Taliban struck our village at around 12am, firing bullets at everyone," Zahra said. "My children and I were sleeping at home when the Taliban threw hand grenades at our home, and all of us are seriously injured, including my infant child."
The Taliban routinely beat children and women and kill men, while burning down houses and leaving the residents with nothing, she said.
"We are prone to the Taliban's oppression as they always hit our village," added Zahra. "The Taliban urge our youth to join them in their fight against the government, but our people don't want to serve with the Taliban. Therefore, the Taliban attack our village."
The Taliban's violence against civilians is a war crime and an unforgivable act, said Wahid Ahmad Aslami, director of the Herat provincial Independent Human Rights Commission unit overseeing government agencies' operations.
"The Taliban have always breached the principles of war and international humanitarian laws as they have intentionally killed civilians including women and children," he said. "The Independent Human Rights Commission condemns the Taliban's hostile acts and calls on the group to stop killing civilians.
"The killing of civilians, especially of women and children who are not party to the conflict, is a war crime, and the Taliban's leaders must be held accountable for these killings," said Aslami.