KUNDUZ -- A new initiative that aims to restore pistachio and hing (asafoetida) orchards has created jobs for more than 2,350 residents of Aliabad district of Kunduz province.
The project is being implemented by the Swedish Committee for Afghanistan (SCA) in collaboration with the United Nations Development Programme (UNDP).
The two-month-long project started on September 11 in six villages of the district and covers more than 20,000 hectares of land, according to Masoud Sharifi, an SCA official in Kunduz.
The local residents are hired to planting 5,000 saplings.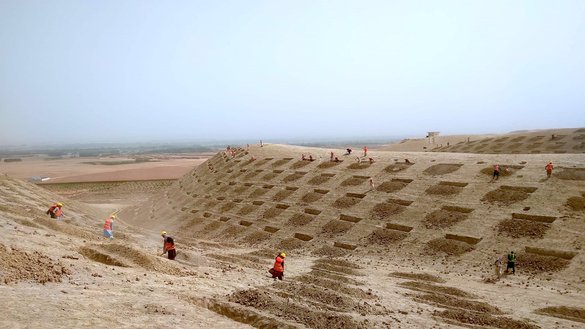 "Every regular labourer receives 400 AFN [$4.52] per day, and each skilled labourer receives 750 AFN [$8.48] for digging holes for saplings," Sharifi said.
"Construction work on a 110-metre-deep well and 22-square-metre reservoir to irrigate the pistachio and hing orchards has also begun," he said.
The UNDP provided 2 million AFN ($22,605) for the effort, according to Sharifi.
"The climate in Kunduz is suitable for agriculture ... we want to start planting saplings in other districts of Kunduz too."
The pistachio and hing trees will also help prevent soil erosion, he said.
Critical income
The project "is a blessing to our people. If the trees grow and bear fruit, our people will benefit from it," said Ali Mohammad Haidari, 42, a resident of Mir Sheikh village taking part in the planting.
"I am happy that I am bringing greenery to my community and am earning a living for my family," he said.
The project could bring economic growth as well, said Janat Gul, 66, another worker.
"We are very happy today that we no longer depend on anyone else," he said. "I had not been able to find enough food for my children for a couple of months and had to ask others for help."
"Our lands have been affected by drought for many years now. We did not know what to do or how to earn a living," he said.
"Now I have work and can put food on table for my family."
Abdul Ghafar, 48, another worker and the breadwinner for a family of six, said he was previously unable to find work.
"I earn 750 AFN per day now and can buy enough food for my children," he said. "I have a job for two months and will try to find a job after that too."
Environmental, economic benefits
The reforestation project will reap both environmental and economic benefits, said Rahim Gul Farakhzad, a resident of Kunduz city.
"Unfortunately, the pistachio orchards suffered greatly from various factors in the previous years," he said. "If these orchards are restored, the economic situation in Kunduz, especially in Aliabad district, will significantly improve."
"Orchards are very important in preventing soil erosion and air pollution," he added. "If there are no orchards, polluted air will cause diseases."
Orchards also play a critical role in mitigating climate change impact, including moderating the temperature in both the winter and summer, he added.
"The public must help in the protection of orchards," Farakhzad said.
The objective of this project is to create jobs, improve greenery and prevent soil erosion, said Abdul Majeed Nafez, director of the agriculture unit at the Kunduz Department of Agriculture, Irrigation and Livestock.
"Once the trees start bearing fruit, the residents ... can sell them too to improve household income," he said.
"We are going to hire members of [local orchard protection associations] to maintain and protect the planted trees from any harm in the future," he added.