HERAT -- The Afghan government has set up distance-learning solutions for students as it closes most schools amid the coronavirus pandemic.
The Ministry of Education said it is implementing the initiative to ensure continuity of education for students while they study at home via television, radio and the internet.
"Given the increasing risks of the coronavirus [infection], we had to switch to the distance-learning option," said Nuria Nuhzat, a spokesperson for the ministry. "This alternative has been successful, and it has filled the gap created by the coronavirus outbreak to a fair extent."
"Science subjects will be taught on television and social science subjects through radio stations," she said. "Families can play an important role in teaching social sciences as parents who are literate can help their children with learning their subjects."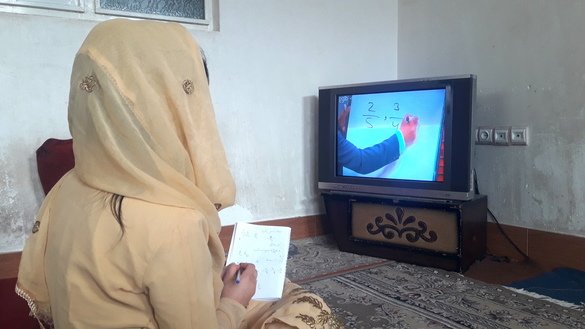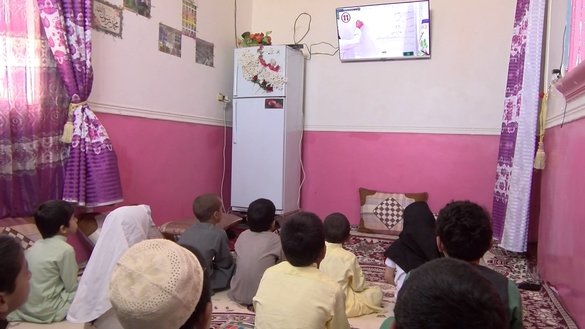 The Afghan government has closed all schools, universities and wedding halls in response to the pandemic.
Still, in-person classes at schools in villages and remote areas that lack access to TV and the internet will continue, with students and teachers complying with necessary health measures such as social distancing, Nuhzat added.
The distance-learning initiative comes as the Ministry of Higher Education said in a statement on Monday (April 20) that it has extended the closure of all higher education institutions for another 20 days -- until May 9 -- as part of efforts to slow the spread of the coronavirus.
As of Tuesday (April 21), there were 1,092 confirmed cases of COVID-19 in the country, with 36 deaths, according to the Ministry of Public Health.
For students taking part in distance-learning programmes, classes are being aired on National TV (RTA) and a number of private TV channels in 34 provinces, Nuhzat said.
"Every day, 40 20-minute lessons are taught on TV channels and radio stations," she added.
Increasing awareness for families and students
Teaching classes on TV can help fill the education gap created by the pandemic to a great extent, said Mahmood Mahmoodi, a teacher at Nimroz University.
"The coronavirus has affected education systems around the world, and there is an apparent need for the world to implement alternative solutions that can help students avoid wasting their time," said Mahmoodi. "Afghanistan is implementing its first distance-learning endeavour that will hopefully achieve positive results."
"This solution helps protect students from contracting the coronavirus and provides them with learning opportunities at home," he said. "If the coronavirus threat is prolonged, these programmes can help increase knowledge and improve literacy in families."
Zakaria Rahimi, director of the Herat Education Department, so far is pleased with the home-schooling initiative.
"We began teaching school subjects on 16 local TV channels in Herat... [it] has achieved great results and satisfied the families of students," he said. "Students are attending their classes on TV channels."
In Herat Province, 75% of students in Herat city and nearby districts have access to distance-learning programmes on TV, he added.
"We have separate learning programmes for the remaining 25% of students who live in remote areas with no access to TV," said Rahimi.
Masood Noori, director of the Nimroz Department of Education, also hailed the remote-learning programmes set up by the government.
"Distance learning is a great initiative that has been implemented at the right time," he said. "All the local media outlets in Nimroz Province are helping the department of education by airing distance-learning sessions."
With families staying at home because of the coronavirus threat, these TV programmes provide an opportunity for the family members of students in Nimroz Province to learn too, he added.
Media contributions
Media outlets are airing the Ministry of Education's learning programmes free of charge, saying that their goal is to provide learning opportunities for children and families during the crisis.
One hour of school lessons and two hours of programmes aimed at raising families' awareness about the coronavirus threat are being aired six days a week on Asr, a private TV channel, said Habibullah Farahi, director of the channel.
"The pandemic has disrupted education systems in most countries around the world, and schools have been closed in Afghanistan as well," he said. "We want to teach all school subjects to students at their homes through the media and ensure a safe environment for them to learn."
"We air one hour of school lessons for free every day, which provides students with easy access to learning," added Farahi. "We are increasing our co-operation with the Department of Education, and if needed, we can allocate more airtime to them."
"Airing school lessons [on TV] has provided a learning opportunity for thousands of students at this critical time as Afghans continue to stay at home," said Jahanzaib Arya, director of Yazda TV in Zaranj, Nimroz Province.
"The coronavirus is a huge threat, but students staying at home without having access to learning is a disaster of the same level [as the pandemic]," he said. "We try to air school lessons for students to fill much of the gap that the coronavirus outbreak has created."
"We air three hours of school lessons [six days per week] for various grades," added Arya. "We want to bring the classrooms into [their] homes and get students involved in learning their lessons."