HERAT -- The Afghan Interior Affairs Ministry (MOI) is offering members of the Afghan Local Police (ALP) opportunities to join other government and security organisations after the ALP's planned disbandment later this year.
The ALP was established in 2010 to defend against the Taliban at the village level.
US support for the 18,000-strong ALP will end on September 30, NATO confirmed earlier this year.
An effort to merge parts of the ALP with the Afghan National Police (ANP) and the Afghan National Defence and Security Forces (ANDSF) will be implemented in the next five months, according to Tariq Arian, an MOI spokesman.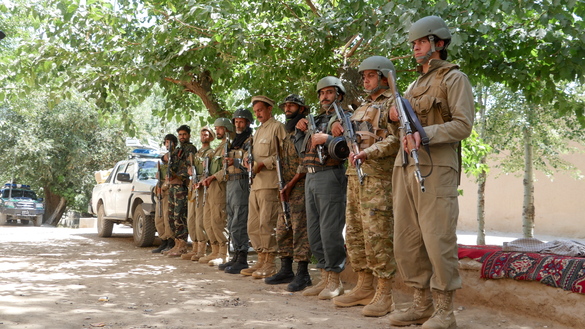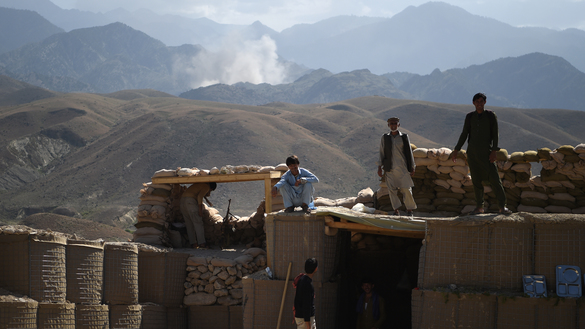 "The administrative processes and financial arrangements necessary for having Local Police join the National Police have begun," he said.
The changes will have no negative impact on the security situation or leave any security gap, said Arian.
"The performance of Local Police in ensuring security in their respective areas and preventing the Taliban's attacks has been very effective," he said. "After these forces merge with the National Police, we are confident that they will be even more effective in maintaining security."
After disbanding the ALP, the MOI will begin incorporating a large portion of these forces into the National Army and National Police, and there is no need for these forces to submit applications, said Herat Police Chief Col. Obaidullah Noorzai.
"We hope that all the soldiers in the Local Police are recruited by the security agencies, and if any of these soldiers are not recruited in this process, we will introduce them to the private sector so that they get a job," he said.
"The recruitment of these soldiers in the private sector will be co-ordinated in a way that enables them to get their new jobs without any trouble," he added.
Private sector opportunities
In Herat, private businesses say they will hire a number of Local Police as security guards and workers in factories.
"If some personnel lose their employment because of the dissolution of Local Police branches, the private sector, especially manufacturers, is ready to recruit them as security guards and factory workers," said Hamidullah Khadem, director of the Herat Chamber of Industries and Mines.
Security agencies can introduce Local Police members who lose their jobs to employers, or they can visit the Chamber of Industries and Mines in person so that employers who need workers can hire them, he said.
"When Local Police lose their jobs, they will be recruited based on our factories' needs and their capabilities in various sections of our factories," he added. "We are prepared to provide jobs for a large number of soldiers who made sacrifices to ensure security for our people and country."
"There is an employment committee at the Herat Chamber of Industries and Mines," added Khadem. "We advertise all our vacancies for workers through this committee, and visitors can submit their applications to the committee."
Local Police have good experience in security issues, and companies will hire them as security guards, said Younus Qazizada, director of the Herat Chamber of Commerce and Industries.
"Local Police have always served on the front line and have seen military training," he said. "We are sure that they will be very useful as security guards for commercial firms, traders and investors."
"We are ready to positively respond to soldiers who've made sacrifices in protecting our people and country when we are in need of workers, and we won't allow them to remain unemployed," he added.
Local Police willingness
"Local Police have... experience in fighting the Taliban and other terrorists; therefore, they will be able to play an important role in bringing security while serving in other security institutions," said Muhammad Jawad, a member of the ALP in Guzara District, Herat Province.
"Our main goal is to serve our areas, people and government," he added. "If we are not under the Local Police, we can serve the country as National Police, National Army and National [Directorate of] Security forces -- whichever makes an offer."
"We are ready to serve in any insecure area under the security forces, and we won't allow anyone to harm lives and ruin our country," he said.
When ALP members join other security agencies, they will ensure peace and prevent Taliban attacks, said Mahboob, another ALP member in Guzara District.
"In whichever part of the security forces we operate, we aim to serve our country and people, and we won't allow terrorists and armed anti-government elements to harm public safety," he said. "It doesn't matter which security institution we serve; our goal is to defend our country and people wherever we are."
"If the Local Police are dissolved, we will serve in the ranks of the National Army and National Police," he added. "We have learned great military skills while serving in the Local Police, and we fight the Taliban at the front. I am confident that we'll play an important role in defending Afghanistan after we join other security forces."
Local Police are keen to join other security agencies and to serve the people and the country, he said.
Preserving Afghanistan's achievements
At the same time, Afghanistan's other security agencies are encouraging ALP members to join their ranks.
"Everything Afghanistan has achieved in the past 20 years is the result of efforts made by the security forces and government, said Sgt. Muhammad Hussain Khadem, a member of the Afghan National Police in Badghis Province.
"The security forces have made many sacrifices in order to earn these opportunities and achievements for the Afghan people," he said.
"I call on the Local Police to work closely with the National Police and play a role in preserving human achievements so that Afghanistan can have a bright and prosperous future," he added.
"We call on [the Local Police], instead of being jobless or leaving the country, [to] come and join the National Army, National Police and National [Directorate of] Security forces and serve their country," said Halim Jan, a non-commissioned officer with the National Army in Nimroz Province.
"We are working around the clock to provide opportunities for our people so that their children can go to school and continue to live in a peaceful environment," he said.