JALALABAD -- With government plans to dissolve the Afghan Local Police (ALP) in the coming months, civilian and military authorities say that they are ready to recruit the members of the organisation.
The ALP was established in 2010 to defend against the Taliban at the village level.
In the subsequent years, the ALP -- with support from NATO -- fought on the front lines against the Taliban, the "Islamic State of Iraq and Syria" (ISIS) and other enemies of Afghanistan alongside other branches of the Afghan National Defence and Security Forces (ANDSF).
An effort to merge parts of the ALP with the Afghan National Police (ANP) and the ANDSF is being implemented through the end of the year, according to Tariq Arian, a spokesperson for the Ministry of Interior Affairs.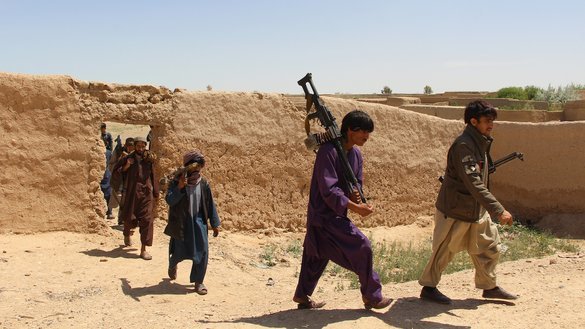 The changes will not have a negative impact on the security situation or leave any security gap, he said in August.
The Afghan National Army (ANA) is planning to recruit ALP members in the local and national army structures, said Lt. Col. Haroon Yousafzai, spokesperson for the 201st Silab Corps of the ANA.
"The Local Police played a good role in many districts and supported the ANA," he said. "In some areas, they were converted to ANA soldiers, which had a useful outcome."
"The Local Army receives the same supplies and equipment that the ANA does; therefore, we'll recruit some of them to the Local Army and others to the National Army," he said.
"We have a recruitment branch where many applicants come to join the National Army, and we will give priority to recruiting former Local Police ... because they are familiar with combat tactics and know the enemy well," said Brig. Gen. Mohammad Karim Niazi, commander of the ANA 4th Brigade in Nangarhar.
Vocational skills, job training
Separately, the Nangarhar Provincial Department of Labour and Social Affairs plans to create jobs for former ALP officers with the help of international organisations, said Abdul Hakim Sherzad, director of the agency.
Some 97 individuals, including 30 young women, graduated on September 27 from the department's six-month technical and vocational training programme, he said.
"We gave them equipment and introduced them to the job market, and we will continue to train more such candidates," Sherzad said.
"We have trained 300 workers in technical and vocational skills during the past three years, and more than 1,200 are receiving training," he said. "Previously, 200 graduates were provided with equipment and sent to the job market to provide services and earn an income for their families."
"So, if these [former Local Police] who have lost their jobs want to enrol in technical and vocational training, they can contact our office so that we can provide them with job skills," he said.
The Nuristan Environmental Protection Agency plans "to recruit hundreds of environmental police officers", said Zabihullah Malakzai, who recently became director of the office.
"We will do this to prevent logging of the province's forests and to conserve wildlife and preserve forests, and these police officers will help us protect forests," he said.
The Afghan government in June designated all of Nuristan Province as a national park to protect the environment and local culture.
"We will roll out this initiative soon," Malakzai said. "We don't have the ALP in Nuristan, but we will prioritise recruiting those ALP officers who lose their jobs in neighbouring provinces because they have become professional."
"We believe that we'll be able to prevent logging and poaching in Nuristan forests by bringing these police onboard," he said.
In Kunar, local authorities will ask construction companies to recruit laid-off ALP officers to protect road construction, said Ghani Musamem, a spokesperson for the Kunar governor.
"For example, we have a project to build walls on both sides of the Kunar River to prevent erosion," he said. "We can co-ordinate with the project officials so that they can recruit Local Police as guards and construction workers in the project. Hundreds of applicants can find jobs there."
"We will start working on rehabilitating and paving the Asadabad–Nuristan road soon," he said. "If Local Police members lose their jobs before that, we'll recruit them as security guards for the project."
Members of the Local Police "don't have to be worried", he said. "We have plans to create jobs for them."
Prioritising ALP in hiring
ALP members say they appreciate the government's efforts to find other jobs for them after they spent years fighting ISIS and Taliban militants.
"We protected these areas from ISIS, and we now secure them from the Taliban," said Khair Muhammad, who has served in the ALP in the Momand Dara area of Achin District for the past seven years.
"We have done our job honestly, and we will continue that way," he said. "I am not worried about my future because the government will create jobs for us."
"I'm a soldier of this country, and I will continue to be one," he said. "We expect the government to give us the kind of jobs that can allow us to support ... our families and protect our country."
"I have left my home to fight against the enemy," said Ali Jan Dilsoz, an ALP member who serves in the Farm 4 area of Bati Kot District, Nangarhar Province.
"The government has to find us another job so that we can earn a living," he said. "We have made sacrifices."
"We will prioritise recruiting the ALP at all agencies," said Ataullah Khogyani, spokesperson for the Nangarhar governor. "We will try to place educated local police in organisations where their skills are required, and those who are not educated will obtain jobs in the private sector and other government agencies."
The Nangarhar Department of Agriculture, for example, will help ALP members who have lost their jobs to grow crops so they can support their families, said Inamullah Safi, director of the agency.
"Next year, we will establish 700 jeribs [140 hectares] of fruit orchards in 22 districts," he said. "We will allocate a portion of these orchards to those who lose their jobs."
"We will try to provide them with seeds, equipment and other facilities," he said. "We are ready to make a priority of those who want to work in agriculture."