KUNDUZ -- Tourism in Badakhshan Province, curbed for years because of militant activity in the region, is flourishing again amid improved security, local authorities say.
In 2019 (solar year 1398), 472 foreign visitors and 45,000 Afghan tourists visited the region, said Sediqi Lalzad, director of tourism at the Information and Culture Directorate of Badakhshan Province.
"Foreign tourists from 38 countries such as the Netherlands, the United Kingdom, Denmark, Italy, the United States and other countries entered Badakhshan via Tajikistan last year and visited the province," Lalzad said.
"Foreign and local tourists are visiting Ishkashim, Sheghnan, Shuhada, Wakhan, and parts of Faizabad city, the provincial capital," he said. "They buy and take with them handicrafts and other products made by women and other residents of Badakhshan as souvenirs."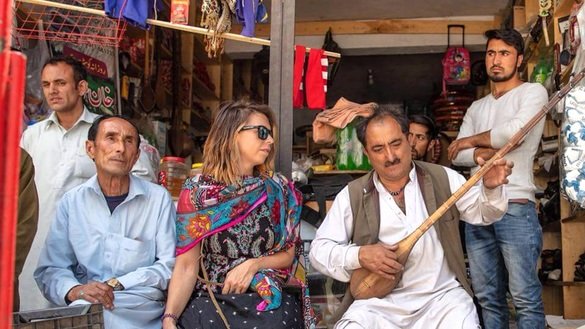 According to local officials, tourism generated more than $900,000 (70 million AFN) in revenue last year.
Many foreign tourists have been unable to visit the region this year as the border between Tajikistan and Afghanistan was closed this year because of the COVID-19 pandemic, Lalzad said.
Still, local tourists from different provinces have been able to visit the area, he added, without providing the number of visitors.
Attracting tourists
During their visits, foreign and local tourists buy local products and handicrafts in the joint Afghanistan-Tajikistan women's market established three years ago in Ishkashim District, said Sayed Abdullah Noori, a resident and shop owner in Ishkashim.
"I sell Afghan clothes, scarfs, handkerchiefs, embroideries, purses, shoes, and other Afghan products that are made by women," he said. "Usually, foreign tourists spend between $100-$500 (7,800-39,000 AFN) each buying local handicrafts of Badakhshan in the summer."
"If the social and political situation in the country improves, the economy will grow and the country will become self-sufficient," he added.
With the average amount of money each foreign tourist spent in Badakhshan last year estimated at about $2,000 (156,000 AFN), local residents are the biggest beneficiaries of the resurgence in tourism, said Lalzad the tourism director.
"The renewal of business licences for tourist companies, for hotels, for guesthouses, for tourist guides, for transportation, for translators and other services is behind the increase in local revenues," he added.
In addition to handicrafts and other locally made goods, Badakhshan's lush environment, featuring dense forests, wildlife, lakes and waterfalls, is a draw for tourists.
More than 800 species of birds exist in different parts of the region, said Naqibullah Saqibyar, director of the Information and Culture Directorate of Badakhshan.
"There are no obstacles for tourists right now in Badakhshan Province. They can visit the beautiful nature of Badakhshan without any problems," said Sanaullah Rohani, a spokesman for the Badakhshan Police.
Local development
In addition to improving security and providing facilities for tourism, the development of local markets and joint border bazaars could further strengthen tourism and improve the economy in the province, say economic analysts.
The government must first ensure reliable security to attract more foreign visitors for the tourism industry to continue to flourish, said Hashmatullah Ahadi, an economic analyst in Badakhshan Province.
"Local and foreign tourists visit attractive sites in Badakhshan every year, which leads to an increase in revenue for both the government and the local population," he said.
"The government should work to improve security and build hotels, recreational areas and roads to better connect with Tajikistan and the joint border markets so that this industry can grow even more," Ahadi said. "Tourism, being a profitable industry, can help develop the local economy in this province."
In addition to improving security, the local government in Badakhshan Province has provided transportation services for tourists, said Naik Muhammad Nazari, a spokesman for the Badakhshan governor.
As a high-income industry, tourism is a high priority for the local government, and with the support of the security forces, it is working hard to improve security, said Nazari.