HERAT -- Located just off the historical Ikhtiyaruddin castle in Herat city is a small glasswork workshop that has recently reopened.
A 50-year-old man sits near a kiln full of molten glass that is likely more than 1,000 degrees Celsius hot as he stokes the fire.
Ghulam Sakhi Saifi, who has been involved in the glasswork industry in Herat city for the past 40 years, produces about 60 varieties of glass items daily, including dishes, containers, vases, candlesticks and other objects.
He began working when he was seven with his father, who taught him the craft.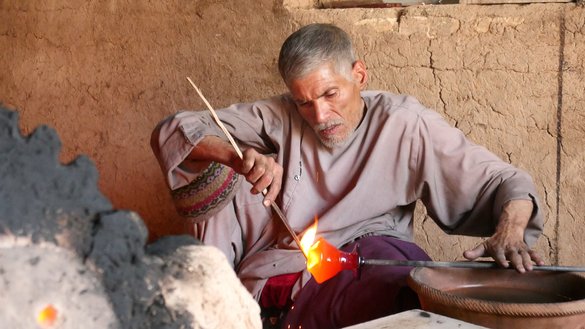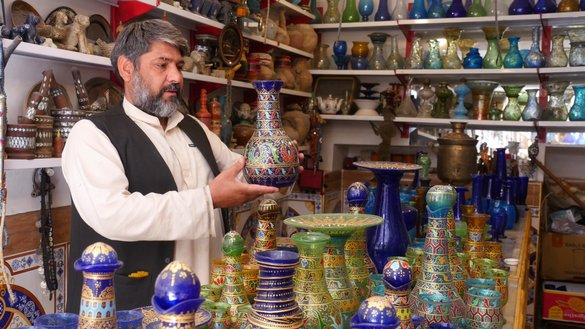 He spins the molten glass on an iron tube, then takes the tube out of the flames and blows in it.
Saifi said the traditional glass-making industry is one of the main pillars of Herat's modern civilisation and culture.
"When I first started in the industry, our work was very good," he said. "But the civil war broke the back of this historical industry."
"Foreign tourists came to our factory every day, but as the conflict intensified, the numbers decreased," he said.
"I want to revive the traditional glasswork industry ... which does not exist in many countries around the world, and yet it has a special value."
To keep the tradition alive and expand the industry in the future, Saifi trains young people in his workshop.
Four years ago, there were four traditional glass-making workshops operating in Herat city.
Throughout the last year, all four workshops halted operations due to conflict and instability.
Bolstering tourism
The traditional glasswork industry has long been a driver of foreign and domestic tourism in Herat province.
There are more than 10 antiques shops near Herat old city's Jami Masjid that sell hand-blown glass items.
Wahid Ahmad Hamidi, an antiques shopkeeper in Herat city, said many tourists come specifically to buy traditional glassware.
"My father had an antiques shop for nearly 70 years and most of his customers were foreign tourists," he said. "I will continue my father's legacy and not allow the historical traditional glasswork industry to diminish."
"An American who came to my shop five months ago said that the purpose of his visit was to buy traditional glass," he said. "He bought a set of dishes, three vases and some candlesticks."
Afghan tourists also come to Herat from different provinces to buy traditional glass objects, he added.
Khalid Sultani, an antiques shopkeeper in Herat city, said most of his customers were from the United States, Canada and European countries.
"Glass dishes and objects are very famous because they are handmade and elegant, and attract foreign tourists' attention," he said. "Tourists buy them as souvenirs for their family and relatives."
"Many tourists used to come to my shop until two years ago. Now there are far fewer visitors," he said.
Thriving history
According to anthropologists, the traditional glasswork industry in Herat province dates back to the Timurid period about 650 years ago.
At that time, dozens of traditional glass workshops operated all over Herat and produced all kinds of glass.
Zalmay Safa, the head of Herat's historical sites, said that after the Timurid era, the traditional glasswork industry in Herat flourished during the reign of Mohammad Zahir Shah, which ran from 1933-1973.
"During the reign of Mohammad Zahir Shah, thousands of foreign tourists came to Herat every year and bought the traditional glass. For this reason, more than 20 glass workshops were active, and hundreds of people were employed in the industry," Safa said.
Following the start of the civil war in 1978, "the traditional glasswork industry faced stagnation year after year", he added.
The traditional glasswork is highly valued as one of the ancient industries of Herat and the region, said Abdul Qayyum Waziri, the head of Herat's cultural heritage advocates association.
"The traditional or manual glasswork industry attracted many tourists in the past ... Unfortunately, the continuation of conflict impacted the industry to a standstill, and many glass factories were forced to cease operations," he said.
"In the current situation, the revival of a traditional glass workshop in Herat is promising and can contribute to the restoration of the industry once again," he added.
Waziri said locals, not just tourists, must buy traditional glass objects so that the industry can flourish once again.