Chinese state media appear intent on showing the world that the country has moved on from the coronavirus pandemic, but countries continuing to suffer under strict lockdowns due to COVID-19 -- which originated and spread in China -- are looking on at this media campaign in exasperation.
State-controlled media outlets in China, for instance, on Tuesday (September 1) broadcast images of thousands of students returning to class in person in Wuhan, the central Chinese city where the coronavirus first emerged last year.
Almost 1.4 million students resumed classes at some 2,800 kindergartens, primary and middle schools across the city, following the re-opening of high schools in May.
Many of the photos centred on students hoisting the Chinese flag.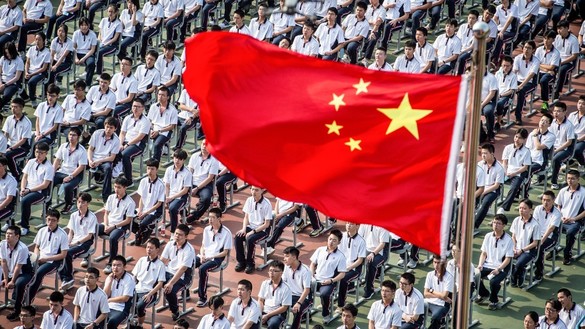 The images were spread across all Chinese state and linked media in an apparent effort to influence opinion abroad.
In China, life is a party
Similarly in mid-August, Chinese state media spread images and videos of thousands of attendees frolicking in swimsuits but without masks for an electronic music festival at a water park in Wuhan.
A performer on stage at the front of the water waved at the crowd, packed close and waving their arms back, while another performer on a water jet board entertained his audience by hovering above them with sparks shooting from his back.
Days earlier, Chinese authorities continued pushing the narrative of its "heroic deeds" in the fight against the COVID-19 pandemic.
The National Museum of China opened up a new exhibit, "Unity of Strength", which showcases paintings, sculptures and calligraphy that depict what the regime says is its success in responding to the crisis.
Blowback
These scenes of carefree, in-person schooling, party-going and China's self-portrayal as hero will likely not sit well with those around the world who are suffering immensely from the unprecedented pandemic that originated in Wuhan.
As of Thursday (September 3), COVID-19 has infected more than 26 million people and killed 860,000, wreaking an incalculable political, economic, social and health toll on every country in the world with no end seemingly in sight.
Beijing's media effort will be of particular issue, given the contrast between its actual role in the pandemic and its ceaseless depiction of itself as global hero.
Earlier in 2020, Chinese authorities, knowing a deadly outbreak was afoot, said nothing for almost a week, allowing the virus to take hold in Wuhan and spread across the world, while deliberately suppressing or destroying evidence of the outbreak.
Since the beginning of the crisis, Beijing has been actively attempting to deflect criticism of its role in the coronavirus pandemic by promoting conspiracy theories and has been caught flooding the news and social media with blatant disinformation about the virus.
Meanwhile, Chinese companies are taking advantage to turn a profit.
Between March and May, China exported more than 50 billion face masks -- a 10-fold increase from total production last year, according to analysts.
As part of this effort, Chinese authorities are forcing Muslim minorities in the Xinjiang region to work in factories to produce personal protection equipment (PPE), much of which has been proven to be shoddy and ineffective.