While most economies have taken major hits amid the coronavirus outbreak, China is now set to become the largest global economy by 2028, five years earlier than previously forecasted, according to the United Kingdom-based Centre for Economics and Business Research (CEBR).
China's share of the world economy has risen from just 3.6% in 2000 to 17.8% this year, and the country will become a "high-income economy" by 2023, the report said.
As the world grapples with the economic effects of the pandemic, China's share of the global market has increasingly become larger through its tech industry and the sale of personal protective equipment (PPE).
Even before the coronavirus pandemic began, China was the largest exporter of PPE, accounting for almost half the world's supply of face masks, gowns and goggles, according to the United States-based Peterson Institute for International Economics.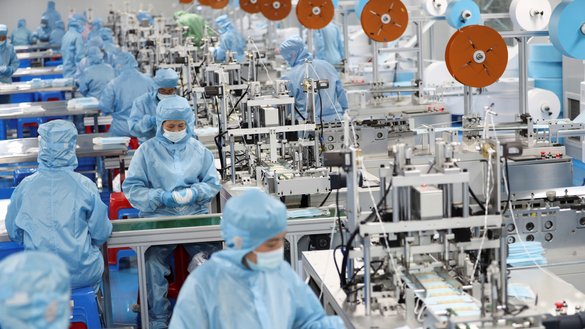 In late October, Paul Wang, founder and CEO of the Beijing-based LyncMed, a major global distributor of PPE, told the US Public Broadcasting Service that his company's sales volumes are 10 times higher than a year ago.
"After a slight lull over summer, as the virus subsided in many places, orders are now coming back with ominous strength," he said.
China is benefiting from PPE sales, which are boosting its economy at unprecedented speed. Its exports rose at the fastest pace in almost three years in November, earning it a record trade surplus.
Citing Chinese customs data, Reuters reported on December 6 that China's overall exports in November rose 21.1% from a year earlier, marking their fastest growth since February 2018. They also soundly beat analysts' expectations for a 12.0% increase and quickened from an 11.4% increase in October, the report said.
Human rights violations for profit
China is set to have the world's largest economy by 2028, but at what cost?
To profit off the pandemic, China launched a huge effort to produce PPE to meet shortages. More than 73,000 companies registered as mask makers in the first half of the year -- including more than 36,000 new companies in April alone -- as prices and demand soared.
As part of this effort, Chinese authorities forced Muslim minorities in the Xinjiang region to work in PPE factories, according to a video report by The New York Times, which cited evidence found in hundreds of videos, photos and government documents.
The report added that as of June 30, 51 PPE factories, up from the pre-pandemic four, were operating in majority-Muslim Xinjiang, and at least 17 of the 51 used local workers.
In a video, the Times shows satellite imagery of segregated living quarters for Uighurs at a factory. Uighur workers must attend weekly indoctrination programmes as well as Mandarin courses at the facilities, it added.
Workers at these factories "are not going by choice", one reporter said, and Beijing is implementing coercive quotas to force them to attend, which is considered a form of forced labour under international law.
After the abuse of Muslims in Chinese PPE factories was revealed in July, the UK government accused the Chinese regime of "gross, egregious human rights abuses" over its "deeply troubling" treatment of ethnic and religious minorities, which include ethnic Kazakhs and Kyrgyz, in Xinjiang.
The US Commerce Department on July 20 announced that it had blacklisted 11 Chinese businesses for involvement in human rights violations against the Uighur minority, cutting off those firms' access to American goods.
The Xinjiang PPE labour is part of a "worker transfer programme" that "helps local residents rise above poverty through employment and lead fulfilling lives", Chinese authorities have claimed.
In reality, however, the programme is part of an initiative by Beijing that has sent more than a million Chinese Muslims, including ethnic Kazakhs and Kyrgyz, into indoctrination camps over the past few years.
The "worker transfer programme" is similar to another Beijing scheme.
Attempts to mask origins of virus
Beijing since the outbreak has been attempting to cast doubts on the origins of the virus.
The state-run People's Daily newspaper, for instance, said in a Facebook post in early November that "all available evidence suggests that the coronavirus did not start in central China's Wuhan".
Also in November, Beijing was quick to spin a study in an Italian medical journal posited that the COVID-19 coronavirus was circulating in Italy as early as September 2019, eliminating key details of the research conclusions and using sketchy science to reinforce doubts over the origins of the outbreak.
The reality is all evidence points to Wuhan, China, as the epicenter of the global crisis.
In early 2020, Chinese authorities, knowing a deadly outbreak was afoot, said nothing for almost a week, allowing the virus to take hold in Wuhan and spread across the world, while deliberately suppressing or destroying evidence of the outbreak.
Since the beginning of the crisis, Beijing has been actively attempting to deflect criticism of its role in the coronavirus pandemic by promoting conspiracy theories and has been caught flooding the news and social media with blatant disinformation about the virus.
As part of those efforts, the Chinese regime has been actively pushing the narrative of its "heroic deeds" in the fight against the COVID-19 pandemic despite its role in spreading the pandemic and covering up its role in the crisis.
The National Museum of China in August opened up an exhibit, "Unity of Strength", which showcased paintings, sculptures and calligraphy that depict what the regime says is its success in responding to the crisis.
Chinese state media also have been intent on showing the world that the country has moved on from the coronavirus pandemic, but countries continuing to suffer under strict lockdowns due to COVID-19 -- which originated and spread in China -- are looking on at this media campaign in exasperation.
China has also tried to enhance its soft power push during the pandemic -- promising to share its vaccines with developing countries, and engaging in "vaccine diplomacy".