By sending militias into Syria to prop up the regime of President Bashar al-Assad in service of its own expansionist agenda, Iran has been complicit in the regime's slaughter of Syrian civilians.
Since the start of the conflict, Iran has been operating in Syria through the Islamic Revolutionary Guard Corps' Quds Force (IRGC-QF), led by Qassem Soleimani until he was killed in a US strike in Baghdad on January 3.
That killing marked a pivotal moment in Tehran's decades-long campaign to sow militancy and discord across the region.
The IRGC-QF is now under the command of Esmail Qaani, who many say lacks the charisma and regional knowledge of his predecessor but has signalled his determination to continue on Soleimani's path.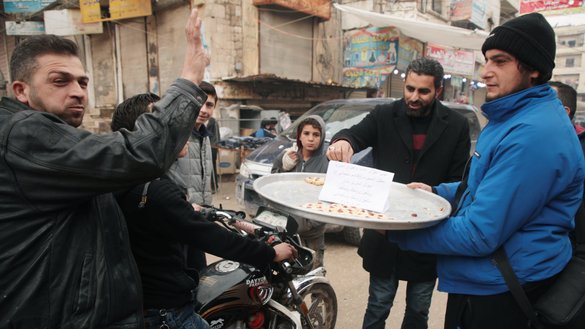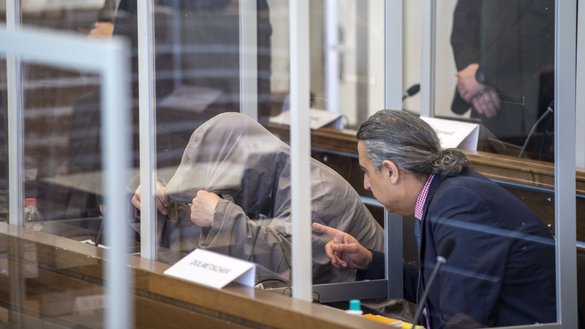 Militias formed and directed by the IRGC-QF -- including the Fatemiyoun Division, comprised of Afghan fighters -- have intervened both covertly and openly to keep the Syrian regime in power and suppress its opponents.
In addition to extending and complicating the conflict, this has enabled the Syrian regime to continue the well-documented abuse of its people, which has included chemical attacks on civilians and torture in its prisons.
To hold the Syrian regime accountable for these crimes and others, and to stymie foreign meddling, particularly from Iran and Russia, the US government passed the Caesar Syria Civilian Protection Act of 2019, which came into effect in June.
The legislation was named after a former Syrian military photographer, known by the pseudonym "Caesar", who fled Syria in 2013 with 55,000 images of brutality in Syrian prisons and testified before the US Congress.
These included photographs taken from inside al-Assad's prisons that show the mutilated bodies of prisoners with numbers marked on their foreheads.
Testifying again in March of this year, Caesar pressed the United States and the international community to hold al-Assad's regime accountable for its actions.
Sanctions target al-Assad allies
Since the Caesar Act came into effect, the US Treasury Department has issued a raft of sanctions against figures close to the regime, including al-Assad's wife and teenage son.
Sanctions have targeted Syria's oil sector, lawmakers and intelligence officers, with a tranche of November sanctions imposed in memory of the more than 70 civilians killed in an October 2015 bombing of a marketplace in Douma.
Sanctions also have targeted the regime's foreign facilitators.
In addition to holding al-Assad to account, the legislation is designed to block interference from Iran and Russia and prevent them from profiting from the oppression of the Syrian people through lucrative reconstruction contracts.
It has specifically targeted the IRGC-backed Fatemiyoun Division, other IRGC-affiliated factions, as well as militias financed by Russia that support Syrian regime forces, particularly in the southern part of the country.
The designation of the Fatemiyoun Division under the Caesar Act "deals a severe blow to the IRGC and its militias", said Iranian affairs specialist Sheyar Turko.
The US Treasury had already designated the militia, in January 2019, for its ties to the IRGC and for carrying out terrorist attacks, he said.
The new sanctions will challenge the IRGC's use of foreign proxies "to implement its expansionist projects" and present new obstacles to militias like Fatemiyoun.
Through its deployment in strategic areas of Syria -- such as Damascus, Deir Ezzor, Aleppo and Palmyra -- the militia has been instrumental in ensuring the regime's survival to date, Turko said.
Weakening Fatemiyoun by imposing sanctions on its commanders and fighters will in turn weaken the IRGC's regional agenda, and will certainly lead to the collapse of support provided to the regime, he added.
IRGC-funded militias have played a leading role in aggravating the Syrian conflict and transforming it into a sectarian struggle to keep the al-Assad regime in power, said Fathi al-Sayed, an Iranian affairs researcher at al-Sharq Centre for Regional and Strategic Studies.
Without this intervention, he said, the Syrian regime would not be in power today, describing the militias as complicit in the crimes it has committed.
New evidence of regime's crimes
The Syrian Observatory for Human Rights estimates that at least 100,000 people have died from torture or as a result of horrific conditions in regime prisons, with half a million people passing through Syrian jails since 2011.
Fresh evidence of the Syrian regime's crimes continues to emerge.
German prosecutors on Monday (December 21) announced that a Syrian doctor living in Germany who had been arrested in June on suspicion of having committed crimes against humanity in Syria will face additional charges.
"Alaa M." was first charged with two instances of torturing detainees at a prison run by Syrian intelligence services in the city of Homs in 2011, AFP reported.
But prosecutors said he now stands accused of far more violations, including for allegedly killing one person and another 18 counts of torture.
Alaa M. was a doctor at the military prison in Homs when he allegedly carried out horrific abuses, including setting fire to the genitals of a teenager.
In 2012, he sought out a detainee whose wounds became infected and who had been transferred to a military hospital. With two other officers, he allegedly kicked and beat the prisoner, and poured flammable liquids on his wounds before setting them on fire. The prisoner subsequently lost consciousness.
Several days later, Alaa M. is accused of going to the detainee's prison cell, where he went on to beat and kick the 20 other prisoners in the cell.
One of them sought to defend himself.
"Shortly after, the defendant administered an injection with a lethal substance into his upper arm, from which he died a few minutes later," prosecutors said.
In April, the first court case worldwide over state-sponsored torture by al-Assad's regime opened in Germany after the suspects were brought to the attention of the authorities by their victims.
The two defendants, former Syrian intelligence officers Anwar Raslan and Eyad al-Gharib, are being tried on the principle of universal jurisdiction, which allows a foreign country to prosecute crimes against humanity.