Iran continues to oppress its people, discriminate against minorities and harshly crack down on dissent, according to a recent Human Rights Watch (HRW) report detailing the country's violations throughout 2020.
HRW's World Report 2021 stated that the regime routinely detains, interrogates and tortures dissidents as part of its systemic crackdown on protesters, most of which is carried out by the Islamic Revolutionary Guard Corps' (IRGC) intelligence arm.
Other than activists and dissidents, disabled citizens, minors, women, religious and sexual minorities are among those groups whose rights are routinely violated by the regime, the report said.
Executions
Iran is the world's biggest implementer of the death penalty after China, and executions extend to those penalised for their freedom of expression and even minors.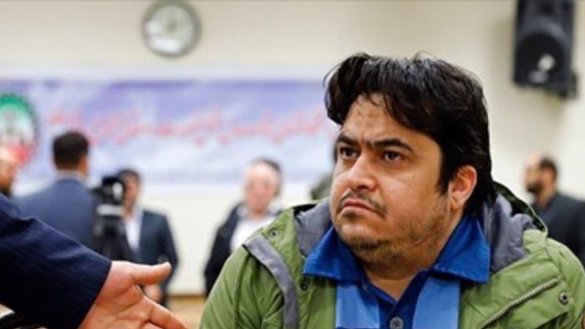 According to rights groups, Iran executed at least 233 people last year as of November 19, 2020.
Among them was political activist Rouhollah Zam, 42, who was hanged after being charged of "corruption on earth". He was sentenced to death in June, 2020.
While the death sentence was upheld in Iran's Supreme Court after Zam appealed, his hanging was abrupt, occurring only four days after the final sentence was issued.
Zam's father told the media that his son was not notified of his imminent execution during the visit he was allowed one day prior to his hanging.
In 2020, Iran's judiciary also executed at least two individuals who were sentenced to death for crimes they allegedly committed as minors.
Iran's current penal code states that judges can use their discretion not to sentence to death individuals who committed crimes as minors.
However, HRW reports that several individuals who were retried under the penal code for crimes they allegedly committed when they were minors have been sentenced to death again.
Crackdown on protesters, activists
Dissidents, protesters and activists routinely get charged with vague and abstract accusations such as "anti-regime propaganda", "actions against national security interests", "disrupting public order" and "insulting the supreme leader".
According to HRW, Iran's judiciary and repressive security agencies, notably the IRGC, have dramatically increased the cost of peaceful dissent, sentencing dozens of human rights defenders to decades-long prison sentences.
Rights abuses, however, are not limited to political activists. Suppression, interrogation and jail sentences extend to civil society activists, including environmentalists, many of whom have been pursued or detained in 2019 and 2020.
Scores of human rights advocates, including Atena Daemi and Farhad Meysami, remain behind bars for their peaceful activism.
Nationwide protests in November 2019, which started after the sudden, drastic increase in fuel prices, were brutally suppressed by the IRGC, resulting in hundreds of arrests.
Persecution of protesters continued well into 2020.
At least 20 arrests were made during protests following the January 8, 2020, IRGC downing of a Ukrainian airliner. Protesters and families of flight victims were monitored, restricted and questioned.
More than a year after the tragedy that killed all 176 people on board, Iran has yet to hold anyone accountable.
According to Amnesty International, in the past year, security forces arrested some 7,000 people for the 2019 and 2020 protests. The government has refused to announce the total number of detainees.
Dozens of labour activists, mostly workers, also have repeatedly been arrested and tortured for simply demanding a raise to meet hyperinflation, or their unpaid wages.
HRW states that the IRGC continues to arrest Iranian dual and foreign nationals on vague charges such as "co-operating with a hostile state". At least a dozen of these individuals remain behind bars, deprived of due process, and are routinely subjected to pro-government media smear campaigns.
Women's rights violations
Iranian women face discrimination in personal status matters related to marriage, divorce, inheritance and decisions regarding their children, HRW's report said.
A married woman may not obtain a passport or travel outside the country without the written permission of her husband, and she may be prevented from having certain occupations if the husband deems them against "family values".
Iranian law allows girls to marry at the age of 13 and boys at age 15, or even younger, if authorised by a judge. Efforts by a number of parliamentarians in 2019 to increase the minimum age of marriage were blocked by the judicial parliamentary commission.
Meanwhile, Iranian authorities and women's rights activists reported an increase in domestic violence during COVID-19 lockdown restrictions. Iran has no law on domestic violence to prevent abuse and provide protections to survivors, according to HRW.
Discrimination against minorities
Authorities have long prosecuted Iranians for the vaguely defined acts against morality, HRW said.
Under Iranian law, homosexuality is punishable by flogging and, for men, the death penalty. Although Iran permits and subsidises sex reassignment surgery for transgender individuals, no law prohibits discrimination against them.
As for religious minorities, the government discriminates against Sunni Muslims and followers of the Bahai faith, and restricts cultural and political activities among the country's Azeri, Kurdish, Arab and Baluch ethnic minorities.
Despite Supreme Leader Ali Khamenei's boasting about Shia-Sunni unity, the Iranian Sunni community is systemically suppressed.