KABUL -- The Afghan Defence Ministry on Monday (April 26) reported 106 Taliban militants killed and 48 others wounded in security operations throughout the country over the past 24 hours.
The Afghan National Defence and Security Forces (ANDSF) operations occurred in Ghazni, Maidan Wardak, Herat, Ghor, Balkh, Badakhshan, Helmand and Kandahar provinces, the ministry said in a tweet on Monday.
"Also 29 IEDs [improvised explosive devices] which were placed by Taliban on public roads were discovered and defused by ANA [the Afghan National Army]," it added.
In Raghistan district of Badakhshan province alone, air strikes on Sunday killed 17 Taliban militants, including two commanders, and wounded three others, according to another tweet on Monday.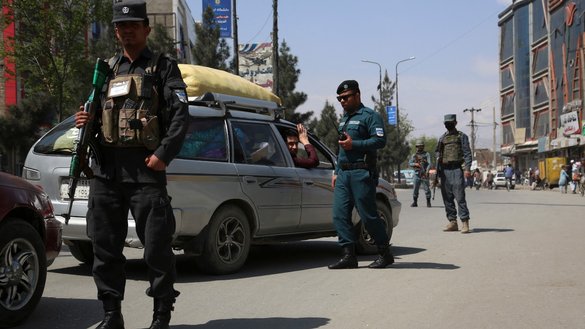 "A large amount of their weapons and ammunitions were destroyed in the strikes," it said.
Meanwhile, Afghan National Defence and Security Forces (ANDSF) are advancing and taking control of areas in Jalrez district of Maidan Wardak province, where the Taliban have suffered heavy casualties, the ministry said Sunday, as reported by Khaama Press.
Afghan Air Force (AAF) air strikes and Afghan commando operations killed 28 Taliban fighters, according to Fawad Aman, deputy spokesman for the ministry.
Among the casualties were Mawlawi Jafar, a key Taliban commander for Dand district, Kandahar province, and four of his bodyguards.
Jafar, who was killed Saturday in an operation carried out by the ANDSF and AAF in Dand district, was said to have led a 150-member Taliban group and played an active role in planning terrorist attacks in the region.
Taliban attacks
The latest operations against the Taliban come amid growing civilian casualties from the group's attacks.
The Taliban have killed at least 63 civilians and wounded 180 others in the past 10 days across Afghanistan, according to an Interior Affairs Ministry statement Sunday.
At least six suicide attacks and 62 bomb blasts occurred between April 14 and 21, the Interior Affairs Ministry said. Women and children were among those killed or wounded.
Meanwhile, at least 12 Afghan policemen were killed Sunday in two separate attacks, one of them a Taliban ambush, in Logar and Kandahar provinces.
"Seven policemen were killed and three wounded when the Taliban ambushed their vehicles in Mohammad Agha district of Logar province," said Didar Lawang, spokesman for the provincial governor.
The policemen were part of a security force guarding copper mines in Logar, south of the capital Kabul.
Police from Logar province confirmed the incident.
In a separate attack on Sunday, a suicide bomber ran an explosives-laden car into a police vehicle in Kandahar, killing five policemen.
The bombing took place in the restive Maiwand district of Kandahar and left another four policemen wounded, police said.
Persistent pressure
The US military continues to support the Afghan government and its security forces as it plans to reposition some of its forces in neighbouring countries, the top US military commander for the region said last Tuesday.
"We are further planning now for continuing counter-terrorism operations within the region, ensuring that the violent extremist organisations fighting for their existence in the hinterlands of Afghanistan remain under persistent surveillance and pressure," Central Command chief Gen. Kenneth McKenzie told a hearing in the US Congress.
As part of the moves, the US military has deployed B-52 bombers to the Middle East and has prolonged the presence of an aircraft carrier in the region to support the withdrawal, spokesman John Kirby said Friday.
US Defense Secretary Lloyd Austin decided to keep the USS Eisenhower aircraft carrier in the US Central Command region for an extended period.