HERAT -- Afghans expressed hopes for an extended ceasefire this week even as a deadly blast in Kabul on Friday (May 14) served as a painful reminder of the violence they face.
The blast took place inside a mosque in Shakardara district of Kabul province during congregation prayers. It killed 12 people, including the mosque's imam, and injured 15 others, according to Ferdows Faramarz, a spokesperson for the Kabul police.
No group immediately claimed the attack and the Taliban denied responsibility.
Before the blast, Afghans had been cautiously enjoying the rare respite from violence after weeks of intense fighting.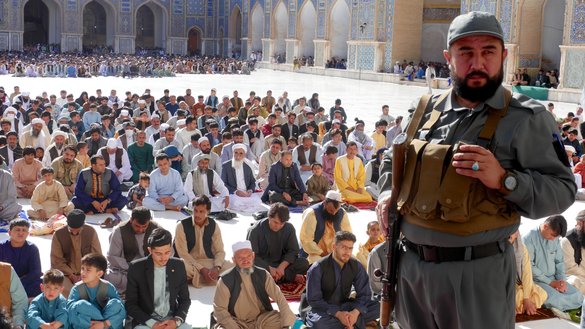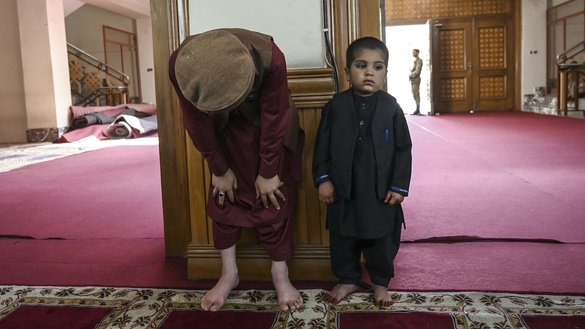 The Taliban and the Afghan government announced a three-day ceasefire for Eid ul Fitr that started on Thursday is supposed to continue through Saturday.
Hopes for a permanent ceasefire
Every Afghan wants the three-day ceasefire to extend to a permanent one, said Abdul Qayoum Saqib, a resident of Herat city who participated in Eid prayers in the Herat Grand Mosque.
"We want the fratricide to end through a permanent ceasefire so that all of us can live side by side in peace, our youth are not killed anymore and we can build our country," he said.
"I was so happy seeing the ceasefire today when I came out of my house to go to Eid prayers," he said on Thursday. "I even cried for joy."
"I hope for a permanent ceasefire so that everyone can live in peace," Saqib added.
Ahmad Rahimi, a resident of Qala-e-Naw, the provincial capital of Badghis, also expressed hopes for the ceasefire to continue after the three days of Eid.
"We believe that continuing the ceasefire after Eid will pave the way for ending killings and bloodshed as well as bringing a lasting peace," he said.
The ceasefire doubled the joy of Eid, said Suhail, a resident of Zaranj, the provincial capital of Nimroz, who gave only his first name.
Afghans are tired of the 40 years of war that has shed so much blood and want a permanent ceasefire and peace in the country, he said.
"The three-day ceasefire should continue after Eid too, so that bloodshed in the country is stopped and we do not witness the loss of life anymore," he said.
"Our demand of the Taliban is to choose the path of peace and reach an agreement with the government to stop fratricide," he added.
Lasting peace is a religious necessity
Sustainable peace is a necessity as Islam has prohibited war and conflict, say religious scholars.
"God has called peace a blessing in the Koran," said said Mawlawi Aziz-ur-Rahman Mawlawizada, a religious scholar in Herat city. "All Muslims are obliged to follow these instructions."
"Only Muslims are being killed in this war; therefore, it is haram," he said. "Whoever incites this war is not within the realm of Islam."
The opportunity for peace should not be wasted, and all sides must work to ensure a permanent ceasefire and peace, said Mawlawizada.
Islam supports any step that ends war and the spilling of innocent blood, said Mawlawi Ali Mohammad Rahmani, a religious scholar in Qala-e-Naw.
"We, the religious scholars, support the ceasefire announced by the Taliban and government and consider it a critical need in these circumstances," he said.
It will be good if the ceasefire transitions to a permanent one so it can end the war and bloodshed in the country once and for all, said Rahmani.
"Only a permanent ceasefire can end this devastating and un-Islamic war," he said. "Our request of all parties involved, especially of the Taliban, is to act on the instructions of Islam and to refrain from violence after Eid."
Afghans want peace and a ceasefire more than anything else, so the parties involved in the conflict must heed to the demands of the public, said Mawlawi Imamuddin Sultani, a religious scholar in Zaranj.
Afghans are exhausted with the war and the number of Afghans fleeing the country grows day by day, while countless civilians are dying, he said.
"Peace has a special place in Islam as God has invited all Muslims to peace," he said. "A permanent ceasefire can ensure a permanent peace in the country."
The Taliban must know that if they are Muslims, then they should follow God's instructions and choose peace over war, Sultani said.
"War is not the solution. Life without peace or security is impossible," he said. "Afghans have been suffering from an imposed conflict for 40 years. This war must not continue."
Taliban's false 'jihad'
With the withdrawal of US and NATO forces from Afghanistan, Afghans are left wondering: what is the purpose of the Taliban's war?
"Under what pretext do the Taliban kill Afghans daily?" asked Gul Mir, a resident of Gulran district, Herat province.
"The Taliban fire rockets on our homes every night. For the fear of God, they should stop doing this," he said. "A number of our relatives were killed in Taliban attacks. The Taliban killed a few members of our tribe a few days ago."
"The Americans are leaving, so why are the Taliban fighting and what is their excuse for the war?" he said. "The Taliban should fear God and should not serve other countries and stop killing Afghans."
The Taliban have no religious justification for killing Afghans and commit a grave sin by prolonging the war, said Mawlawi Mohammad Rafi Ahadi, a religious scholar in Herat city.
"The Taliban have labelled the ongoing war 'jihad' while massacring innocent Muslim Afghans," he said. "Whoever kills an innocent Muslim is subject to God's hatred and enters hell forever."