KABUL -- The top US commander in Afghanistan on Tuesday (June 29) did not rule out conducting air strikes against the Taliban if they pressed on with their campaign of capturing new territory across the country.
Fighting has surged across the rugged countryside since early May when the US military began withdrawing troops.
In Kabul on Tuesday, US Gen. Scott Miller, commander of US troops in Afghanistan, told reporters the US military still has the firepower to conduct air strikes against the insurgents even as it continues the withdrawal.
"I still have the authority to support and defend the Afghan security forces and certainly defend ourselves as well," he said.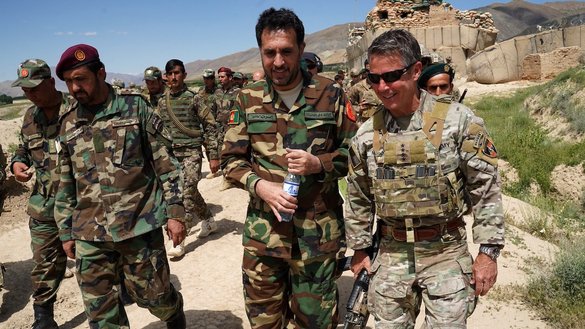 "What I like to see is no air strikes, but to get to no air strikes, you stop all violence," said Miller, adding that he has told the Taliban to stop offensive operations.
In footage obtained by AFP from Radio Free Europe/Radio Liberty, the general cautioned the Taliban against attempting to take control of the country by force.
Voice of America quoted Miller as saying that "a military takeover is not in the interest of anyone, certainly not for the people of Afghanistan."
"The way it must end for the Afghan people is something that revolves around a political solution," Miller said. "If you don't reduce the violence, that political solution becomes more and more difficult."
He emphasised the need for Afghan government and Taliban negotiators to return to the negotiating table in Doha to seek a political settlement to hostilities.
Afghan security forces are making "the appropriate adjustments as we move forward," Miller added.
Also on Tuesday, the Interior Affairs Ministry said it had created a 4,000- member "rapid reaction force" to be led by retired army generals who will fight the Taliban alongside regular security forces.
Gen. Ajmal Omar Shinwari, spokesperson for the Afghan security sector, said that their members are all Afghan citizens who have come out to defend their country against the Taliban.