KUNDUZ -- Taliban fighters are destroying infrastructure and forcing residents to flee their homes amid the group's ongoing offensive across the country.
Videos circulating on social media show the Taliban burning down government buildings and shops in retaliation for their support for Afghan forces.
In Kunduz, provincial authorities say militants have forced more than 400 families to leave their homes and threatened to torch their houses after insurgents seized an Afghan National Army (ANA) base in the Bagh-e-Sherkat area of Gul Tepa district last month.
Qari Sarajuddin, a local representative for the Bagh-e-Sherkat area, said some families fled to other parts of Kunduz province.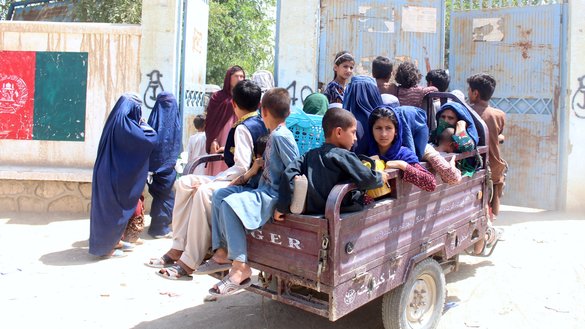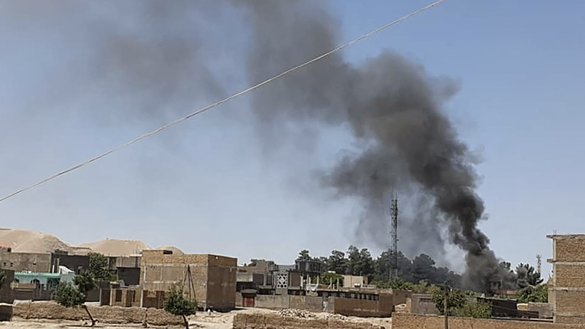 Others sought shelter in Faizabad, the capital of Badakhshan province, out of fear of reprisal, as some have relatives serving in the Afghan National and Defence and Security Forces (ANDSF).
When the Taliban entered the district centre on June 29, they told residents by loudspeaker that they had two hours to evacuate for "your own safety", said Sarajuddin.
The Taliban beat up a number of village elders and shot two civilians to death -- a shopkeeper and a former member of a local militia force -- on the pretext of their association with the government, according to witnesses.
"Fearing that our family members might be killed, we left our homes and came to Faizabad city," Sarajuddin said.
"My family left our house. Then [the Taliban] burned it down, with everything in it," he said.
"Most of my relatives were serving as soldiers at the ANA [Afghan National Army] base, and we always supported them as they were maintaining the security of our area," said Abdul Hanan, a displaced person from Bagh-e-Sherkat, who has taken temporary shelter at Shahid Zarifi school in Kunduz city.
The Taliban torched a number of villagers' houses after evicting families, he said, but it is not yet clear how many houses they burned down.
Hamida, another displaced person from Bagh-e-Sherkat seeking refuge at Shahid Zarifi school, said she and her six family members were living in misery and uncertainty.
"A majority of the displaced families from Bagh-e-Sherkat have nothing to survive on," she said.
"Displaced families face shortages of food and drinking water," she said, urging the government to secure their village and enable their safe return.
Kunduz provincial council secretary Fawzia Yaftali confirmed the displacement of hundreds of Bagh-e-Sherkat families and the Taliban's looting.
"This action of the Taliban is clearly a war crime," she said. "We urge warring sides to make sure they do not harm civilians during their combat and clashes."
Human Rights Watch (HRW) interviewed a number of internally displaced persons (IDPs) in early July, who also said the Taliban looted and burned civilians' houses in their offensive against the ANDSF.
"The Taliban's retaliatory attacks against civilians deemed to have supported the government are an ominous warning about the risk of future atrocities," HRW associate Asia director Patricia Gossman said on July 7.
"The Taliban leadership has the power to stop the abuse of their forces, but haven't shown that they are willing to do so," she added.
Taliban fighters came door-to-door to search the houses, a 45-year-old widow told HRW.
"They said I had to leave because of aiding 'the infidels'," she said. "I lived in that village for 20 years. Now I am living in a tent in Faizabad."
Aid for displaced families
Because of heavy fighting on June 22 through July 5, more than 12,000 families fled to neighbouring provinces and Kabul, according to Kunduz officials.
These displaced families were residents of areas on the outskirts of Kunduz city and of Imam Sahib, Aliabad and Chahar Dara districts.
Ghulam Sakhi Rasooli, director of the Kunduz Refugees and Repatriations Department, said his department has assigned a 30-member team to survey and identify the immediate needs of displaced families.
At least 7,000 displaced families have taken shelter in Kunduz city and more than 3,000 families have so far received assistance packages, including food and essential supplies, he said.
Officials in Badakhshan said up to 200 Bagh-e-Sherkat families have abandoned their homes and fled to the province. Some IDPs have taken refuge in relatives' houses in Badakhshan, while others are living in an orchard in Faizabad city.
The local government has distributed tents, food and essential items among the IDPs and will soon provide them with proper shelter, said Naik Muhammad Nazari, a spokesperson for the Badakhshan governor.
The provincial governor has called on all humanitarian and relief agencies to provide immediate assistance to the conflict-affected IDPs, especially those who have been displaced by recent fighting in Kunduz province, he said.
"The World Food Programme office in Badakhshan has assured us that it will also provide assistance to the IDPs," Nazari said.
The World Health Organisation (WHO) voiced deep concern on Friday (July 9) over healthcare access in Afghanistan amid a sweeping Taliban offensive as US troops pull out of the war-torn country.
"It's a terribly concerning situation, and it's very fluid right now," said Rick Brennan, the WHO emergencies director in the Eastern Mediterranean region.
"We are clearly concerned about the decline in the access to health care," he added, speaking to journalists in Geneva via video from Cairo.
Taliban impose harsh restrictions
After the Taliban seized a number of districts, inhabitants of those areas said the militants imposed harsh restrictions, reminiscent of a situation most of them experienced more than 20 years ago.
The Taliban ordered civilians to prepare food for their members three times a day or to pay cash instead, said Mohammad Haris Faqiri, a resident of Khanabad district in Kunduz.
Civilians are very concerned, he said. "Local government officials and women are too scared to go outside."
With the Taliban taking control of the district, people are very worried and scared, said Abdul Karim Latifi, a resident of Imam Sahib district in Kunduz province.
"The Taliban told us that women cannot go out in public without a close male relative," he said.
The Taliban have ordered civilians not to listen to music, he added.