KUNDUZ -- Increasing Taliban violence over the past three weeks has forced thousands of families to leave their homes in Imam Sahib district and to seek temporary shelter in Kunduz city, according to local officials.
Many of the internally displaced persons (IDPs) say they have lost everything because of the ongoing conflict.
Abdul Qudos, a resident of Arab village in Imam Sahib district, said he was forced to flee his village and take refuge in Kunduz city because the Taliban were using his home as a base to attack security forces.
"Due to the ongoing fighting, we left everything behind such as our livelihoods, homes and businesses," he said. "As the fighting intensified, the Taliban entered people's houses and forced them to leave."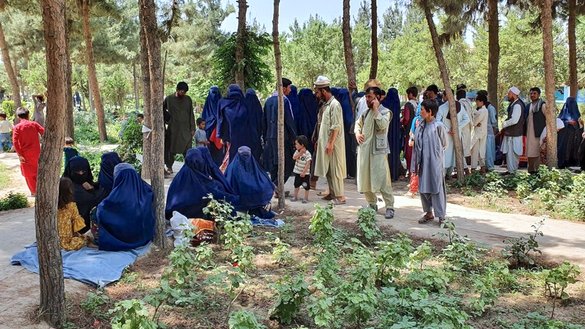 Some displaced families were unable to evacuate all members, and those who fled are living in poverty and without proper shelter, he said.
Razia, who gave only her first name, reached Kunduz city after her family was forced to leave its home in Alaf Berdi village in Imam Sahib district.
Now Razia and six members of her family are living outdoors in scorching heat.
"It has been 13 days since I fled my hometown because of the conflict, " she said on June 1, adding that she could take only one change of clothes and left everything else behind.
She urged the Taliban to make peace because war ruins the lives of innocent civilians.
"We are fed up with the ongoing fighting and do not want our children to grow up under the shadow of violence and hostility," she said.
The Taliban have never cared about civilian lives and have caused only suffering, including casualties and displacement, said Faqir Mohammad, a displaced resident of the Roza area in Imam Sahib district.
"We hope there are security and stability so that we live and work in peace," he said. "We need peace just as we need blood to stay alive."
His household was one of the 50 who took refuge in a neighbourhood in Kunduz city for the past week, he said.
"The government must facilitate our safe return."
Forced to flee
Civilians are forced to flee the Taliban's oppression and atrocities just to survive, said Mohammad Yusuf Ayubi, chairman of the Kunduz provincial council.
The Taliban blew up three key bridges in the centre of Imam Sahib last month, which has adversely impacted the commute of villagers to and from the district, he said.
A surge in Taliban fighting has displaced as many as 5,000 families from Imam Sahib district over the past month, Ayubi said. Of this number, 2,000 families have fled to Kunduz city and 3,000 families to the district centre.
Some IDPs have lodged in hotels or public places while others live with their relatives, he said.
"The Taliban have dug trenches in residents' houses, destroyed bridges and worsened civilians' living conditions," he added.
Noorullah, 70, who gave only his first name, described how the Taliban ordered families to evacuate their homes in Imam Sahib district.
"We had no survival option but to flee because residents' homes, mosques and public places were all destroyed," he said.
The Taliban has always hindered the progress and development of Afghanistan, harmed innocent civilians and prevented them from living a peaceful life, Noorullah said.
"I hope conditions will improve soon... so that we can return to our hometown," he said.
"We hope there are peace and stability in Afghanistan so that Afghans, like other people around the world, can live in peace and prosperity," he added.
Emergency assistance
As many as 1,000 families have received government assistance so far, according to the Kunduz Department of Refugees and Repatriations, said department director Ghulam Sakhi Rasooli.
The department surveys IDPs as soon as they arrive in Kunduz city, he said.
"After the survey, these IDPs receive an emergency package assistance, which includes food supplies, clothes and tents," Rasooli said.
The government provides assistance to the displaced families because atrocities committed by anti-government elements forced them from their homes, said Nasiba Holkar, Kunduz provincial deputy governor for finance and administration.
"The local government in Kunduz is determined to support IDPs, who have taken shelter in Kunduz city because of the conflict and insecurity," she said. "Every year, the Afghan government provides cash, food, tents and clothes to the IDPs."
Displaced families will be able to return to their homes soon, as Afghan forces are working to restore peace and stability in Imam Sahib district, she said.